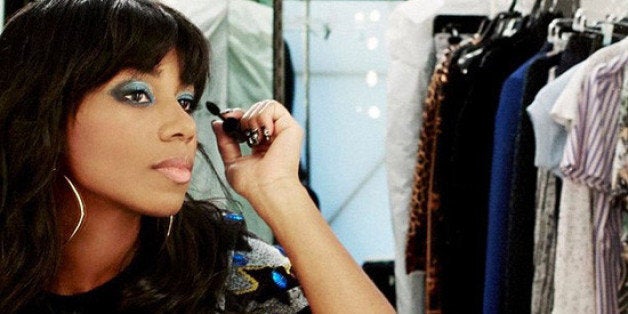 When we learned that Santigold and Smashbox were collaborating on a makeup collection we could hardly contain our excitement. The singer/songwriter/producer and cosmetic company both have a reputation for being bold, beautiful and just the right amount of badass -- so it's basically a match made in brand collaboration heaven and a huge win for our cosmetic bags.
Santigold, who's given name is Santi White and is currently pregnant with her first child, designed the 11-piece line called "The Santigolden Age" with the Apocalypse in mind. However, there is nothing doomsday or gloomy about the collection, which launches on April 1. In fact, the vibrantly hued eye shadows, eyeliners, lip glosses, nail art sticker and lipstick ring with Swarovski crystals are downright cheerful!
We got the chance to chat with Santigold about her brilliant foray into the beauty biz, why her makeup is perfect for all skin tones and how she maintains her maternity glow. Check it out...
How did you and Smashbox get hooked up?
Well, it really came about because they approached me and asked me if I wanted to do a collaboration. But leading up to that, I was thinking about makeup because I'm not a big everyday makeup wearer. But I really enjoy experimenting with makeup, especially in my performing on stage, videos and photo shoots. I'm grateful that I have those arenas in my life where I get to really play around with color and just push it in ways that you don't get to do everyday. I always wanted really brilliant colors that could carry far. You're on stage and there are lots of people, so my makeup became part of my costumes and I take a lot of care in the design of my costumes -- so equally I took a lot of care in what I've done with my makeup.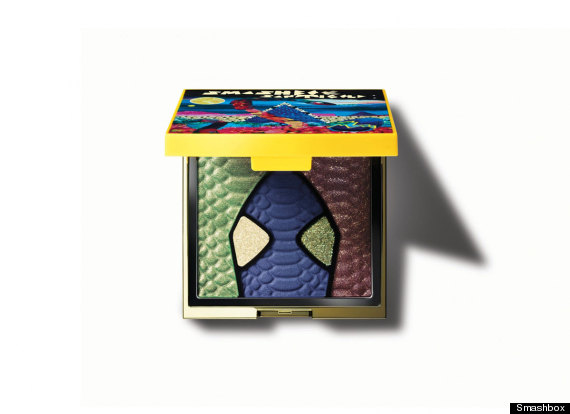 Wait, you do your own makeup?
On stage. I do! I have wonderful makeup artist that I work with, for photo shoots and stuff, but on stage it's up to me. Because I'm traveling and I'm on tour -- it's got to be quick, it's got to be easy, and most importantly it's got to last and look bright enough on stage that you can actually see it from like, way back, or even on a jumbotron.
Since the collection is packed with punchy colors, are there any unconventional ways you wear them?
Well, I think one of the most exciting things about the collection is that it's really in line with my whole aesthetic -- a collage, mix-and-match aesthetic. That's always my approach to anything creative, whether it's my music, whether it's my fashion sense or whether it's how I put together a makeup look. And so, what I did was, I tried to create a collection that has something for everyone. No matter what skin color, no matter how conservative or wild you want to go, there's really something in there for everybody.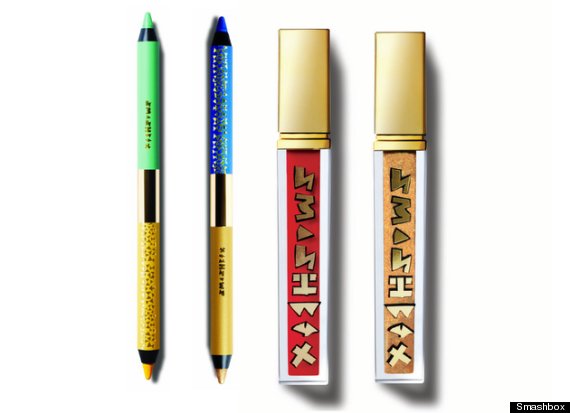 But working with vibrant colors can be tricky. Do you have any makeup horror stories?
It's just about knowing your face, and knowing what looks good on you. I'm not trying to use the makeup to correct things that are wrong with my face, cause most of us don't have things wrong with our face. That's part of the issue in general with beauty these days, it's like we're all taught that there's a beauty standard that's just one thing. And everyone is rushing to get plastic surgery to try to look like this one thing, but really it's about recognizing what your assets are. Asking ourselves "What's beautiful about my face? What's unique about my face?" and then enhancing that. For me, if I put on too much makeup it makes me look bad -- it makes me look really masculine, which I don't want to look like. That's not my goal. So, eye makeup is my thing -- eye makeup and a really light lip color, light blush color and that's all I need.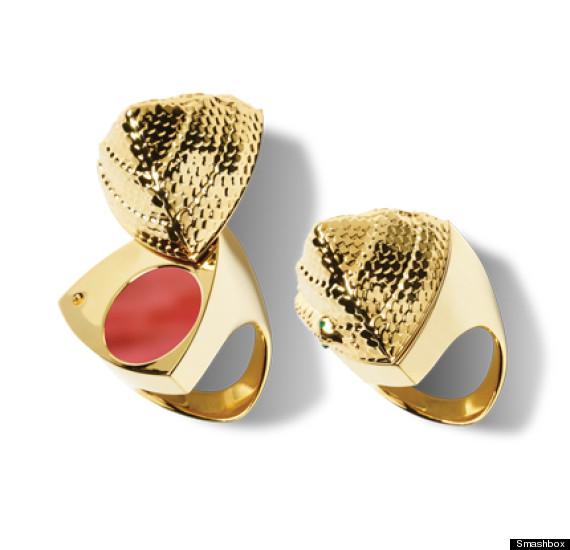 In your interview with The Cut, you talked a little bit about, the lack of diversity when it comes to beauty. Can you speak a little bit more about that?
Well, from my experience getting my makeup done professionally, I find that people don't know how to do makeup on brown skin. A lot of professionals, who you'd think would know how to do it across the board, just don't. And lot of photographers don't know how to light brown skin. It's just crazy, cause we're talking about this really advanced professional industry where care is not given to learn how to deal with all skin colors. So it's really frustrating when you're going to do photo shoots for magazines or going on TV and somebody just puts this awful, wrong color foundation all over your face. And often times, they use colors that make your skin look chalky. It happens with hair too. There's just so many things that need to be treated differently and I just think that in this industry of makeup professionals, people need to spend more time, thinking about creating products and teaching techniques that really do work for all skin types. In my line, it was very important for me to create colors that work on all skin types.
Speaking of skin types, you're dealing with maternity skin right now. Has your beauty regimen changed since becoming pregnant?
They actually haven't changed at all during my pregnancy, because I'm really into organic and natural stuff. My beauty care regimen is so basic – it's about sleep, hydration, and moisturizing. Those three things will save you from looking so haggard and messed up while I'm on the road. When it comes to products, I love the brand Eminence -- it smells so yummy! My favorites are the Eight Greens Whips Moisturizer and the Blueberry Soy Night Recovery Cream, which is really heavy but it's great for my skin. I use a lemon cleanser from the line for my face wash, which is basically like a light lemon oil wash. And when I need some serious, serious help, I use La Mer's regenerating serum. And then I have Rosebud salve for my lips -- it's always in my bag or on my body at all times.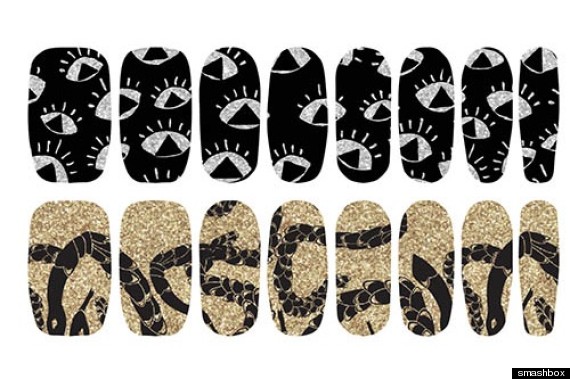 Last but not least, we know you also did a sock collaboration with Stance. Since you now have your hand in both fashion and beauty, is there anything else you've got coming down the pipeline?
There's nothing that's going to come soon enough that I need to be talking about now, but I think that it's my nature to be a collaborative person. So there will always be collaborations, whether it's in music, fashion, beauty, movies or anything. I'm always going to be collaborating with somebody on something because that's how I keep myself in the game. If I don't have variation in my creative platform, things get sort of dull for me. So, that's when I do collaborations outside of music -- it brings new and fresh ideas into my music and vice versa.
Check out these other celebs who in the beauty business...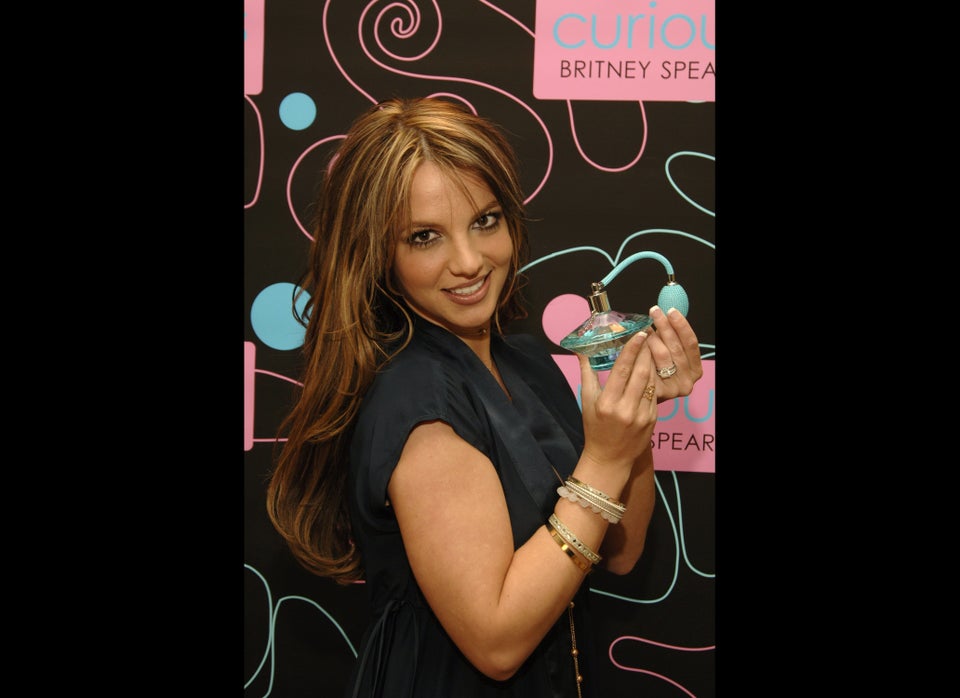 Celebrities With Perfume Lines