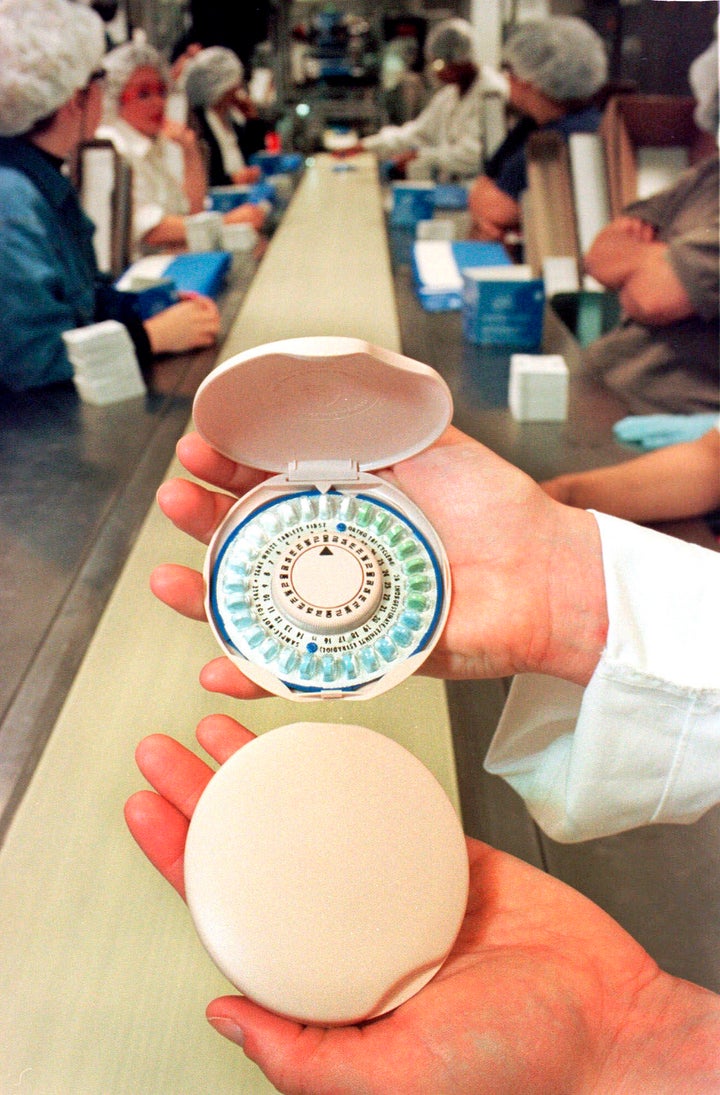 All across America, women are responding to the latest attacks on their reproductive health and rights. Female legislators, leading feminists and concerned women everywhere are fighting back. Good for them, but where are the men?
On the other side of the reproductive divide, there is no shortage of men. There was no shortage of men when a U.S. House oversight committee last week pulled together a panel of "expert" witnesses to testify against requiring health insurers to cover contraceptives for women who work for religiously-affiliated organizations. The majority on the committee called 11 witnesses. They were all men. That's why women on the committee walked out in protest.
Public opinions suggest that men are less concerned about family planning and reproductive health than women. They are also more likely to oppose the president's proposed coverage of contraceptives as it applies to religiously-affiliated hospitals and schools. But the gap between men and women is not that large. When penned down by a pollster on questions about contraception and family planning, plenty of men will come out on the same side as women.
So where are they? If legislatures were requiring colorectal exams for no good medical reason, banning Viagra, outlawing condoms and vasectomies, and otherwise messing with the private parts and reproductive health of men, you better believe that men would be doing more than waiting for a Gallup pollster to ring them up.
Men who truly care about women also care about their reproductive health and rights. Real men, or at least men who really care about women, believe that women should be able to prevent an unintended or unwanted pregnancy. They recognize the value of having government-supported family planning clinics that provide contraceptive services and screenings for breast or cervical cancer. Men who really care about girls and women would never deny them access to emergency contraceptives, particularly in cases of rape or incest.
So where are these men? Why aren't they speaking out? Why aren't they marching on the state legislatures that are defunding the family planning clinics? Why aren't they protesting laws that would require women to get an invasive ultrasound before they terminate a pregnancy? Why aren't they testifying before Congress about the importance of providing women with health insurance coverage for contraceptives? Why aren't they writing blogs or letters to the editors in defense of reproductive health and rights?
There's no good answer to that question. Maybe some men believe that women don't need their help, that they can win, or re-win, the battle for reproductive health and rights all on their own. If so, they would be wrong: Women are losing in state legislatures all across this country. Several states have slashed funding for family planning clinics. And unless more men speak up and treat this issue with the urgency it deserves, women will still lose more legislative battles.
There's nothing wrong with women rallying women on behalf of women and their reproductive health, but unless they want to keep fighting -- and losing -- these battles forever, it's time to enlist a few good men in their cause.
I could be wrong, but I suspect that the vast majority of people reading this blog are women. If you are a woman, maybe you should send this blog to the men in your life and tell them that their help is urgently needed. Tell them that real men care about women and are willing to stand up for their reproductive health and rights.
And if you're a man, don't let Rick Santorum speak for you and your gender on this issue. Let the world know that you care about women and their reproductive health.
Popular in the Community