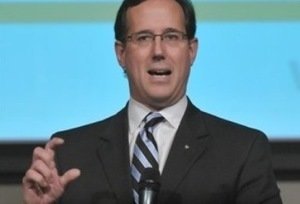 Former Republican senator Rick Santorum accused military leaders on Saturday of having become so "indoctrinated" with political correctness that they can no longer "see straight."
The Pennsylvania arch-conservative was specifically referring to the brass's support of a repeal of the Don't Ask Don't Tell policy. A long-time opponent of gay rights, Santorum expressed concern that changing the law would sap the readiness and effectiveness of the armed forces.
"My thoughts are this," he said, in a morning speech before Conservative Political Action Conference. "The military is there for one purpose and one purpose only, and that is to protect and defend the United States of America.
"We have a volunteer army," he added. "They can un-volunteer too."
Addressing how the military leadership, led by Joint Chiefs of Staff Chairman Mike Mullen, could now favor a repeal of the law, Santorum raised the specter of brainwashing.
"Political correctness is reigning in the military right now," he said. ""Some people say: [Do] whatever the generals say [on DADT]. I'm not too sure that we haven't so indoctrinated the officer corps in this country that they can actually see straight to make the right decision."
The line went over well with the CPAC crowd. And while it wasn't quite as strange as, say, then-Republican presidential candidate George Romney declaring in 1967 that the military brass had "brainwashed" him into supporting the Vietnam War, it also wasn't the most outrageous remark Santorum has made on the issue of gay rights. That honor goes to the infamous "man on dog" analogy he drew with respect to gay marriage. "In every society, the definition of marriage has not ever to my knowledge included homosexuality," Santorum said back in 2003. "That's not to pick on homosexuality. It's not, you know, man on child, man on dog, or whatever the case may be."
Popular in the Community