"We're not in an election anymore, and it's not his opponent he's throwing off," he said of Trump during an appearance on CNN. "I think it's him that he's throwing off."
Santorum said Trump has no opponent in this case. "And who he's hurting is not a rival, he's hurting himself, because he's now the president and it doesn't matter whether he blames Barack Obama or not," he added. "People don't care about Barack Obama anymore. They care about one person. They care about the president, and he's the president."
Trump indicated yet again Friday during a press conference with German Chancellor Angela Merkel that his phones had been wiretapped. He referenced a comment by former judge Andrew Napolitano on Fox News Thursday, who cited unnamed sources that British intelligence agents from GCHQ spied on Trump for former president Obama — which the agency called "utterly ridiculous." He added that Napolitano was a "very talented legal mind." Napolitano is a 9/11 "truther," a movement of conspiracy theorists who are skeptical that the U.S. government told the truth about the terrorist attack on the World Trade Center.
Fox News host Shep Smith said Friday that the network could not substantiate Napolitano's allegations — or any claims that Trump was ever under surveillance from the Obama administration.
Trump said earlier while alongside Merkel that "as far as wiretapping, I guess, by this past administration, at least we have something in common, perhaps," eliciting a puzzled look from the chancellor. Trump was likely referring to information that former National Security Agency contractor Edward Snowden leaked four years ago, which revealed that the Obama administration had listened in on Merkel's cell phone conversations.
Santorum also took a swipe Friday at Trump's reading material — and his dependence on the media, rather than government experts.
"I'd like to see the president come out there and talk about what he knows, not what he's read in the paper," Santorum explained. "When you're the president of the United States, the assumption is that you have better information than what's in The National Enquirer or even The New York Times."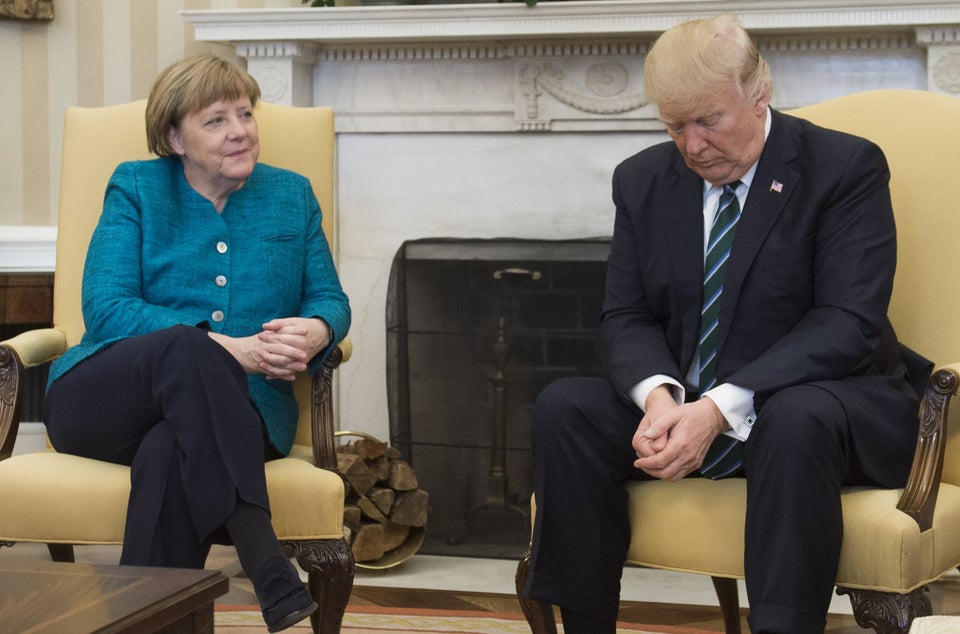 Awkward Meeting for Merkel and Trump