Rep. George Santos, the New York Republican facing calls to resign after admitting he fabricated much of his background during his campaign, has only a three-line entry in Congress' official biographical directory.
Basically, it says he's in Congress now and was born in 1988.
"SANTOS, George, a Representative from New York; born on July 22, 1988; unsuccessful candidate for election to the One Hundred Seventeenth Congress in 2020; elected as a Republican to the One Hundred Eighteenth Congress (January 3, 2023-present)."
Entries for House members on the congressional site are compiled by the historian of the House of Representatives. The site, officially called Biographical Directory of the United States Congress, is based on a print version of the guide, which dates back to 1859.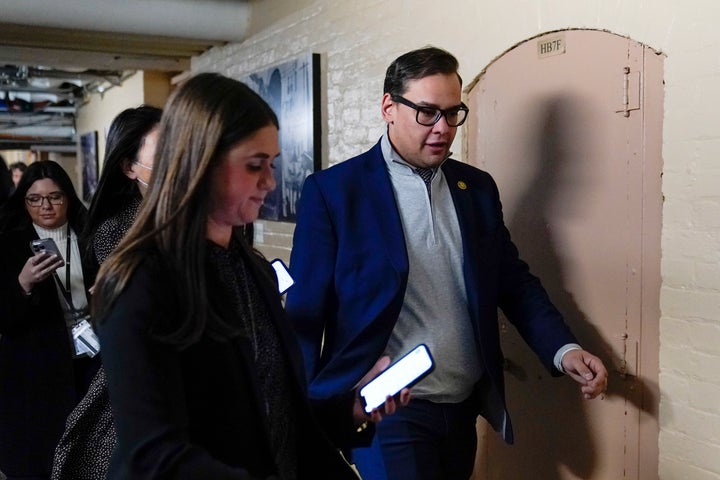 It's not uncommon for freshmen in Congress to have very short biographies, but they usually at least mention where the member was born and their educational and occupational backgrounds, no matter their age.
For example, 25-year-old Rep. Maxwell Frost (D-Fla.), the first member of Gen Z to be elected to Congress, also has a three-line entry, which lists his jobs before Congress as "campaign staff; organizer; rideshare driver."
Fellow Florida freshman Rep. Anna Luna, a Republican, has only a four-line entry, but it includes her National Guard service and prior jobs as an executive at a non-profit group and political commentator.
Santos, who is 34 (according to his directory entry), admitted to fabricating much of the background he touted in the campaign, but only after several media outlets looked into it post-election.
He claimed to have graduated from Baruch College but later admitted he had never graduated from any college. Similarly, his claims that he had worked at financial giants Citigroup and Goldman Sachs were not backed up by the companies. He even had to clear up questions about whether he was Jewish. "I am Catholic. Because I learned my maternal family had a Jewish background I said I was 'Jew-ish," he told the New York Post.
Santos reportedly is under investigation by federal prosecutors and the Nassau County district attorney's office. The questions about his background and how he financed his House race have led to calls, most recently by some of his fellow party members in New York, to step down, something he has vowed not to do.
Popular in the Community