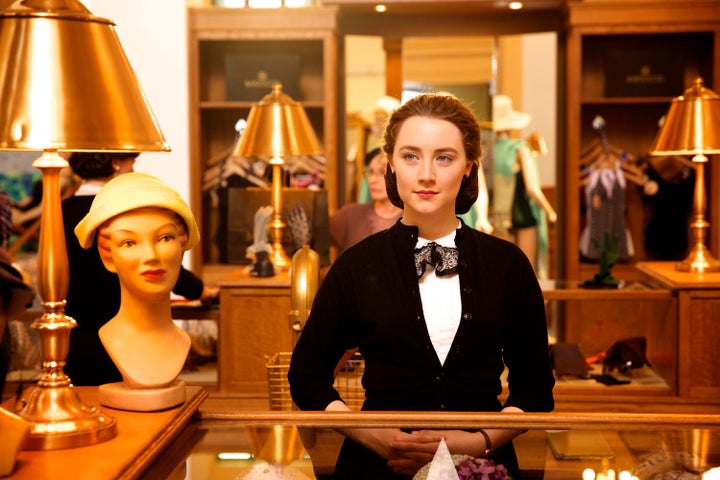 Of the movies that have screened for press so far this year, "Brooklyn" is the Oscars' biggest wild card. Audiences swooned when the film premiered at Sundance in January, making it the festival's likeliest awards contender. But will it command the staying power of "Whiplash" and "Boyhood," both of which debuted at 2014's Sundance before drumming their way to Best Picture nominations one year later? "Brooklyn" screened again at last month's Toronto Film Festival and this week's New York Film Festival, and now that the post-Labor Day Oscar prognosticating has begun, it's time to more seriously ponder the movie's awards odds. 
I saw it in New York on Wednesday, and the Oscar talk is appropriate: "Brooklyn" is lovely. The coming-of-age tale, based on the cherished 2009 Colm Tóibín novel, traces Eilis Lacey, a 1950s Irish immigrant (Saoirse Ronan) who sets sail for America, soon finding herself torn between the new life she's created and a loyalty to her homeland. While attending a dance, Eilis meets a sweet Italian boy (Emory Cohen) who gives her purpose outside of the department-store job she maintains and the boarding house where she resides. When she returns home after a family death, Eilis mourns how deeply her mother (Jane Brennan) longs for her -- a sentiment that's heightened by the presence of a charming new suitor (Domhnall Gleeson). 
"Brooklyn" is a pretty movie, both aesthetically and emotionally. Yves Bélanger's lush cinematography makes it look more expensive than the average Sundance title, fusing poignantly with Nick Hornby's elegant script and Michael Brook's graceful score. But none of it would mean anything without Ronan and her director, theater maestro John Crowley, who also helmed 2003's "Intermission" and 2013's "Closed Circuit." The audience is as fixated on Ronan as the camera is. We sail with her across the Atlantic Ocean, ache over the loneliness Eilis experiences upon docking and rejoice with her as homesickness gives way to happiness. "Brooklyn" is about seeking a home and, in turn, an identity. Ronan's delicate performance makes that odyssey at once simple and profound.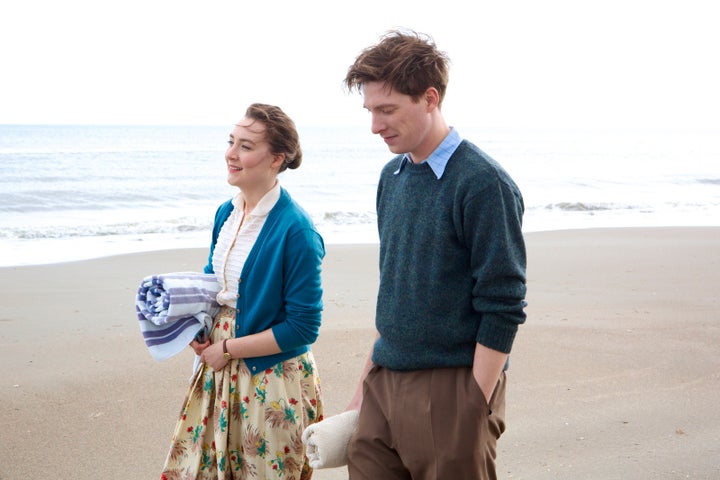 But can the film's critical hallelujahs translate to Oscar glory for Ronan? She totes Sundance's brightest awards buzz, though two other ladies whose movies premiered there are also viable Best Actress contenders: Lily Tomlin in "Grandma" and Blythe Danner in "I'll See You In My Dreams." Ronan earned a supporting nod for "Atonement" in 2008, and now she has the support of Fox Searchlight, which mounted successful campaigns for the previous two Best Picture winners, "12 Years a Slave" and "Birdman." (The indie imprint snatched up "Brooklyn" distribution rights for $9 million, this year's heftiest Sundance deal. Toronto audiences were equally wowed.) Whether the film will find much life at the box office when it opens Nov. 4 opposite "Spectre," "The Peanuts Movie" and fellow Best Picture contender "Spotlight" is a bigger question mark. Regardless, many signs point to a nomination for Ronan, especially now that Focus Features has confirmed that Alicia Vikander will be touted as a supporting candidate instead of lead for her excellent turn in "The Danish Girl." By my humble count, I expect Ronan will share the category with Cate Blanchett ("Carol" or "Truth"), Brie Larson ("Room"), Jennifer Lawrence ("Joy") and either Tomlin or Charlotte Rampling ("45 Years"). 
We should also mention Julie Walters, who is a joy as the matron of the New York boarding house where Eilis lives. She's a fussy scold with enough bite to function as the movie's comic relief. The supporting-actress race is stacked, but Walters is a two-time nominee, for "Educating Rita" in 1984 and "Billy Elliot" in 2001. Plus, Fox Searchlight managed a nomination for Laura Dern in "Wild" earlier this year, even though the precursor prizes indicated Jessica Chastain was favored to earn that slot for "A Most Violent Year." Could the 65-year-old Walters parlay similar studio support into her third Oscar nod? Possibly, but get a load of the A-listers she's competing against: Rooney Mara ("Carol"), Kate Winslet ("Steve Jobs"), Jane Fonda ("Youth"), Jennifer Jason Leigh ("The Hateful Eight"), Joan Allen ("Room"), Jessica Chastain ("The Martian"), Rachel Weisz ("Youth") and Kristen Stewart ("Clouds of Sils Maria"). 
Whatever happens by the time nominations arrive on Jan. 14, "Brooklyn" is worth your time. It's not flawless -- the story is missing a layer of drama when it comes time for Eilis to choose between Ireland and the United States -- but it blends the year's simplest plot with its most thoughtful execution. If nothing else, Hornby should be a shoo-in for Best Adapted Screenplay, though I said the same thing about "Wild" last year before he was shut out. (Hornby did earn a 2010 nod for "An Education," though.) Until we see what shelf life the movie's box-office receipts give it next month, my "Brooklyn" reflections will hinge on the tears I choked back as I exited the theater and trekked to the subway station. That's Ronan's doing. You'll see what I mean very soon.
PHOTO GALLERY
Fall Movie Preview 2015
For a constant stream of entertainment news and discussion, follow HuffPost Entertainment on Viber.
Calling all HuffPost superfans!
Sign up for membership to become a founding member and help shape HuffPost's next chapter