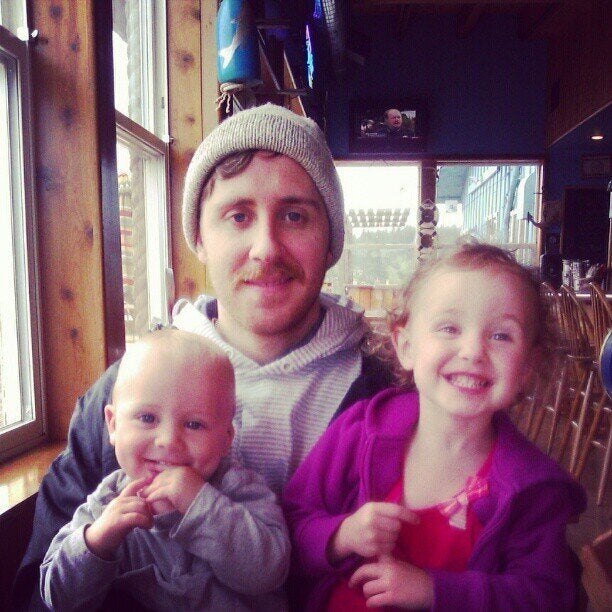 Last year, my wife gave birth to our second child, unmedicated, in our home. I know this isn't as strange-sounding as it was 10 years ago, but most people still look at me wide-eyed when I spit that one at 'em. I am Sapient, I am a hip-hop artist, and I am also an advocate for natural childbirth, breastfeeding and attachment parenting. And yeah, breastfeeding isn't exactly hip-hop.

I grew up surrounded by music and play multiple instruments. Over the past decade, my life has revolved around my career as a hip-hop artist. I have been a rapper, beat maker, graffiti artist, DJ... Pretty much anything that you might typically associate with hip-hop, I've done it. Except break dance -- I still can't break dance.

Immersing myself in hip-hop culture obviously meant partaking in that dominant, "I'm better than you" bravado and the "I don't give a fuck" attitude. Admittedly, I do enjoy that aspect, but I always secretly gave a fuck. Although the stereotypes surrounding hip-hop are changing and have been since I first stepped onto the scene, I don't fit any of them. Nor did any solid role models really exist in that sphere to prepare me for my most influential role -- fatherhood.

Three days after proposing to my wife, we found out she was pregnant with our first child, and so I entered into the realm of touring artist right around the time I was also about to become a dad. This was all part of trying to figure out how to reach the next level of income as an independent artist and trying to provide for my family, as I knew that I would be sole provider as soon as my daughter was born. I had been barely able to support myself at that point. There was a lot of figuring out that I needed to do.

I learned that if I wanted to continue the career I've already spent a third of my life pursuing, I would need to be gone all the time. It was important to us that my daughter have a stay-at-home mother. To ensure that my wife would be a constant in our baby's life meant I had to sprint to make the bills. In all the years leading up to this shitty epiphany, it had never occurred to me that touring would be a torturous uprooting from my family every time I hit the road. Babies don't know the difference between a father who is out doing negative things like drugs or getting locked up from a father who is out of town for work. Obviously, there are some different symptoms, but an absent father is an absent father no matter how hard I had to work selling beats, doing shows, mixing and mastering people's albums, whatever.
We had planned a home birth for our first-born, but my wife went into labor early and our midwife felt it was best to move to the hospital. She had admitting rights at Portland's OHSU, so we still were able to have our midwife instead of a doctor and I was able to deliver my daughter. But we couldn't help feel some disappointment not to have the home birth we had planned and practiced for. Foreign germs can live in hospitals, and mothers already carry antibodies to the germs in their own home, plus the stress and discomfort of being in a hospital can have drastic effects on the mothers ability to relax during labor, which can really slow down the process along with other things like IVs and being surrounded by strangers and doctors recommending things that make the birth fit their schedule rather than nature's.
Thankfully, with our second child, things went more smoothly.
I had spent the years after our daughter was born of juggling parenthood with being a productive artist, booking shows as often as possible and touring the left half of the U.S. like it was a cell that I was pacing. Despite this, I wasn't seeing any surprise jumps I'd hoped for in my career. I thought, If I push super hard for a few years, I will increase my following enough for things to ease up for me financially. I made more money, but as I made more money, my financial responsibilities grew.

While touring for my 2010 album, Barrels For Feathers, I got the call from my wife that she was pregnant again with our second baby, and we began to prepare ourselves for our second experience in natural childbirth.

Nine months later, I woke up at 4 a.m. to my wife telling me, "This is it." For two hours, she hung her arms around my neck as we paced back and forth in our living room. She was naked and moaning (sounds like how we got into this predicament in the first place, right?), and through a natural, drug-free home birth, we had our baby boy. This right of passage is so important for babies. I love being an example that it's not just hippie extremists who have home births, and I'm so proud of my wife.

After going through this process for a second time and reflecting on that "don't give a fuck" attitude I once carried, I cannot quite explain how far removed I feel from the life I once led. It makes me wonder at what point it became socially acceptable to act like a child, not only in this industry, but also just in general. I see a lot of people my age having trouble "growing up." Technically, it just means getting older, but I'm 29, and when I was 21, my view of 30-somethings was that they were usually square "grown-ups." They looked like they should be wearing suits. Nowadays, it seems like the 29-year-olds I see in suits still look like kids who dressed up for their older cousin's wedding or something. Like Shia Lebeouf in that Wall St. movie. Most of my friends still wear baggy pants, smoke weed all day and don't have their shit together, and no -- if you put 'em in a suit, they don't look more "grown up." Even though I have moved on from that phase in my life (perhaps by force of love), those are still the people who I relate to. I can't go to these playgroups and make friends with these other dads, because they're always -- I don't know how else to put it -- they're square.

Last year, after our son was born, I released the album I had been working on and hit the road again, but this time when I got home, I realized that it was far more important for me to be there solidifying that early bond with my kids. I took over a year off of touring and have been at home with my family ever since.
This has been the best year of my life. Getting to wake up everyday with my wife and seeing my babies turn into toddlers is something I could never replace with dollars. The sabbatical from tour has definitely put speed bumps and a 15 mph sign on my road to seeing my career flourish. It's been an internal struggle for me, watching many of my peers gain the success that I've had my eyes on for so many years. They're busy making connections and gaining the exposure that the touring artist does. There is also the puzzle of supporting my family while not out making tour income. Luckily, I'm like MacGyver when it comes to creating an income out of art, and I've somehow been paying the bills.
There was no definitive path or guidebook for my journey into fatherhood. It's like I had to create my own. Maybe I'll call it, "What To Expect When You're Expecting And You Are A Hip-Hop Artist" or maybe just, "Holy Shit." My purpose now is to find a balance in my beliefs as a father and husband in an industry that doesn't offer much support for those ideals. I realize now that my own actions position me as a sort of "cultural influencer."

As I grow, so does my music, and this next project is more of an indie rock album, born of my frustrations of hip-hop, some of which ve mentioned above. I guess, in a way, it reflects a new direction of my identity as a person and an artist. But I still don't feel like I've grown up. I've heard from 80-year-olds that you never feel grown up in the way you imagined your parents felt, and I bet they didn't, either. What I have done is matured, which I think is reflected in my music and career, however, the two certainly don't mirror one another. I don't think these underground hip-hop-heads want to hear about wiping poop off of balls and my conversations with a 3-year-old about why we wear warm clothes so we won't be cold. But that's just what parenting means to me.