Sapplets, raising the "watermark," and spotting trends are all part of the highly competitive game that makes magazines sink or swim in today's multimedia world, so not playing along can be lethal for publishers aiming to stand out from the crowd.
The vocabulary evolves with the technology, and innovators are tripping over themselves to provide magazine consumers with options deemed unimaginable a decade or two ago.
Print media, including magazines, that complain of reduced revenues, rising costs, shrinking circulation and see-sawing advertising, have felt the pinch, but thanks to innovative approaches, countless publishers are recouping their losses and widening their reach.
With hot new advertising tools like the "sapplet," an abbreviation of social applet, or small social application, groups like Hearst Magazines are capitalizing on the trend and turning a profit to boot.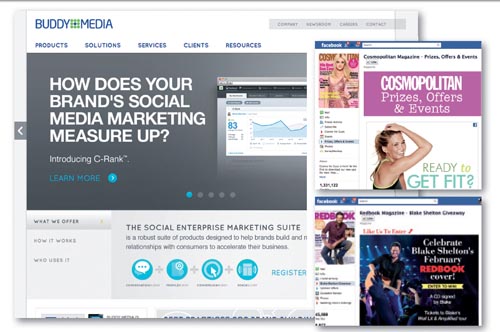 Sapplet (Courtesy of Innovation International)
"The word makes no sense but the function is pure gold," is how Innovations in Magazine Media 2012 World Report explained it.
A sapplet is a branded social media application that creates a richer content experience and increases social engagement through game-like features, combining ecommerce and social media, it added.
Magazine readers could touch, feel, scratch, sniff and sometimes taste content.
Now they can also interact with their favorite publication, and group publishers are consolidating the operation to rope in the sponsors.
"So, if advertisers want to reach a certain demographic, they don't have to negotiate with each magazine individually. With sapplets, there are more opportunities for Hearst advertising partners to customize, sponsor and create more brand recognition," it said.
It's one of several case studies in the third edition of the report produced by Innovation International Consulting Group for FIPP, the worldwide magazine media association, to shed light on how the medium is constantly reinventing itself.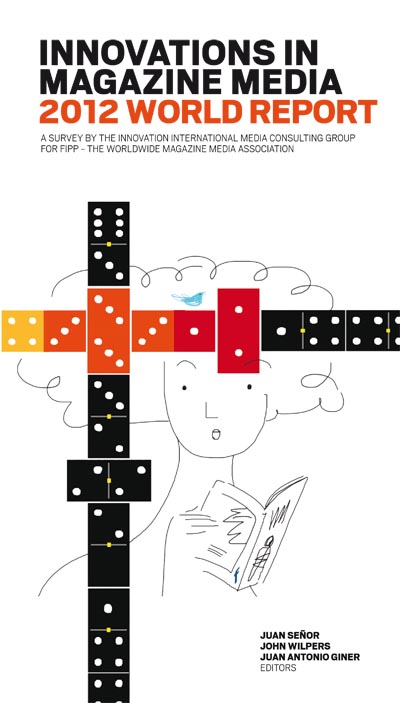 Innovations in Magazine Media 2012 World Report (Courtesy of Innovation International)
However, editors John Wilpers, Juan Senor and Juan Antonio Giner noted that a magazine, regardless of its distribution platform, requires planning, imagination, good reporting, great editors, magical art directors and compelling advertising messages, now more than ever, adding that the platform is not the message.
"The message is still good storytelling, segmented content, compelling covers, beautiful photography, great design, clever headlines and serendipity," in print, online, on tablets and on mobile devices, they added.
Enter what they called "A Modern-Day Lazarus," with the marriage of the highly successful Bloomberg news agency and its focus on financial news, and the formerly faltering magazine Business Week that was bleeding red ink at the rate of $60 million a year.
The agency bought the weekly for $1 in 2009, turned it into Bloomberg Businessweek and "ad pages were up 21 percent year-on-year for the first half of 2011," they said.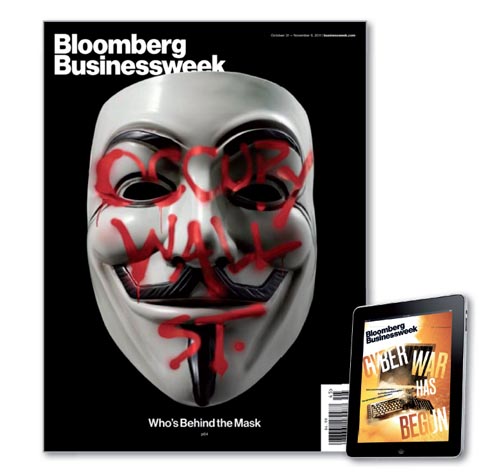 Bloomberg Businessweek (Courtesy of Innovation International)
Equally impressive was the 12 percent jacked up subscription rate from 900,000 to 980,000 for that period, the report said, adding that while still in the red, losses were more than halved.
A sidebar in the chapter on that model is headlined "Inside the New Businessweek Newsroom: Lean, Mean and Provocative."
"The 400 journalists of the pre-Bloomberg era are gone. Today, fewer than 50 top editors, writers, reporters and designers work in an open space newsroom (they can, however, call on the network of Bloomberg News' 2,300 journalists in 146 bureaus and 72 countries)."
Accordingly, the new editor's newsroom management style is dubbed the "why not?" way, in reference to his acceptance of crazy ideas until he sees the output: if it's great, he's on board, if not, he kills it, the authors said.
Open newsrooms have become standard fare in media organizations, but how to configure them is what makes a difference.
The India Today Group headquartered outside the capital Delhi consolidated and integrated its far-flung media operations grouping magazines, TV, radio, a daily and a suite of Internet and mobile services.
Until 2011 the group's 1,200 editorial staff were scattered across 11 offices in the city when chairman and editor in chief Aroon Purie implemented a structural transformation to match the times.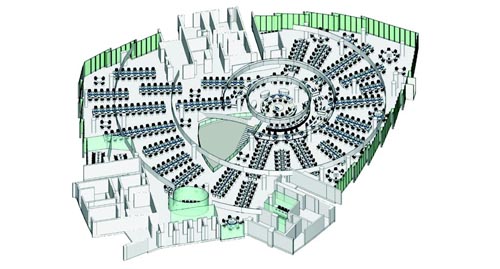 India Today Group Newsroom (Courtesy of Information International)
The scheme involved creating senior editorial posts cutting across output platforms, a news hub IT system run by a dedicated synergy staff, and plunking the group's key editorial staff on the same open-plan floor with macro editors.
Quick Response (QR) codes -- those funny black or colored squares inserted into advertisements to be scanned for more information about products and services -- are still in use in magazines, but they've been trumped by more elegant and subtle digital watermarks that ask readers to scan pages or watch movies off their pages.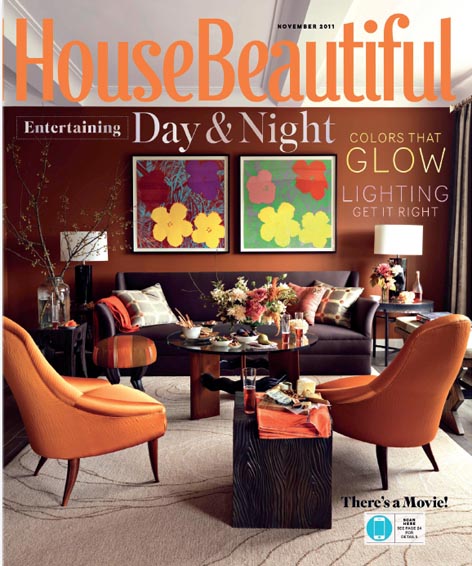 Raising the watermark (Courtesy of Innovation International)
The report featured a cover of House Beautiful, the interior design and decoration publication, with a message at the bottom right that read "There's a Movie!"
Under it was the image of a mobile device and the words "Scan Here, See Page 24 for details."
The idea is for readers to enjoy the basic article as well as download the right smartphone app allowing them to interact with the story, watch a before and after video or interview with a designer, be transported to Tibet to see chairs being made, as well as receive information from advertisers.
"The reader's long-time 'friend' and companion -- the print magazine -- is becoming a more personal, more real advisor and tutor with the integration of print and digital," the report said.
Another marker is Pinterest, a picture sharing site virtually unknown two years ago, that seems to be sending traffic to magazine sites in numbers rivaling Google and Yahoo, the report noted.
For magazine publishers, that translates into traffic as well as sales of subscriptions and products -- the ultimate bottom line.
Calling all HuffPost superfans!
Sign up for membership to become a founding member and help shape HuffPost's next chapter