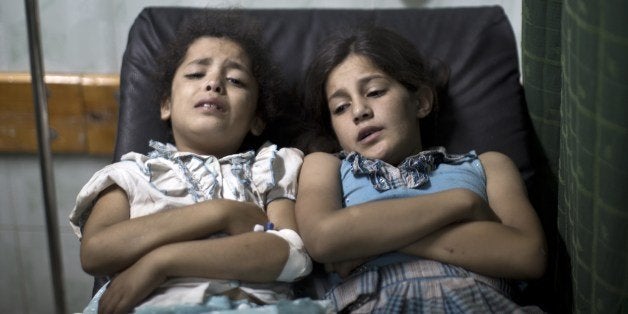 This is how Sara Hussein, a Middle East correspondent for Agence France Presse, described what it has been like for her to report on the killing of hundreds of Palestinian children in Gaza:
"I've seen dead children before, but never like during this war in Gaza. Never so many, never so often."
Hussein, who shared those thoughts in a blog post on Wednesday, is just the latest journalist to reflect on the toll that the bloodshed in Gaza has taken on her psyche. British journalist Jon Snow wrote that he was "deeply scarred" by what he'd seen there. ABC's Alexander Marquardt told HuffPost about the experience of seeing "children and babies crushed to death in their homes or targeted in airstrikes."
Like them, Hussein's mind lingered on all those children. She wrote about how she was reduced to tears as she watched staffers in a morgue handled the bodies of dead children:
It was hard to remain composed in the morgue as the staff flitted around the three children, and a fourth who had been transferred after dying at another hospital. I slipped inside before the scrum of journalists entered, and I stood quietly in the corner as the team worked and three family members inside swung between anger and extreme pain. I continued to take notes and observe, but I cried as I did so. And when I wrote about it later, I cried again.