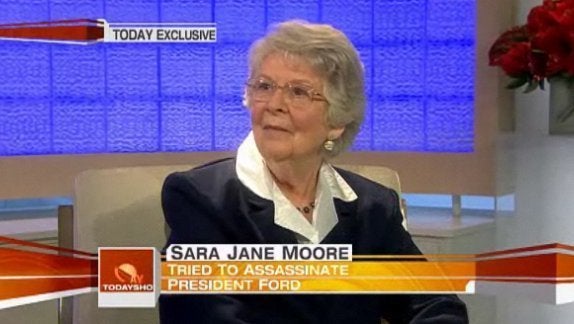 To look at this 80-year-old grandmotherly woman, it is difficult to imagine that she spent 32 years in prison for attempting to assassinate President Gerald Ford, but that's exactly what happened. On September 22, 1975 in San Francisco, Sara Jane Moore fired a shot at President Ford that missed his head by several feet. A bystander wrestled her to the ground before she was taken into custody by authorities.
Moore was a 45-year-old divorced mother who hung around disaffected groups feeding her alienation. Looking back on the incident, she says of her earlier self that it seems like a "different person." She sees the genesis of her assassination attempt as stemming from her immersion in radical leftist groups that were pushing her to the edge, and that she was alienated from the world as it was and needed to do something about it. It's unclear why she felt killing President Ford would have done anything about it, but she declares that to this day she believes if she hadn't made the attempt someone else would have:
Oh, I still think that. If I hadn't done it, someone else would have. That was the tenor of the time. There was more talk about it than people realize. Again, I thought that what was happening to us there in San Francisco was the whole world and it wasn't. I had to learn later that everybody didn't feel that way.
Some six of her 32 two years spent behind bars was in solitary confinement. She escaped from prison in 1979 but was promptly recaptured. In hindsight Moore believes that the action was wrong, although "understandably wrong, but that's just my ego talking."
Watch the full interview below.
Calling all HuffPost superfans!
Sign up for membership to become a founding member and help shape HuffPost's next chapter