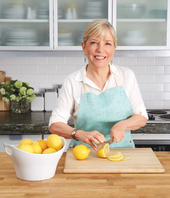 Author, TV star and all-around weeknight meal whiz Sara Moulton's newest book is Home Cooking 101 (Oxmoor House). Since many of the themes and recipes in the book tie in with the Meatless Monday and Kids Cook Monday campaigns, she and I recently chatted about family dinners and meatless eating.
Your new book looks extremely useful to the home cook! I love how it presents like a textbook, albeit a textbook with fabulous food photos and enticing recipes. Can you tell me more about your goals with this book?
It's supposed to be a teaching manual for home cooks. Read the first chapter, that's the the most important thing, and then cook your way through it. And as you cook, there's lots of little information along the way. The first chapter sets the tone -- it's not like, "here's how you use a knife, here's how you make a stock" -- it's more like, "here are the 10 things you need to know" and then as you cook your way through, you can learn a lot.
You say in your introduction that despite your busy schedule over the years, you were still mom at the end of the day and you needed to get a meal on the table instead of relying on fast food. For you, why is this so important?
Both my husband and I grew up in families that had regular family dinners and we both see it as really important. The thing about family dinners, besides eating better, is that it's about coming together at the end of the day to reconnect. Especially these days with both parents working, you're all in different directions and I think it's really key to come together, check in with each other and give everybody a turn to talk. Half of it is the talking and reconnecting.
Also in your introduction you write, "cooking and dining together with your loved ones is a recipe for good life." This is, in a nutshell, what the Kids Cook Monday campaign is all about! Why is cooking together important to you?
That is such a good one. The thing is, when the kids are little there's not a ton they can do in the kitchen, but it's not a bad idea to have them hang out while you cook. I started cooking via baking with my grandmother and that was really fun. We made bread, pies and cookies. There's something about it that's just is very comforting and very wonderful.
Home Cooking 101 has a chapter on "quicker" meals. What are some of those recipes that families could make together on a weeknight?
The Quick Tomato, Goat Cheese and Fresh Herb Penne is a good one for the summer and it's very quick, you just boil the pasta, dump it on the salted tomatoes and fresh herbs and goat cheese with some of the pasta cooking liquid and toss it up.
And the Greek Diner Souffléed Omelet is really fun because it's a magic trick. You can put any filling in there and the kids can help you beat the egg whites.
You've been a supporter of our Meatless Monday campaign since the early days when Sid Lerner founded the movement. You dedicated an episode of your show Sara's Weeknight Meals to Meatless Monday this season and you've also got a chapter on vegetarian and vegan meals in the new book. Why do you think that it's important for home cooks to have some meatless dishes in their repertoires?
You know, my prior two books also had chapters on vegetarian meals! I think ultimately it's better for us. It eliminates some of that saturated fat but also it's so much better for the environment. We all eat way too much animal protein in this country. Europeans and Asians and everyone else doesn't put meat in the center of the plate. So that's why I think it's really important to get more vegetables into your diet. Don't just pile them up around the meat but lose the meat all together and focus on the vegetables!
You worked with a number of guest chefs in the book, including Dirt Candy's chef/owner Amanda Cohen, who was also the guest on the Meatless Monday episode of your show. What can you tell me about working with her?
It's so exciting to eat at Dirt Candy. I went there with my husband and another couple, a carnivorous husband and vegetarian wife. We had a great meal and the guys did not make any jokes afterwards about, "let's go out for dinner." Her recipe in my book is lovely (Broccoli Carpaccio with Broccoli Stalk Salad). She's leading an exciting new charge of things to do with vegetables and they're not all that unusual -- you don't need to go buy tons of almonds and make almond milk for her dishes.
I can't wait to try it! Thanks so much for chatting, I know you've inspired readers to whip up some meatless meals with their families this Monday.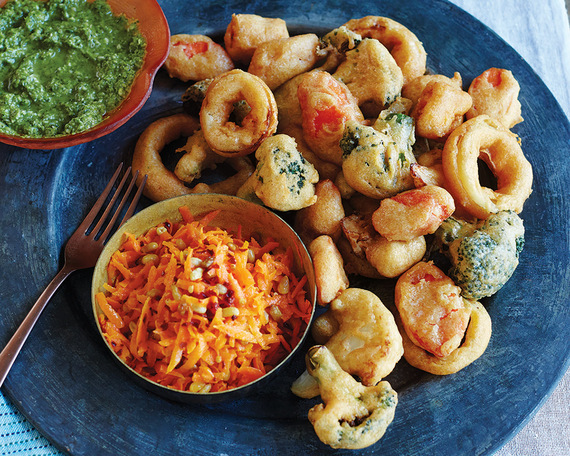 Related