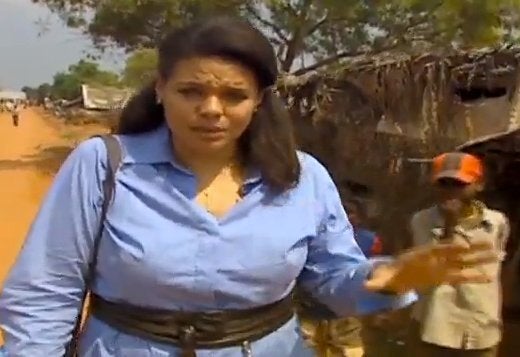 Sidner reported live from the compound while rebels shot rounds of celebratory fire behind her. The gunfire was so loud at some points that it interrupted the segment. At one point she reported getting hit by some of the shells.
But Sidner was intent on bringing viewers the story. She and her crew had to retreat to a wall for safety, but she continued reporting even after losing audio.
It's not the first time the CNN correspondent has won plaudits for her gutsy reporting. In 2008, she was reporting on the Mumbai terrorist attacks from the Taj Hotel when she was accosted by a group of angry locals. She could be heard yelling "Stop it!" in the dark before the network cut to previously recorded material. Larry King later said that "her reporting put her right in the line of fire."
Sidner has over been in television journalism for over fifteen years. She first joined CNN as the New Delhi correspondent in late 2007, according to TVNewser. Prior to that, she was a weekend anchor and reporter for KTVU-TV in Oakland, California. She got her start in reporting as a student at the University of Florida in Gainesville, where she got a degree in telecommunications.
WATCH:
Related
Popular in the Community