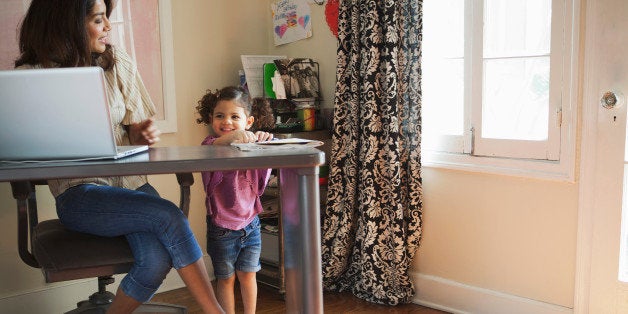 There are two sides to every conversation about building a rewarding life: the theory and the practice, the upstairs and the downstairs, the extraordinary and the typical, the few and the many.
We've heard a lot lately from the theoretical, upstairs, extraordinary few. Sheryl Sandberg's "Lean In" is an instruction manual on how to become one of those, written by someone who is. Anne-Marie Slaughter's "Why Women Still Can't Have It All" is a lament that even when you are one of those, life is still complicated.
But what about the practical logistics of the many typical folk who live downstairs?
That's who Catherine Rampell addressed in her article on the front page of the New York Times yesterday titled "Coveting Not a Corner Office, but Time at Home." In the first of a series the Times is calling "The Balancing Act" Rampell profiles the life of one Every Mother.
Or, at least, that is her intent. Sara Uttech is raising three children in Fall River, Wis., where "her job running member communications for an agricultural association helps put her family near the middle of the nation's income curve," Rampell writes. "She doesn't have access to nannies, in-office nurseries, personal assistants or drivers, so she has had to be resourceful to financially support her family while still doing everything that is important to her as a parent."
Amid all the talk of what women need to do to get ahead -- all the books, and articles and morning show chatter -- Uttech is here to declare that she doesn't necessarily want to. "She finds climbing a career ladder less of a concern than finding a position that offers paid sick leave, flexible scheduling, or even the opportunity to work fewer hours," Rampell explains, and then concludes: "Ms. Uttech wants a rewarding career, but more than that she wants a flexible one."
More accurately, I would argue, for Uttech "a rewarding career" IS "a flexible one." Which is a very useful definition. The other measures of reward -- power, wealth -- have increasingly been found wanting, as workers realize that to chase these means essentially sacrificing everything else. Uttrech's lines in the sand -- her request (granted) to work from home on Fridays; her resolution to never miss a child's ball game (achieved, so far) even as her children log six or so a week -- reflect her recognition that there is just so much she can handle at this moment in her life.
But that last clause is the key. At this moment in her life. Because it's too simple to conclude that some workers desire flexibility above all, and are forever willing to trade some ambition and prestige in exchange. More accurately, they are willing to make that trade for the moment. That is another duality of the work/life conversation: now vs. not now.
Since the start of the industrial revolution, the arc of a white collar working life has been assumed to be as follows: ramp up in your 20s, go full throttle in your 30s, aim to be senior and in charge in your 40s and 50s, turn over the reins to the next generation in your 60s. But the most intense years of parenting overlap exactly with the most intense of those working years, and as women have entered the workforce in number equal to men the old equation has been shown to be flawed. Far more logical, emerging thinking goes, is to look at a career as a series of steps forward and back, up the lattice and down, leaning in and leaning back.
It is in the interest of the workplace to allow Uttech her work-from-home-Fridays along with the flexibility to leave early when her children have a game. (A schedule which Rampell makes clear is far from the norm and one most American workers would envy.) I'm hoping her husband has the same options, too. Not only do studies show that flexibility increases employee productivity, morale, retention and health, but also because it grooms Uttech to step up as her life circumstances allow. Already, Rampell writes, Uttech is "raising her hand" more often as her children get older; last year she made four trips for trade shows and conferences.
And it is in the interest of us all to remember that while the work/life question is a duality -- the many and the few, the extraordinary and the typical -- it should never be seen as a null set, an either/or. One does not opt-out OR in, lean in OR back, work OR not, choose family OR career. Like Uttech we scramble and see-saw, improvising from day to day and year to year.
The real headline for Rampell's story? "Coveting Not a Corner Office, but Time at Home. For Now."
And the next step? To design a workplace that allows all working parents that same choice.