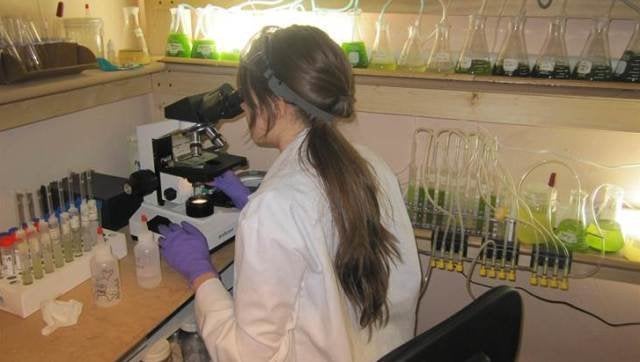 Take a look under most teens' beds and you're likely to find old socks, some dust bunnies or maybe a secret diary that's meant to be kept hidden from prying eyes (a.k.a. your annoying little brother). But for 17-year-old Sara Volz, instead of using the space under her bed to collect dust, it's home to her groundbreaking algae biofuel lab. Yup, that's right: Volz grows algae under her bed, allowing her to spearhead cutting-edge research -- and win a $100,000 scholarship in the process.
Volz, the 2013 Intel Science Talent Search winner who beat out 1,700 other nationwide whiz kids, is taking algae to a new level. She explained to ABC News that the natural oils produced by algae can be converted into biofuels, which can be used in diesel engines.
"It's great because it means you're not relying on petroleum-based fuels. You're not relying on fossil fuels," Volz said.
The problem is that this isn't necessarily economically feasible, but Volz may have found a way to work around this hurdle. Using the resources of her lab-based bedroom -- decorated with green algae-filled beakers and microscopes -- Volz is working to make biofuels ultimately more cost efficient by increasing the natural oil production of the algae through "artificial selection." The teen even admitted to adjusting her sleep schedule to accommodate her work.
Moving forward, the science star (and captain of her school's Science Bowl team) will be taking her talents to the Massachusetts Institute of Technology, where she'll begin college in the fall. While it's unclear if Volz will be moving her algae into her college dorm room, we can't wait to see what she does next (but we hope it involves more sleep!).
Calling all HuffPost superfans!
Sign up for membership to become a founding member and help shape HuffPost's next chapter