I recently caught up with Rochelle Rubinstein to talk about our shared love of printmaking, her influences, and the power of art on both personal and political levels. Rubinstein works across many media, has a background in art therapy, and currently lives and works in Toronto.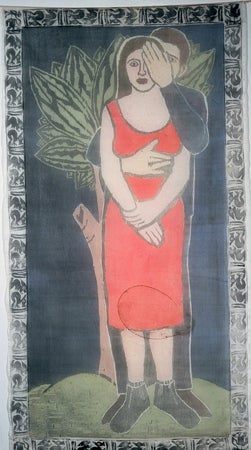 We've spoken before about our mutual love of printmaking and its infinite potential. You often push the boundaries of the medium in such ways as printing woodblocks on silk and combining printing with other media like painting and embroidery. What possibilities of printmaking have you been thinking about lately?
Lately, I love to take perfectly good, completed, printed and painted works on wood and over-print and over-paint them with entirely different imagery and patterns. Sometimes this involves several layers, with the original work barely visible here and there. It feels dangerous to do this! The risk is that of ruining a finished piece (and of wasting many hours of work). The pleasure is in feeling bold and pushing through to something deeper and more nuanced than before.
To up the ante, I sometimes also force several unrelated works to form a new larger work - and then subject this larger, schizophrenic work to the madness of over-printing, over-painting, carving, etc.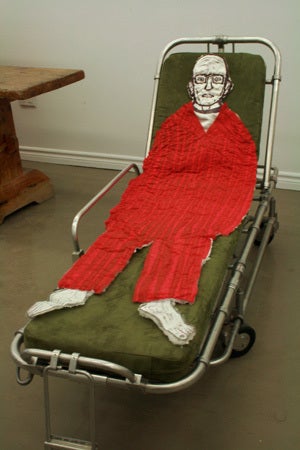 You also often work in sculpture and with textiles and you live on a farm - Is there something about the physicality of the process, the block, the tools, that speaks to you?
We only live on a farm some of the time. The rest of the time is spent in a downtown Toronto neighborhood that reminds me of Greenwich Village in the sixties.
I do love the physicality of block printing. Woodblock printing especially, but carving rubber is also pleasing (if less textured). To me, carving is an intense form of drawing. Simple, strong lines and shapes are required. The discipline excites me. And almost every time I pull a print, there is that moment of surprise and revelation. I never get tired of that thrill.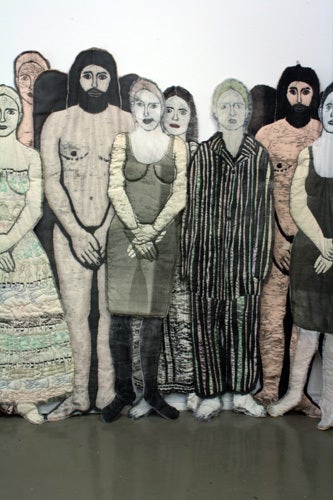 Recently when I was looking at your life-size printed and embroidered woodcut figures on silk, Ida Applebroog and Nancy Spero came to mind. Do you think of yourself as being in dialogue with them or other figurative artists of that period?
Very astute! They both have inspired me greatly. Kathe Kollwitz immediately comes to mind too, from an earlier era.
All three of these soulful and honest artists were immersed in figurative work, each with a distinctive viewpoint and style, each making work both deeply personal and deeply political.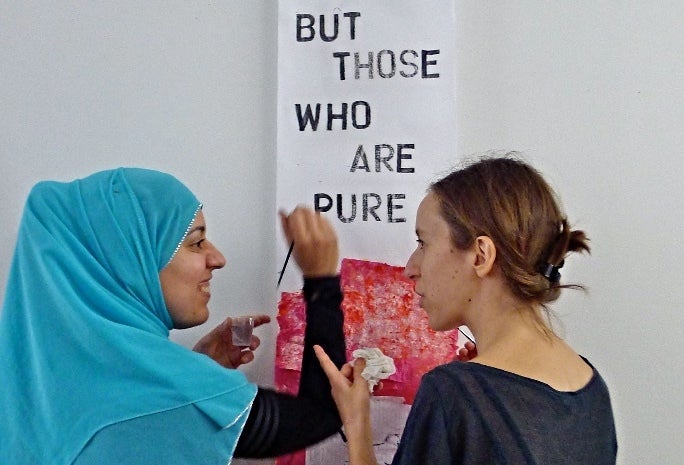 You have a background in art therapy and now facilitate art projects, often with at-risk communities of different ages. How do these projects influence your art practice and vice versa?
The art facilitation does feed my own art and in fact does seem essential to my ability to continue to make art. It is also deeply satisfying to help people make art.
My role is mostly technical guidance and advice and support; and the projects usually fall into place, especially if there is a specific goal or theme - like using art as a tool of protest against violence against women or prejudice or depression.
It is beautiful to observe people gaining skill, confidence, relief. Through facilitation, I am reminded of the pleasure and the power of art making. It gives me energy and purpose when I am working alone in the studio. And it makes it hard to be cynical about the importance of making art - for everybody.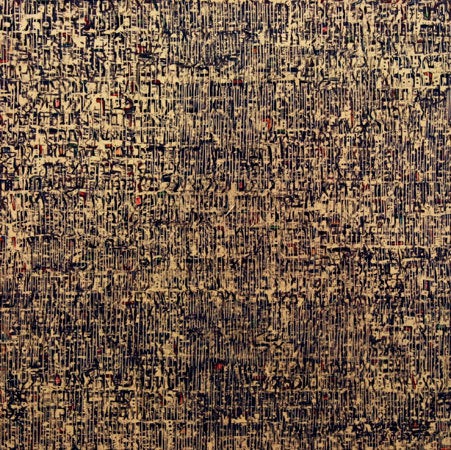 I recently read about 'End of Mourning' and was struck by the act of making the piece itself. Although it may not have been documented as such, this piece is performative; it's about the action of making it and your experience doing so. 'End of Mourning' seems like it was a beneficial healing tool for you, the artist. Do you mind speaking about that experience?
Yes, in retrospect, the work was (privately) performative, in real time. To explain: After my father died, there was a week of formal mourning in my parents' house, which included the recitation of 'kaddish', a prayer for orphans. However, as a woman, I was not allowed to recite the kaddish (according to orthodox law/culture). So - when the week ended, I carved the Hebrew text of the kaddish prayer on a block of rubber, which I then began to print repeatedly on a large wood panel.
I worked on it sporadically, for a long time, always thinking about my dad, about his fortitude and sadness.
It felt like an act of devotion as well as of mourning.
Then I painted some of the negative spaces around the letters, as well as overprinting the text, so that parts became indecipherable.
I worked on it so long that the text was starting to dissolve into a muddy mess.
One day I impulsively carved thin lines into the wood, eventually covering the entire surface with narrow lines of exposed wood. And this brought new light into what had become a very dark work.
I remember feeling relieved and excited that this work was now unexpectedly redeemed.
And then I suddenly realized that the year of mourning - the end of this year is traditionally very significant in Judaism - was about to end. That was an awesome moment of grace. (No witnesses, no documentation.)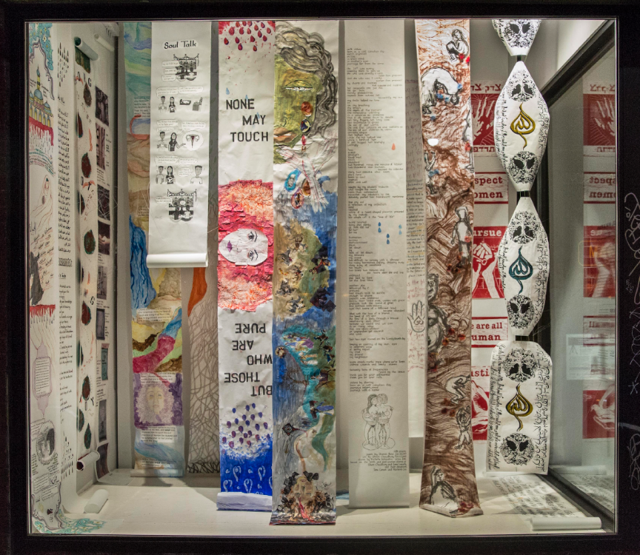 Religious and political themes are prevalent in your work. How do you see the power of art in unstable situations, be they political or personal?
To get a little personal, there were some dark times in my life when it seemed that working in the studio was what saved me. It was the safe place and also the place of truth and reckoning. I could pour anger and grief into the work - the more unconscious the better.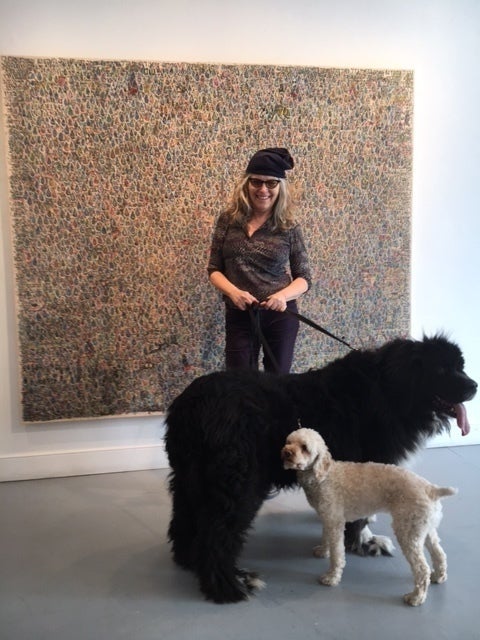 On June 11 you're hosting a huge event that is both a protest and a celebration of one thing: water. Can you tell me more about this?
This work [Water] could have been named BLOOD, MILK & TEARS, as its third (and last) printed layer consists of hundreds of block-printed and painted drops, made with the simple rubber block that I created for participants in the Blood, Milk and Tears project that I facilitated in my studio. (This involved mixed media, collaborative work, on 10-foot-long scrolls, by Muslim and Jewish women, about menstruation, breastfeeding, and mourning.)
Most of my own drops are about water. As I have become increasingly involved with water protection issues, my work has turned quite 'watery' - a departure from the dark, earthy colors that I have traditionally favored. I am now immersed in art preparations for Waterstock, this June 11, which will be a rallying point to send a strong message to the Ontario government to protect our water against corporate control and exploitation. It will be a day full of celebration as well as protest, artisanal food and beverage, great Canadian musicians, and a parade including a huge water goddess and stiltwalkers.
Waterstock was originally planned to take place at our family farm in Hillsburgh, Ontario, which happens to be situated very near where Nestle removes millions of liters of our water every day, shipping most of it to the United States, and thus threatening to deplete our aquifers and destabilize our ecosystem. And the plastic bottles are dangerous to the environment and to aquatic and human life.
(Our rolling farmland, in the shadow of the Nestle tower, seemed like the perfect setting for a protest, a parade, and a celebration... but a permit was denied, so Waterstock was mover to nearby Erin Fairground.)
My goal this month: to make water drop necklaces for all the people who attend Waterstock. We don't know how many that will be. It's likely I will need to make 20,000!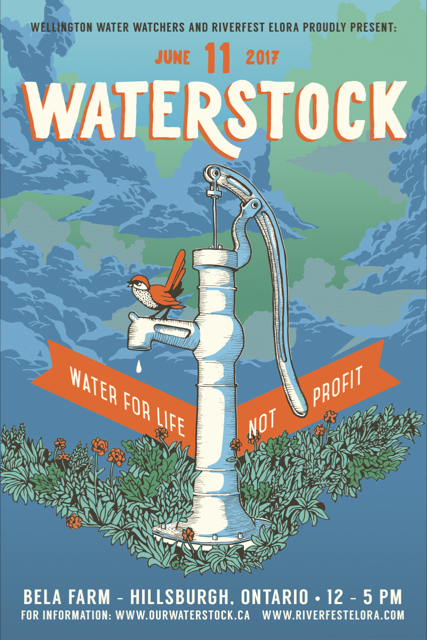 Related
Popular in the Community