While recently spending a month in Suzhou, China, I had the opportunity to get to know painter Zhou Lian Hua and visited her in her studio several times. The following conversation took place on one such occasion. Using oil, acrylic, and ink, Zhou creates large-scale paintings that use abstraction to evoke strong emotional responses in viewers. For her upcoming exhibition A Dialogue with Mencius, the artist uses her own language to address a number of the changes facing modern-day society. Smog, water pollution, the increasing loss of cultural tradition, changing attitudes of the populace, and rapid demolition and construction are among the topics Zhou seeks to confront.
*This interview was conducted in Mandarin.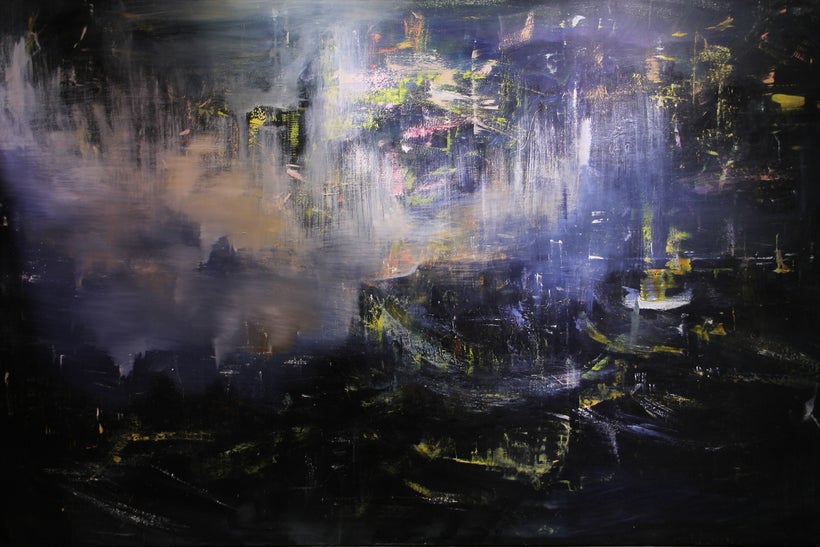 How did you decide to begin painting?
I had lived with my husband, mother-in-law and three children happily in my home town in Henan. When I was 28, my husband suddenly died and my mother-in-law also passed away on the same day. They left me and the three children, giving me a huge pressure to live on. I went to fashion school for couple of months and other did some other businesses. I had no choice but to look for a job in Shanghai. Later I worked at a gallery. While working at the gallery, I slowly began painting my own works. It wasn't thought out, I just naturally began painting.
Some of your paintings are very peaceful and others are incredibly dramatic. When you begin painting, do you know which type of work you will create?
Sometimes when I feel a little crazy, it just comes from feeling, I do not know what the result will be. Usually the painting just comes out, according to my temperament at that time. I don't know beforehand what will happen. Once the painting comes out, I feel like it is like a baby that has just been born. It is its own new creation.

What responses do people most often have when looking at your paintings?
Some says my paintings look like a destroyed city, some says my paintings give them peaceful feeling. Some people say that looking at the paintings gives them strength to stand up and face the world. Some people experience feelings of pain. They may feel very sad and start to cry. I've seen people have every kind of reaction. Whoever is looking will have his/her own response, having to do with what his/her personal interpretation and experiences are.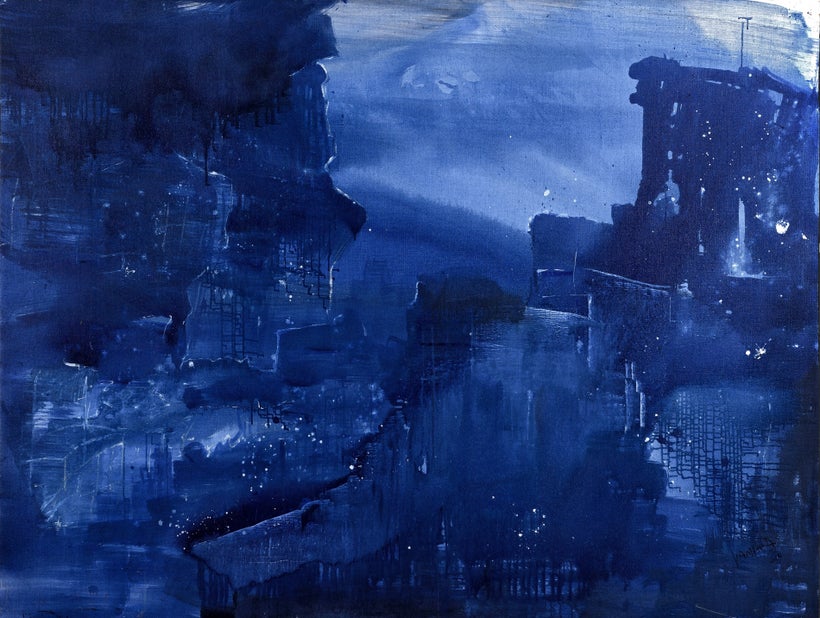 Which artists have influenced you the most?
Van Gogh's paintings really have vitality. I like his paintings with strong vitality. Chang Dai Chien's late period works, paintings he made in the 1970s when he was already in his 70s, have also had a big impact on me. For these paintings he used the method of splashing ink and the colors and the results are beautiful. Zao Wou Ki is a third artist whose paintings continue to influence me. I like his paintings about the conception and I really like his colors as well. Perhaps it is because of these three artists that I was moved to pick up a brush and begin to paint.
My painting process is such that I do what I feel moved to do. It doesn't come from having studied how to begin from a certain point to achieve a certain result. My painting is something that comes from my soul and tells me to paint.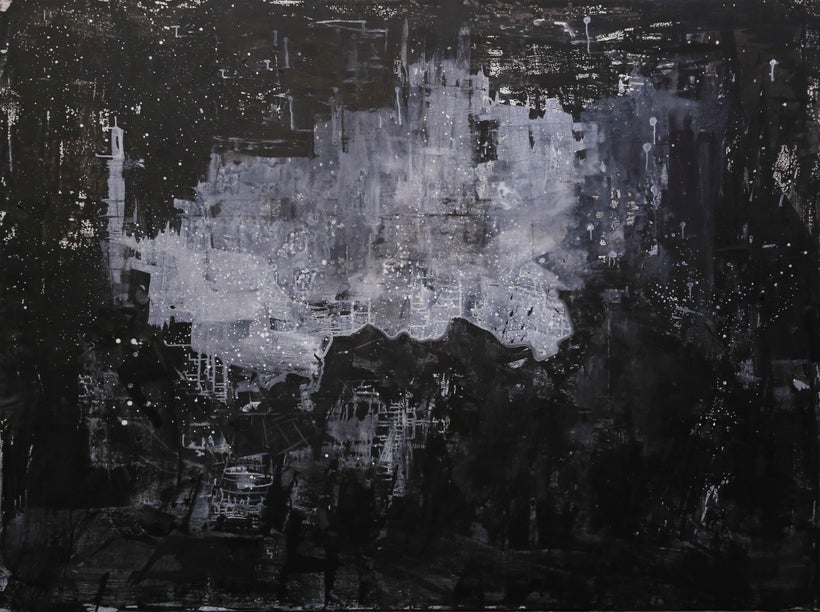 Two years ago you moved from Shanghai to Suzhou. Why did you leave Shanghai and how did you choose to come to Suzhou?
Beginning in 2004 I worked in an art gallery in Shanghai during the day and painted at night. That was my process. For eleven years, I was working like this, working 365 days a year with no break. Every day I would open the doors for business and each night when I'd close the shop, I'd begin to paint. At the gallery I saw customers from all over the world. After eleven years, I thought I should find a quiet, peaceful place to do my own painting. Living this way these last years has been my dream. But before that I wouldn't make any changes - my life was different, I had to run the gallery and sell paintings, take care of my home, raise my children and get them through school. Once my children had grown up, I had the opportunity to retire from my gallery work and thought I could find a calm place to paint. So in 2014 I came to Suzhou, to this beautiful place.
Suzhou is not worldly in the way that Shanghai is, where every kind of person can see and buy your paintings. Suzhou is a place that allows for everyone to exchange ideas and is much more peaceful for painting. The difference between the two cities is very great.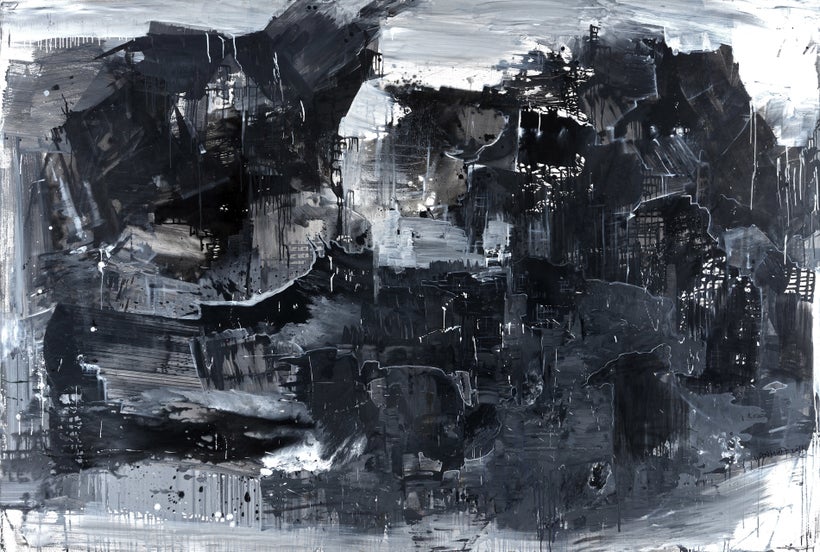 Your upcoming exhibition in Hong Kong A Dialogue with Mencius tackles the changes of our modern society. Can you tell me about the exhibition and this topic?
Although I live in Suzhou which is a relatively peaceful and quiet city, I am deeply concerned about many social issues that our modern society is facing today – environmental pollution, ecological destruction, disappearance of heritage and cultural traditions…to name just a few. When I read the teachings on humanism by our ancient Chinese philosopher Mencius, I am inspired by his emphasis on the innate goodness nature of human and people's ability to do what is right. So in this new collection, I captured my impression of modern cities using my distinctive style of bold and vigorous brushwork. I want viewers to reflect on the damage we have done to our society and environment and yet to realize the inherent goodness and power we possess to change the world for the better.
This collection will be exhibited at Art Central and will be my second exhibition in Hong Kong.
What do you think an artist's lifestyle is like? Can you describe?
My own lifestyle is very free. My personal way of life, you've seen it, you know what my days are like. I have my painting studio and I live very closeby. The center of my studio has a fire to keep warm and also to cook. I often make tea and when I paint I listen to Chinese music is that melodic and sometimes very dramatic. I don't know how other artists live. I seldom go to other artists' studios or homes. I don't know about their lives. My own is my own. I paint my own way, I do what I do my own way. I don't go to many other places often. For the past several years my life has been like this. In Shanghai, when I would close the gallery doors at night, I would begin painting by myself. Painting, I listened to music, drank tea. I look at my paintings and stare at them, as if in a daze. I am continually looking at them, continually thinking about my paintings.
Yes, you've said to be before that with your paintings you can't be lonely. Maybe they are the best friends.
Can't be lonely. Yes, not only are they the best friends, but I can put all of my feelings into the paintings. I think if I didn't paint, I would just have my soul. If I think too much, my paintings become ugly. When I lose my mind and am able to forget what I'm doing, they become the most beautiful. I think the loneliness comes out into the work when I close the door and paint.
My paintings accompany me through happiness and through suffering. All of these feelings, feelings of every day of my life are in these paintings.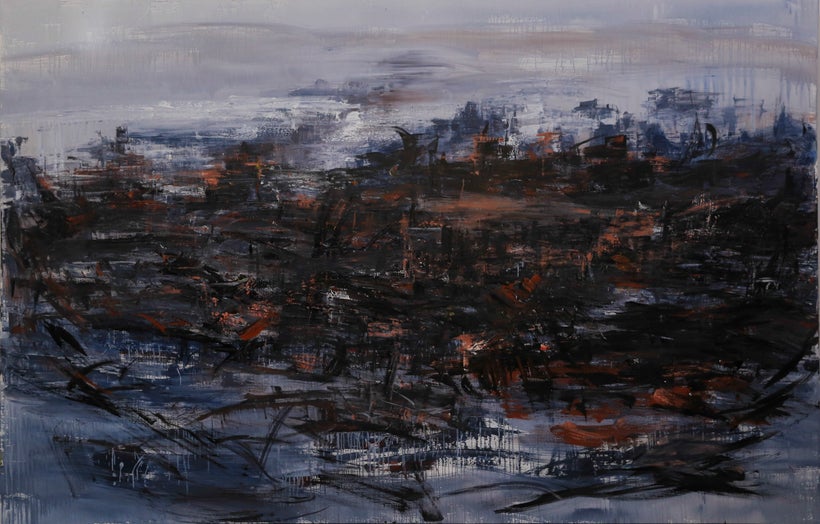 Calling all HuffPost superfans!
Sign up for membership to become a founding member and help shape HuffPost's next chapter
This post was published on the now-closed HuffPost Contributor platform. Contributors control their own work and posted freely to our site. If you need to flag this entry as abusive,
send us an email
.