After the television debut of his artwork on Season 3 of House of Cards, Tomas Vu sat down with Sara Zielinski to talk about his surfboards, revolution, and being in the faux oval office with Kevin Spacey. In 2011, Vu made his first laser-engraved wooden surfboard, setting out to make 210, one for each of the Beatles' songs.
You have a long history with surfing, starting in your childhood in Vietnam. Tell me about your introduction to surfing and its relationship to this project.
In Vietnam, I had a little business where I took care of all of the GIs' surfboards. I was 10. I had a little posse of four and we had boards for anyone who was interested in surfing. We lived near the beach so my mother, who was an interpreter for the American military, gave me access to the base for business.
One GI in particular - it was 1973 is when I first met Young American. California boy. He was a sniper. How did I know? Because in his barrack, the gun he cleaned was a sniper's rifle.
And he only listened to The Beatles. Every time I was around him, The Beatles was what he would either sing or listen to. So that's the really early, formative experience. This is when all of that started happening for me, the awareness of surfboards and The Beatles, that connection for the first time.
Musical influences recur throughout your different bodies of work.
Music, in general, is always a signifier for the soundtrack to your life. Sometimes I have forgotten about something and then a song will instantly bring me back to that moment, to that period. I think we all have this. I kept with the Beatles for a long time because I always wanted to, perhaps, go back to that period. We're all trying to do that, right?
During the war, it was wonderful for a child to live in that landscape. I lived in the heart of the action, the war, the jungle, the beach. Then I got plucked from there and dropped into the middle of a dirt patch. The contrast between El Paso, Texas and Vietnam was extreme. I remember flying in to El Paso - it looked like we were landing on Mars because it was all brown and red dirt. When we got off the plane, I remember seeing tumbleweeds go by. You couldn't get a more western landscape than that. The extreme dislocation, that's what I remember.
That fits back into the surfboards. On the front are pieces of your unique landscapes, which come from Vietnam, from El Paso, from a futuristic place...
Yes, it's all three. If you merge the three together, that's the new landscape, or my landscape.
There's something - maybe not apocalyptic - but dystopian, there's anxiety there.

Yeah, unfortunately the apocalyptic genre is everywhere these days. You can't escape it. Perhaps we're glancing into the future. I think that tells a narrative about who we are. It's not very promising at times.
I remember my first sci-fi movie, The Last Man on Earth. It was the scariest thing I'd ever seen. Then in El Paso, one of the first movies I saw was Planet of the Apes. Those are the kinds of movies, same as the music, that lay down the foundation of how we see the landscape, the world.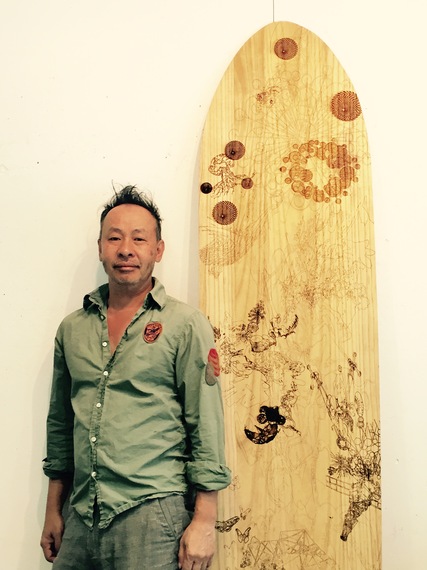 How do you make the surfboards?
These are called Alaia boards. The wood that I'm using is called Paulownia. I had to learn how to shape these boards from a plank of wood. There's something about going back to the hand. My work deals with the idea of anti-machine, that future world. I want to go back to something very pure. The Alaia boards represent this.
So the wooden boards are shaped by hand and then you use a laser to burn in the images. That's in direct contrast to the hand-shaped board.
Right, because I want to use the machine again. The idea is that I have control of the machine; it doesn't have control of me. There's something at the heart of this about not losing the human in us. Using the machine to make us human again, I suppose. That sounds a bit poetic, but that's the gesture anyway.
Shifting gears, you personally delivered your board to the set of House of Cards. What was it like to be on set?
It was surreal. You walk into this gigantic warehouse and when you go inside, it's like you're in the White House. It's another way of being disoriented. There's the Oval Office -it was very impressive, down to the details. I was overwhelmed by just the sheer production of it. When you watch TV, you don't see the labor. You take it for granted, but you have no concept of what it takes to make a scene until you're on set.
It's quite surreal, too, to have Kevin Spacey say your name.
So much of your work draws on themes of rebellion and courage. Thich Quan Duc, Alan Turing, and Ted Kaczynski are among many iconic individuals included in your ongoing portrait series. Were you happy that your piece was featured in an episode that also starred members of Pussy Riot?
Yeah. [Laughter] When Beau Willimon, writer of House of Cards, told me it was going to be in the same episode as Pussy Riot, I just thought - how fitting is this, that the board is represented in the same spirit as what Pussy Riot is doing. It's as an act of rebellion. I think sometimes today art doesn't speak out enough. And for me, that's where it always lives.
Calling all HuffPost superfans!
Sign up for membership to become a founding member and help shape HuffPost's next chapter