WASHINGTON -- A top Federal Reserve policymaker has raised the possibility that rising inequality may restrain economic growth for several years in a sign the central bank may be worried about the increasing gap between the rich and poor.
"In my view, the large and increasing amount of inequality in income and wealth, which has been an ongoing development for decades, may have exacerbated the crisis," Fed governor Sarah Bloom Raskin said Thursday in a speech delivered in Washington. "More research is required to determine whether it may also pose a significant headwind to the recovery from the crisis for years to come."
Home values rising at their pre-recession pace may help alleviate some of the wealth gap, Raskin said, but "some of the restraints on the recovery may be quite long-lasting."
Raskin's comments are among the most forceful to date from any current member of the Fed's seven-person Board of Governors regarding wealth, income inequality, and how dynamics in household wealth may be impeding growth and prolonging the realization of a full-fledged recovery for millions of struggling U.S. families.
"Overall wage growth has been anemic, and many households have not seen their circumstances improve materially," Raskin said of the current economic recovery, which began in 2009 after the so-called "Great Recession" officially ended.
The Fed thus far has focused on stimulating overall growth by keeping borrowing costs near record-lows and incentivizing investors, businesses and households to take risks, in hopes it will lead to increased purchases and investment. Fed policy tools such as lowering interest rates and purchasing U.S. Treasuries and mortgage securities, however, may be ineffective in alleviating inequality.
Raskin's comments, similar to previous speeches she delivered on inequality in March and April, may signal a growing concern within the Fed over rising wealth and income disparities. Raskin has previously said that the Fed should study how income and wealth inequality may impact monetary policy.
Between 1979 and 2007, inflation-adjusted, pretax income for households in the top 1 percent more than doubled, while middle-income households experienced earnings growth of less than 20 percent, according to Congressional Budget Office data. A recent survey by the Fed found that households in the top fifth of annual income owned 72 percent of the total wealth in the economy in 2010, while those in the bottom fifth owned just 3 percent.
"It's creating two societies," Bernanke said, attributing the disparity to differences in educational achievement. "It leads to an unequal society, and a society which doesn't have the cohesion that we'd like to see."
On Thursday Raskin repeated a specific point she's made twice in previous speeches this year: That the economic recovery has created too many low-wage jobs and that people who've been laid off have been unable to find jobs as good as the ones they lost.
Raskin said that while average wages have increased for people who have remained employed through the recession and recovery, the average wage for new hires has actually declined since 2010. Research by the Labor Department has found that in the past few years, most workers who found new jobs after losing long-held positions made less money than they used to.
"About two-thirds of all job losses in the recession were in middle-wage occupations -- such as manufacturing, skilled construction, and office administration jobs -- but these occupations have accounted for less than one-fourth of the job growth during the recovery," Raskin said, citing a 2012 study by the National Employment Law Project, a worker advocacy group.
Raskin is the only current Fed governor to ever cite the National Employment Law Project in prepared remarks, according to a review of past speeches, in a signal the central bank is paying more attention to the plight of low-wage workers.
"By contrast," she continued, "lower-wage occupations, such as retail sales, food service, and other lower-paying service jobs, accounted for only one-fifth of job losses during the recession but more than one-half of total job gains during the recovery."
Congressional leaders and the Obama administration haven't been helping, Raskin said, noting that since 2011 lawmakers' obsession with reducing deficits has been a drag on growth. In particular, the December expiration of a temporary 2-percentage-point reduction in payroll taxes hurt workers, many of whom saw wage gains from increased state minimum wage laws wiped out by the higher tax.
The economy added 165,00 jobs in April, a majority of them in retail, temp services, and hospitality, according to the Labor Department. In a March speech, Raskin discussed the plight of the low-wage workers who comprise a quarter of the workforce and earn less than $11.06 per hour.
"They are sanitation workers, office receptionists, and nursing assistants; they are single mothers of three who worry: How will I be able to send my children to college? What if my landlord raises the rent this year?" Raskin said. "Tens of millions of Americans are the people who ask themselves these questions every day."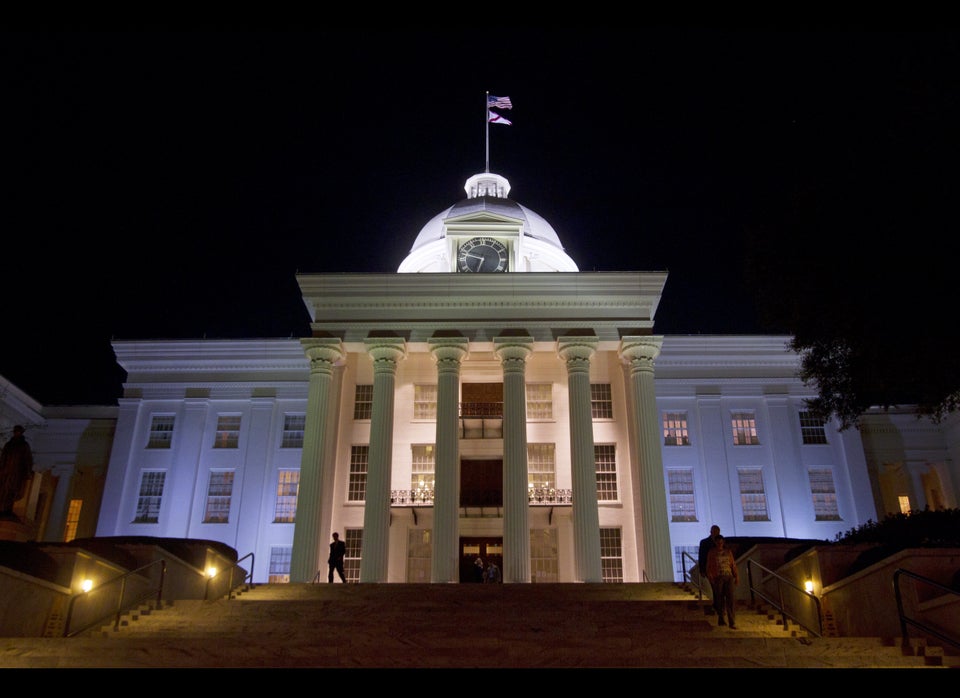 U.S. State Capitol Buildings
Popular in the Community