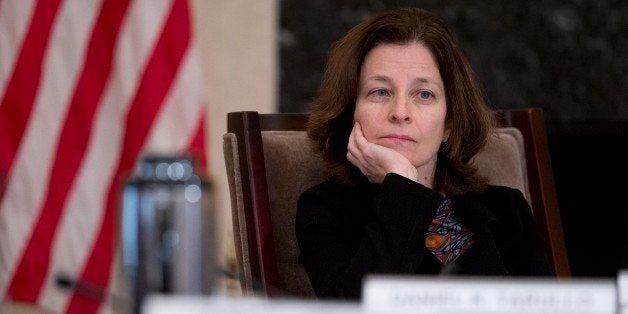 A top Treasury Department official on Tuesday challenged the Department of Education and its contractors over how they handle borrowers struggling with student debt.
Pointing to the 7 million borrowers in default on their federal student loans, Sarah Bloom Raskin, deputy treasury secretary, questioned why borrowers had defaulted, given the availability of generous repayment plans that link monthly payments to incomes. For example, a borrower with no income could pay nothing, yet still remain current on student loans.
Raskin's remarks at the University of Maryland, Baltimore County -- her first public speech since joining the Treasury Department earlier this year -- suggest she may be among federal policymakers outside the Education Department who view student loan defaults largely as a consequence of poor loan servicing, rather than an outcome driven by deadbeat borrowers.
The speech also suggests that the Treasury Department may begin publicly pushing the Education Department to clean up how its loans are serviced. In an email earlier this month, Dorie Nolt, Education Department spokeswoman, said, "Of the more than 40 million borrowers with outstanding student loan debt, the vast majority have not expressed any concerns about servicers."
With student loans totaling more than $1.2 trillion, Washington policymakers are growing increasingly concerned that student debt threatens to choke off U.S. economic growth as loan payments force households to delay home and auto purchases, saving for retirement and limit other forms of borrowing, investment and consumption.
How companies service student loans -- or interact with borrowers, collect their payments and counsel them on the best repayment plans for their budgets -- has become a hot topic among policymakers and regulators looking to avoid a student debt-driven economic malaise.
The Consumer Financial Protection Bureau has criticized student loan companies for the way they interact with borrowers. Sallie Mae, the nation's largest student loan company, faces investigations by at least three federal agencies and a half-dozen state attorneys general.
Education Department data made public on Tuesday showing a slight uptick in borrowers not making regular payments on their federal student loans underscored potential problems in student loan servicing.
About 41 percent of borrowers who had been expected to be paying back their loans are either delaying payments or have defaulted as of March 31. That compares with 39 percent as of June 30. The figures exclude borrowers still in school who have never made payments and those just six months out of school.
Student advocates have said that loan servicers are more likely to put struggling borrowers into plans that simply postpone payments, known as deferment or forbearance, rather than work to get them into plans that cap their payments relative to their incomes, such as Income-Based Repayment and Pay As You Earn. Education Department data show a recent increase in enrollment in income-linked plans, however.
Nearly 90 percent of outstanding student loans, or $1.1 trillion, are backed by the federal government. The Education Department pays a small group of financial institutions to collect payments on that debt, and prescribes rules on how the debt should be recouped.
Education Department representatives did not respond to a request for comment.
In her speech, Raskin said that the federal government, as a lender, should be evaluating student loan servicers to make sure they know "immediately" when a borrower is in trouble and are "ready to offer that borrower a repayment program that gives him or her the best chance of successfully repaying their loans."
"All borrowers should be able to rely on a system in which the servicer, the university, and the government provide information and resources to help borrowers manage their loans successfully," Raskin said. "This is critical to ensuring that taxpayers recoup their investment and that borrowers can make the most of their education without being sidetracked by the consequences of delinquency or default."
That approach contrasts with the current system, in which the Education Department largely uses surveys and limited data to grade servicer performance.
"We have a world-class higher education system that is the envy of people living on every continent. Our system of financial aid and federal student lending should be world-class and world-famous as well," Raskin said.
Raskin, the Treasury Department's second-ranking official, also subtly chided the federal government for its lack of data on its own vast portfolio of student loans.
Economists, policymakers and regulators at the Treasury Department, Federal Reserve and CFPB have long complained about the lack of data on the government's student loan portfolio. While federal banking regulators make public detailed information on home mortgage delinquencies it is impossible for the public to determine the percentage of federal student loans that are delinquent.
The Education Department discloses the number of borrowers in different repayment plans and some default data, but little else.
Improving how student loans are serviced requires "that we have sufficient data and information to assist troubled borrowers," Raskin said. "If we can understand the patterns that lead to delinquency and default, we may be able to predict and even preempt such outcomes to the benefit of borrowers, taxpayers, and economic growth."
She added, "We have an obligation to work across agencies, with servicers, and with schools to inform and protect borrowers' best interests."

Calling all HuffPost superfans!
Sign up for membership to become a founding member and help shape HuffPost's next chapter
BEFORE YOU GO
PHOTO GALLERY
U.S. Capitol Photos