WASHINGTON -- After a string of setbacks involving major economic and judicial appointments, President Barack Obama's pick for the second-highest job at the Treasury Department seems to be coasting toward an easy confirmation. If approved, Sarah Bloom Raskin, currently one of the government's most accomplished consumer advocates, would leave her job on Federal Reserve's Board of Governors for a powerful post as Deputy Treasury Secretary.
Obama nominated Raskin in July, in a move that could foreshadow a change in policy priorities at the Treasury Department away from the preferences of Wall Street executives. On Wednesday, she faced a handful of benign questions from the Senate Finance Committee during a confirmation hearing that showed none of the partisan resistance that other important Obama nominees have received from Senate Republicans.
Raskin -- who declined to be interviewed for this article -- isn't a typical economic appointee for Obama. In recent decades, top Treasury officials have frequently been culled straight from major financial institutions. For other key economic posts, Obama has generally sought out Clinton-era officials who spent their time on Wall Street during the Bush years.
But Raskin has built her reputation as a regulator willing to take on big banks, payday lenders, fake foreclosure-relief scammers and other opportunists. As Maryland Commissioner of Financial Regulation, she pursued reforms to big bank foreclosure practices as early as 2008, three and a half years before the federal government finalized a $25 billion settlement over abuses.
Raskin's work caught the eye of several federal banking policymakers, including President Barack Obama, who named her to the Fed's Board of Governors in 2010 in the same slate of candidates that included Fed Vice Chair Janet Yellen, now considered the leading candidate to succeed Chairman Ben Bernanke.
She also impressed then-Harvard University Law School Professor Elizabeth Warren, who invited Raskin to testify before the Congressional Oversight Panel for the Troubled Asset Relief Program. Warren remains enthusiastic about Raskin's regulatory work at the Fed and her appointment to Treasury.
"The president made a great choice in nominating Sarah Bloom Raskin to serve as Deputy Treasury Secretary. I have worked with her closely in the past, and I think she will bring strong judgment and valuable experience to the role," Warren told HuffPost. "I very much look forward to hearing her voice in the administration's policy decisions about fixing the housing market, strengthening the economy and supporting middle class families."
Raskin's position would essentially carry as much authority as Treasury Secretary Jack Lew wants it to. Under Tim Geithner, Deputy Treasury Secretary Neal Wolin was a constant presence in negotiations over the Dodd-Frank Wall Street reform bill, and was repeatedly dispatched to defend Treasury's priorities in meetings with business executives, in public speeches and newspaper op-eds.
And Lew appears to have a great deal of respect for Raskin's policy record: The New York Times reported in July that he personally recruited her for the post.
Lew's apparent enthusiasm for Raskin underscores the progressive side of his own record. Lew received more than $1 million working at Citigroup's Alternative Investments unit during the banking crash, a point on his resume that has concerned many liberal advocates. But Lew has also been a staunch defender of the social safety net, infuriating congressional Republicans during debt ceiling negotiations by forcing them to lay out specific cuts they would make to anti-poverty programs under any deal.
According to multiple sources familiar with her role on the Fed's Board of Governors, Raskin attempted to overturn the Fed's approval of the controversial $25 billion mortgage settlement, on the grounds that it did not have sufficient protections and redresses for harmed consumers. Another bank regulator, the Office of the Comptroller of the Currency, had negotiated the deal, and the Fed had given its staff, rather than the Senate-confirmed Board of Governors, the authority to approve the deal.
Banks had used forged signatures, fabricated documents and other shoddy practices to pursue foreclosures for years, affecting millions of homeowners. Record-keeping had become so bad that some homeowners were evicted without even missing mortgage payments. Many others who could have preserved their homes by working with competent professionals lost them due to widespread ineptitude. The mortgage settlement left much of the process of meting out restitution in the hands of the very banks that had systemically botched the foreclosure process in the first place.
Raskin balked at the leniency of the proposed settlement terms, however, and pressed to allow the Fed's board to improve them. Her crusade ultimately failed, and the settlement's implementation has been plagued by a host of problems.
Raskin nevertheless developed a reputation as a consumer advocate willing to shake up institutions that historically have not been very consumer-friendly. And many bank watchdogs see that attitude as important to the Treasury, which had significant problems implementing Obama's foreclosure relief program.
"I think Sarah has terrific experience, and is very talented and very smart, and is going to bring a breath of fresh air to the administration," said Dennis Kelleher, president and CEO of the financial watchdog group Better Markets.
But her zeal for consumer protection has not alienated small banks, who report that she has taken a great deal of time to meet with them and hear their concerns on a variety of regulations.
"She understands community banks, she understands the community banking model. Which sometimes is a rare insight increasingly on the Board of Governors," said Cam Fine, president and CEO of the Independent Community Bankers Association. "We're thrilled that she's going over to be Deputy Treasury Secretary."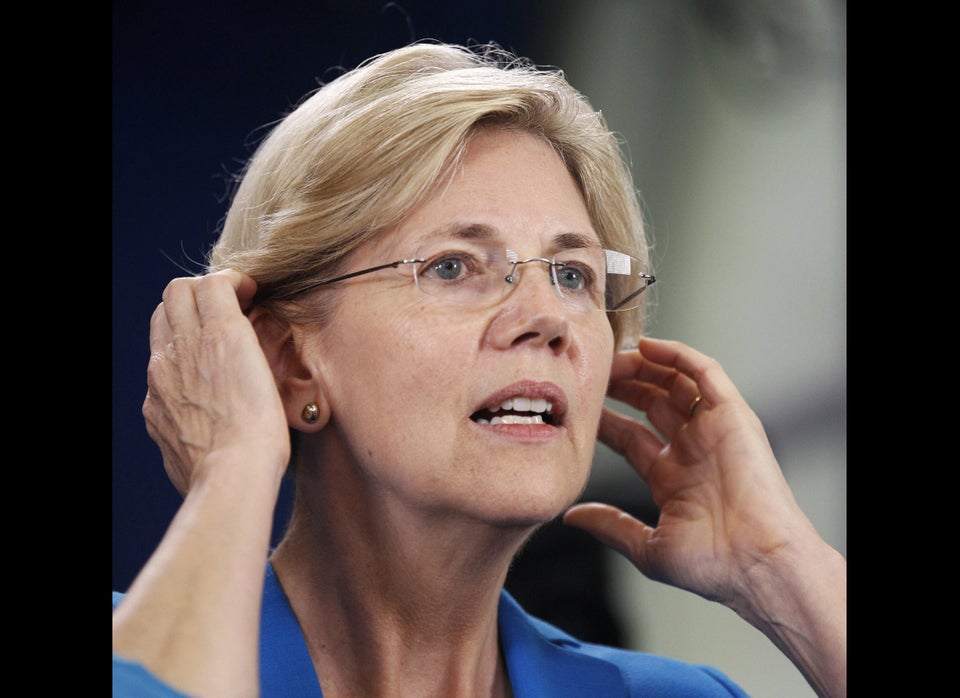 Elizabeth Warren
Popular in the Community