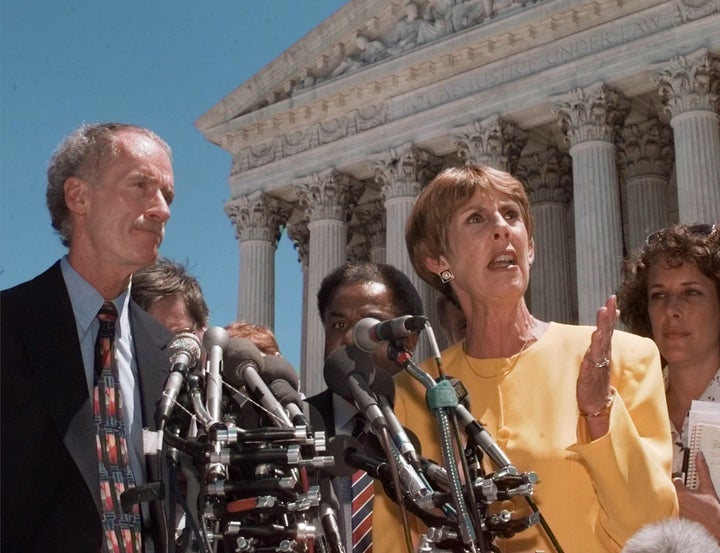 WASHINGTON -- Thirty years ago, on a grey morning in March, John Hinckley, Jr. fired six shots in an attempt to assassinate President Ronald Reagan. He wounded the president, a secret service agent and a police officer. Reagan's newly-minted press secretary, Jim Brady, was injured the most seriously, with a shot to the right frontal lobe of his brain. His wife was at home when she got the call.
"I was at the hospital within 30 minutes," Sarah Brady said in an interview with The Huffington Post. The doctor showed her where the bullet had gone in and told her the operation would take five hours, but he also warned that her husband could die in surgery. "It was a long five hours," she said.
Jim Brady survived, and after years of physical therapy and medical attention, has done better than doctors expected, though he remains in a wheelchair, paralyzed on his left side.
After March 30, 1981, Jim and Sarah Brady became ardent supporters of gun control, lobbying to get stricter laws on the books and helping to win the passage of the Brady Handgun Violence Prevention Act in 1994.
On Wednesday, 30 years after their lives were irrevocably altered, they will meet with the current White House press secretary, Jay Carney, as well as members of Congress on Capitol Hill to urge them to support new gun control legislation banning large-capacity magazine clips like the kind used in January's Tucson shootings. The couple will also pay a visit to the office of Rep. Gabrielle Giffords (D-Ariz.), who is still recovering after being shot in the head in January, to offer condolences.
Aside from the Giffords staffers, Sarah Brady said she's particularly keen to meet with House Republicans. "We're just going to try to get these men and women in the Congress to step up a little bit and to start doing the right thing," she said.
Wednesday afternoon meetings have already been arranged with Republican Reps. Robert Dold, Frank Wolf, Leonard Lance, Joe Walsh, Michael Grimm, Chris Smith, Rodney Frelinghuysen and Dan Lungren. The Bradys also plan to meet with Democratic Reps. John Carney and Mike Quigley.
"When we passed the Brady law, we had support of Republicans and Democrats and President Reagan," Sarah Brady said. "But the Republican party has become a lot more conservative and more rural than it was 20 years ago, 15 years ago, and as a result it's kind of hard to read how some of these newer members are going to be, which is why you need to get to them and get their feelings on it and what's holding them back."
"So many of them are with you," she added. "So you have to convince them that their districts will go along with it. They're just so afraid of the gun lobby."
Sen. Charles Schumer (D-N.Y.) recently introduced legislation that would toughen background check requirements for gun buyers and increase penalties for states that fail to comply.
Meanwhile, Rep. Carolyn McCarthy (D-N.Y.), whose husband was killed and son was injured in a 1993 shooting on the Long Island Rail Road, has proposed a bill that would limit the sale of high-capacity clips. In the Senate, Frank Lautenberg (D-N.J.) is working on a similar version.
For Paul Helmke, president of the Brady Campaign and the Brady Center to Prevent Gun Violence, such Congressional initiative is refreshing.
Usually "politicians turn a blind eye to this," Helmke said in an interview shortly after the shootings in Arizona. "They'll talk about violent video games, or they'll talk about rhetoric -- they'll talk about anything except guns. My main hope with this shooting is that maybe now we'll finally start to talk about the intolerable level of gun violence in this country."
But McCarthy's bill currently has no cosponsors among the House's Republican majority, and given the strength of the gun lobby, it looks increasingly unlikely that Congress will be able to make any progress on the issue. Indeed, shortly after the Arizona shootings, Sens. Rand Paul (R-Ky.) and Chris Coons (D-Del.) told Fox News anchor Bret Baier that they think guns laws are unlikely to be reformed based on the tragedy.
The Obama administration, for its part, is looking for ways around Congress on gun policy, HuffPost's Sam Stein first reported, exploring potential changes to gun policy that can be secured only through executive action. In a recent op-ed for the Arizona Daily Star, the president laid out his broad goals for reform, including stronger coordination between states, expedited background checks and stricter enforcement of laws already on the books.
In the 30 years since Jim Brady was shot, an estimated 2.8 million people have been killed or injured with guns in the United States, according to the Brady Campaign. But the campaign estimates that since the passage of the Brady bill, more than 2 million individuals have been duly prohibited from buying firearms.
When asked how she planned to mark the anniversary at home, Sarah Brady said a family meal would do. "Our son will be here, and we're just going to have a good meal and thank God that we're alive," she said. "Even though it's been a hard 30 years, we're so lucky [Jim]'s still funny and fun, and we've got a lot to be thankful for."
For a rundown of the most significant events that have taken place in the federal gun control debate in the last 30 years, view HuffPost's timeline here.