Everything that has ever been observed with Earth's instruments, or, as NASA describes it, all "normal matter," makes up only 5 percent of the universe. The rest comprises what's ominously known as dark energy and dark matter, the latter being more easily defined by what it is not than what it is.
Before Los Angeles–based painter Sarah Cain knew the scientific definition of dark matter, she was drawn to the phrase. Specifically how it seemed to describe something true about the abstract paintings she created.
"I write, and I keep words I like around for the titles of my paintings," Cain explained in a conversation with The Huffington Post. "At first, I didn't know what dark matter was, I just liked the words. When I figured out the scientific meaning I went into this deep internet hole and realized the idea of dark matter totally relates to how I work."
Dark matter, very simply speaking, is unidentified matter that constitutes approximately 27 percent of the mass and energy in the known universe. It's also the title of Cain's ongoing exhibition at Galerie Lelong.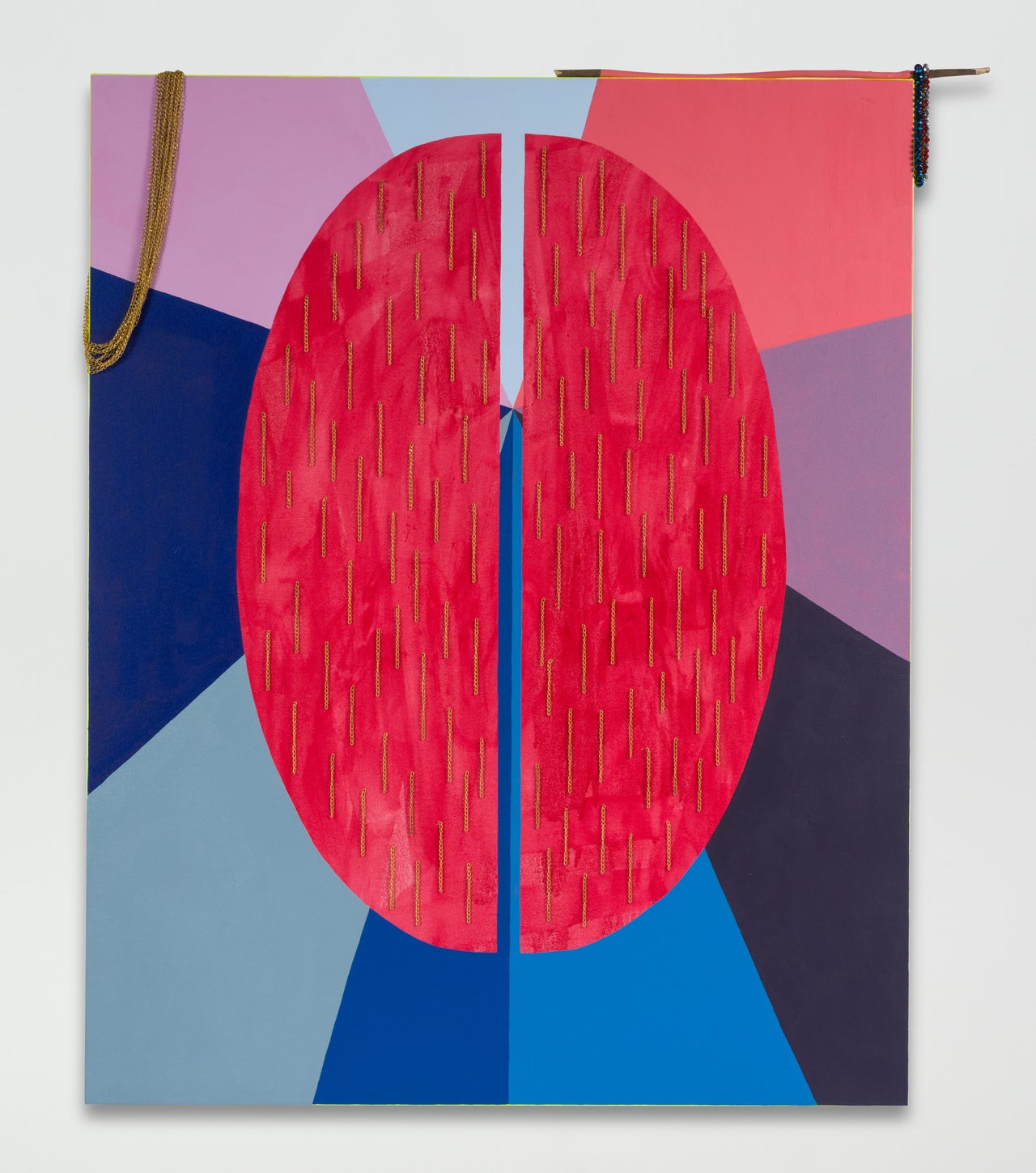 "[Dark matter] is this thing in space that affects everything but people don't really understand it," Cain described. "That's how I use abstraction. I take things in my life, or in the world, and translate them by pulling them through this other language to find some sort of truth. But there is an openness to it ― with abstraction, I don't tend to overly explain things."
Cain's paintings are large-scale explosions of color, pattern and texture, translating cosmic energies into vivid portals that hypnotize rather than divulge. The massive canvases resemble contemporary cousins of paintings by Swedish mystic Hilma af Klint, who, guided by some occult force, created some of the first abstract canvases that predate Kandinsky and Mondrian. Her mesmerizing works, stretching over 10 feet tall, depicted eternal energies conveyed through gentle orbs, lopsided spirals and rainbow double helixes.
Despite the idea that a woman artist could literally have invented abstract painting, over the course of art history Klint's name has been all but scrapped from the record of abstract art, which has been cast, however falsely, as a genre driven by machismo and muscle.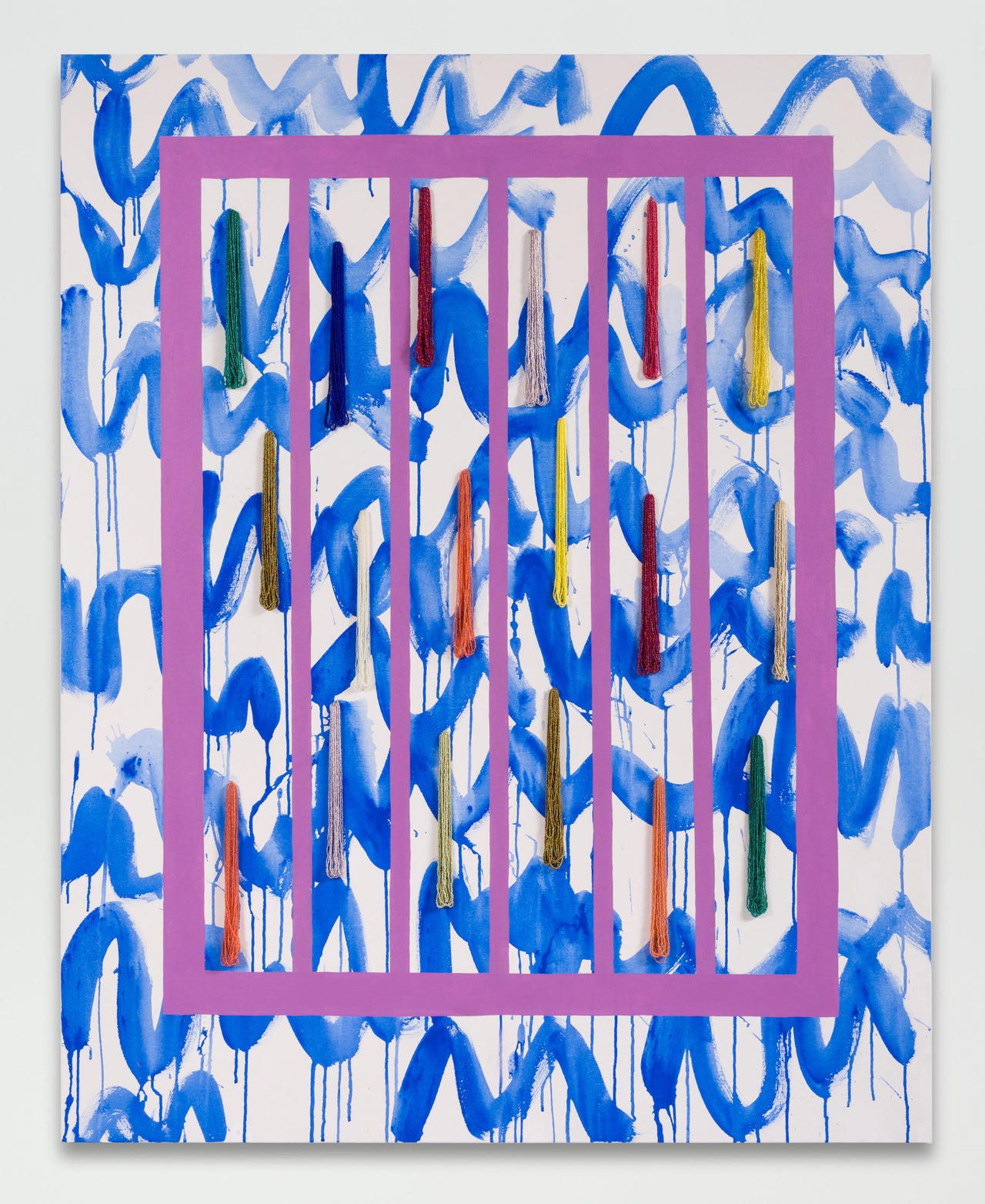 There is no single source of inspiration Cain turns to when embarking upon a new work. Sometimes it's a song she likes, a current event she hates, a friend she loves, or her cat who won't leave her alone. "They're just feelings I'm trying to work out," she said. Other times, it's an object that influences the piece that ends up enveloping it, like an old pair of sunglasses or a repository of inherited parrot feathers. "There's something fun in taking dumb objects and trying to make a sophisticated panting," she said.
Cain described her painting ritual as "waking and painting," as facilitated by heavy doses of green tea, dark chocolate and loud music. She works fast, juggling approximately 20 paintings at a time, yielding images whose energy is infused into every stroke, slash and puddle of paint.
"I personally think my paintings feel really alive," Cain said. "I strive to make paintings that feel like they're in the present tense, not a dead artifact. It's about embracing the risk factor. When most people would be frozen by the failure potential, that adds an energy that you can feel in the paintings."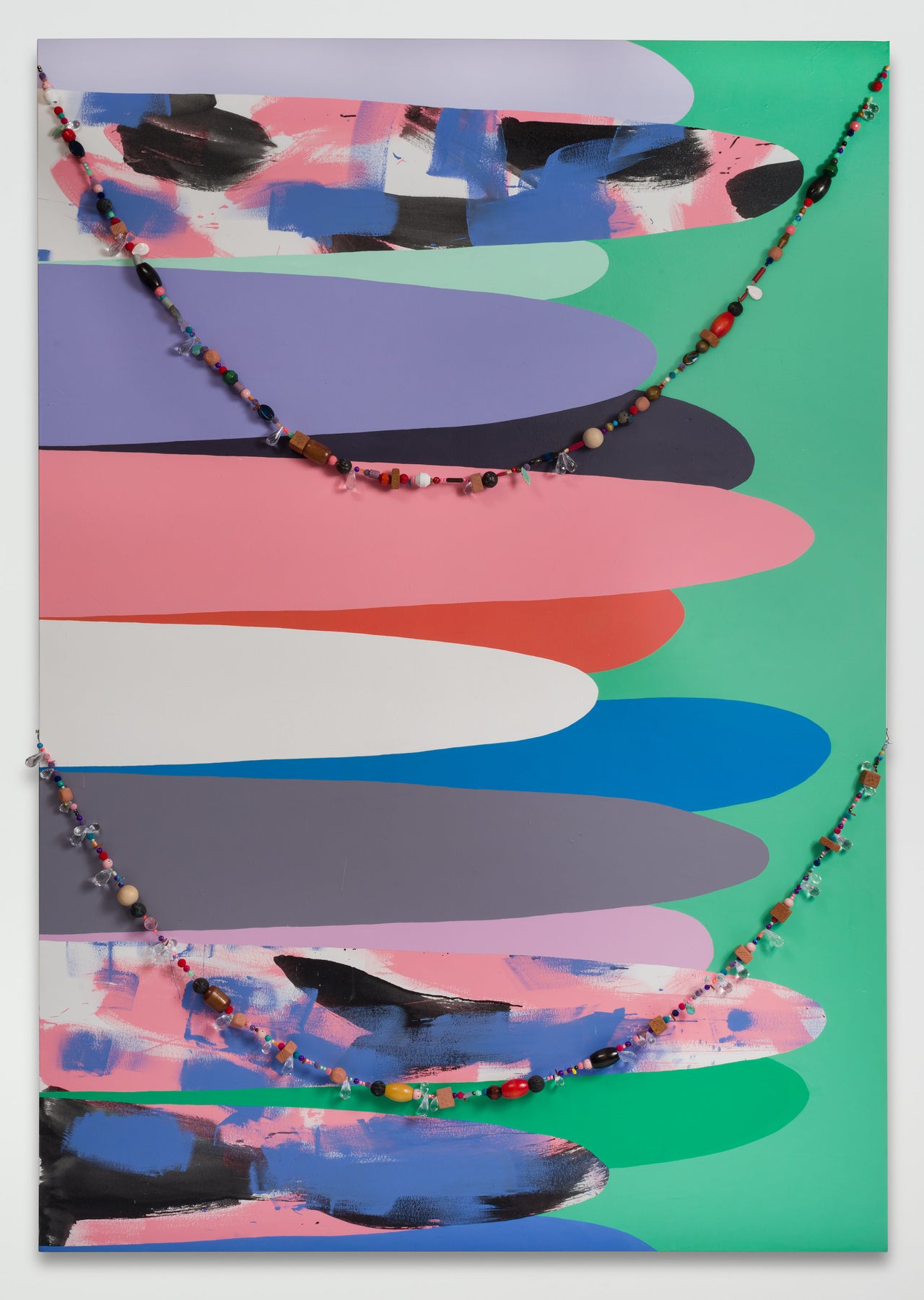 The resulting paintings don't come across as portraits or political protests, but vibrating sites of overlapping matter, a place where sea foam green and salmon pink can peacefully but feverishly coexist, moderated by a draped string of mismatched beads. "Some colors are symbolic to me in personal ways," she specified. "They are based in the feeling of the painting."
Cain has only been exhibiting work for 15 years, but she still comes up against plenty of misogyny in the questions and critiques raised in response to her paintings. "One of my pet peeves is people talking about my use of color, like it's childish or girly. It fucking drives me crazy. No one would say something like that to Frank Stella. They are strong, fierce paintings that use a lot of color."
Even the artist's stature plays into the way viewers encounter her work. "People get off about how big the paintings are because I'm pretty petite," Cain added. "It's like a weird perversion."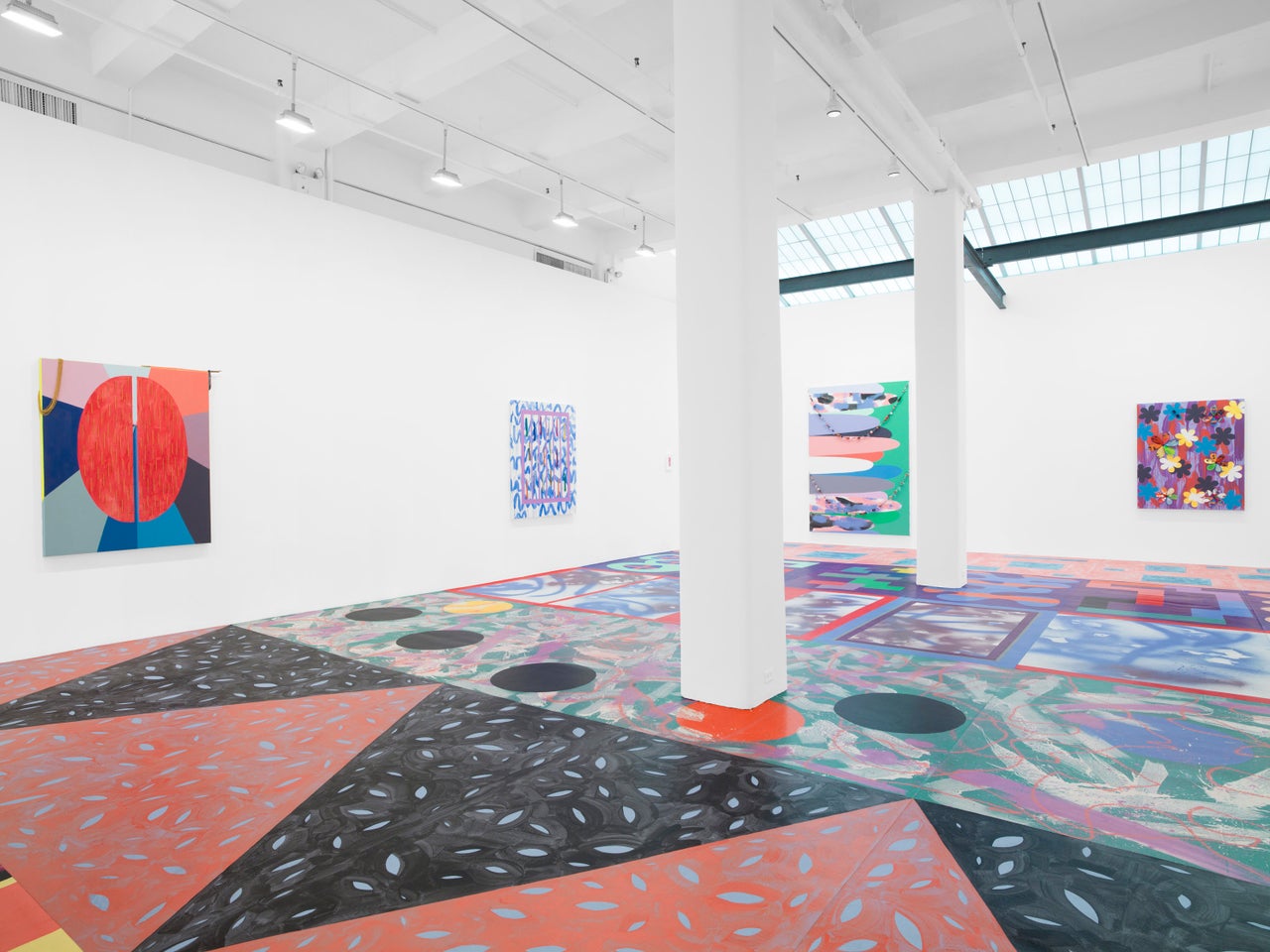 Despite the fact that it's still difficult for many to fathom that women too can communicate in painted abstraction, Cain plans to keep painting in her signature style of radiant ambiguity, the language that comes naturally to her.
"I want to make paintings that people can walk inside, to create a real intimacy with the viewer," the artist said. "I think that's just because of who I am and how I communicate. I relate to poetry more than novels; abstraction has that same openness. If something is defined, I'm like, OK, let's look at it from this other angle. For me it's more interesting not to know something. Abstraction creates that space."
There is another factor separating Cain from the annals of art history's most serious (read: male) abstract artists: her sense of humor. Even the show's title "Dark Matter" seems so gravely scientific, it becomes something of a quip when juxtaposed with Cain's paintings, as bright and loud as magnified confetti.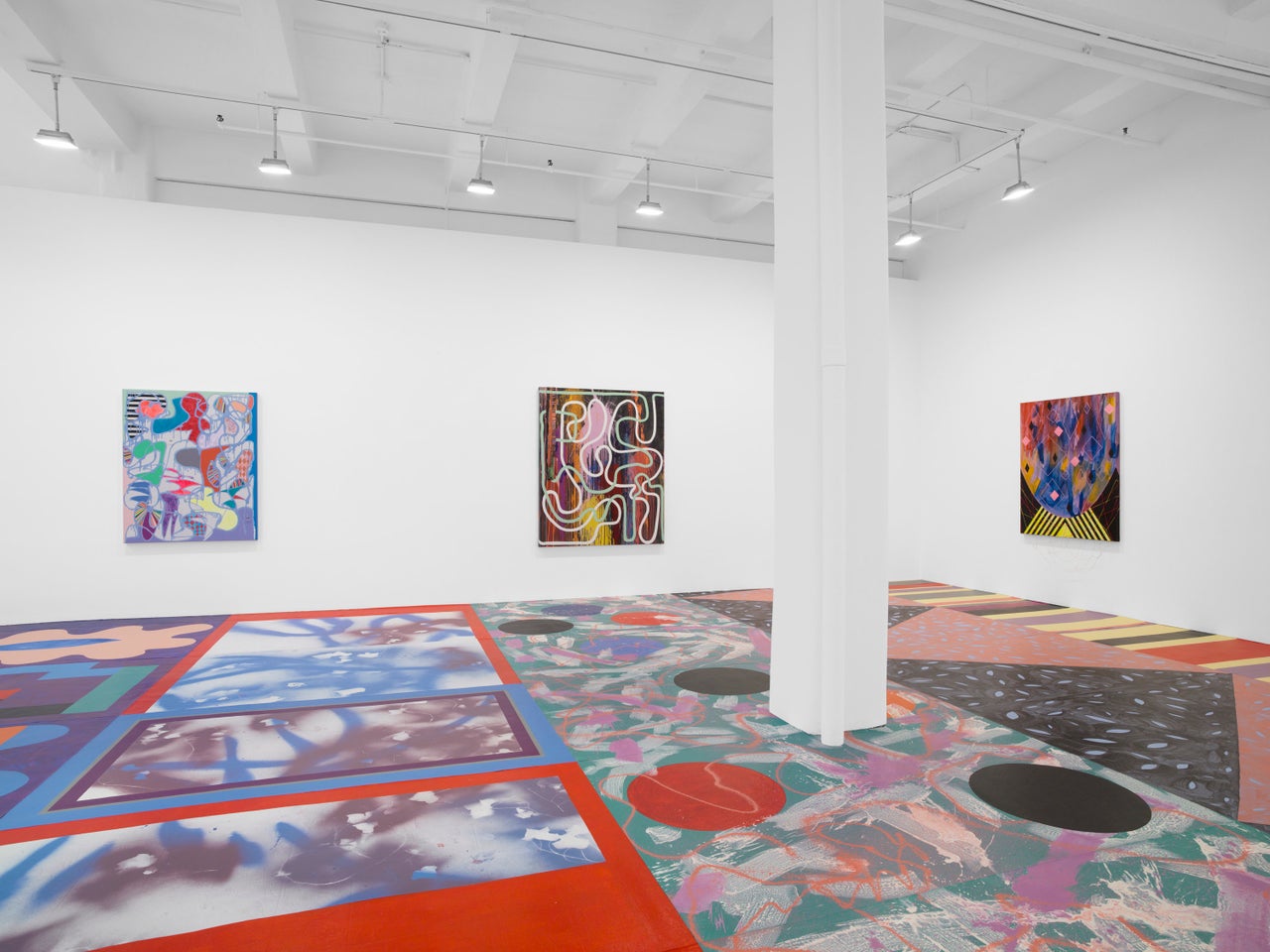 It's this sense of humor, which Cain described as a "rebellious attitude," which frees her paintings of the serious aura which sometimes obscures abstraction in a cloud of pretentious jargon and devout significance. Although Cain acknowledges the long and storied history of painting, acknowledging the importance of small but daring gestures by artists like Richard Tuttle and Elizabeth Murray, she also takes pleasure in shaking things up a bit, and watching the ramifications rattle off accordingly.
"Painting is super old, super deep, there is something mystic about it," she said. "It has these basic parameters, and stepping outside them is this radical act." It's this simultaneous acknowledgment of painting as something sacred, but not grave, that makes Cain's paintings dance without moving, buzz without making a sound.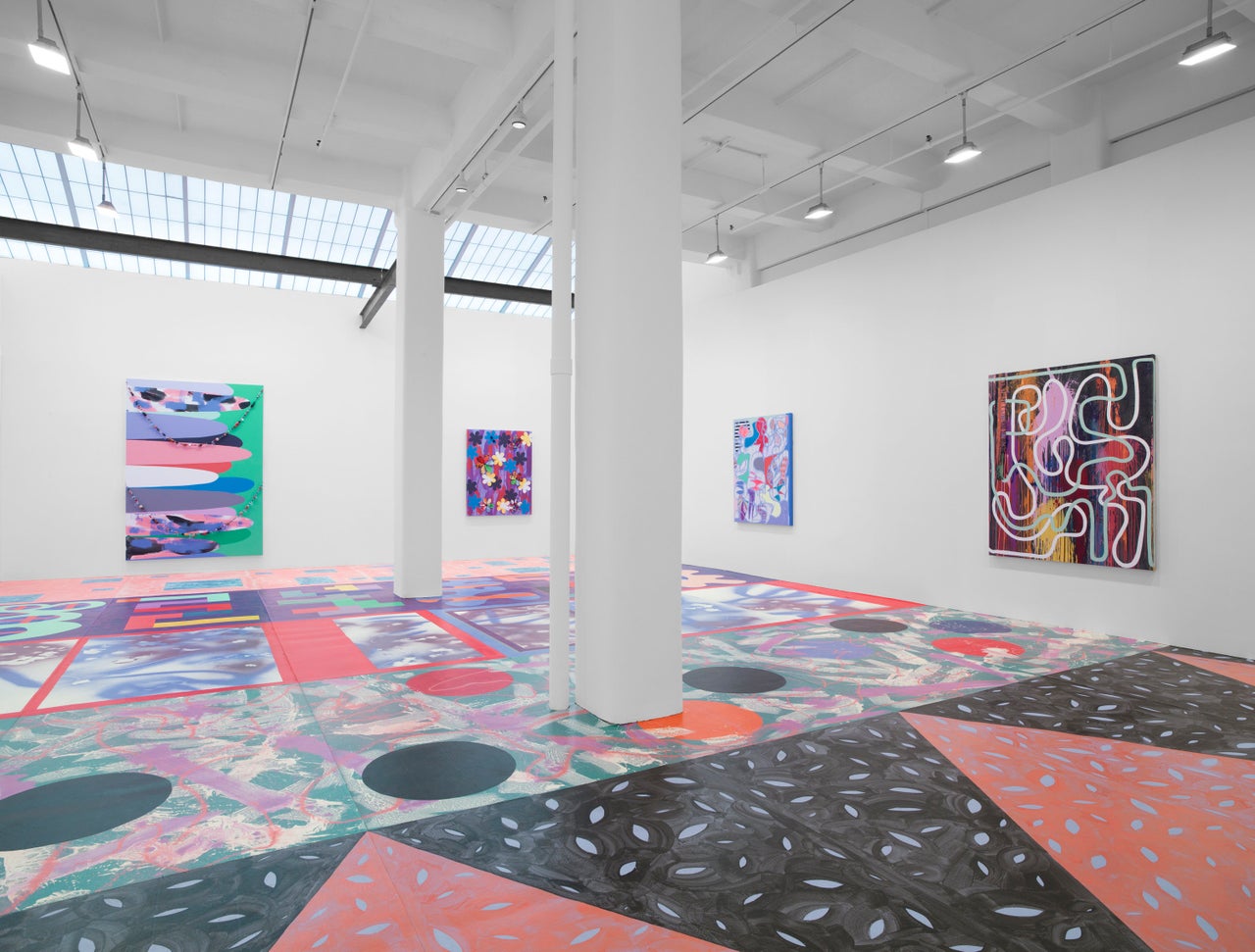 Related
Before You Go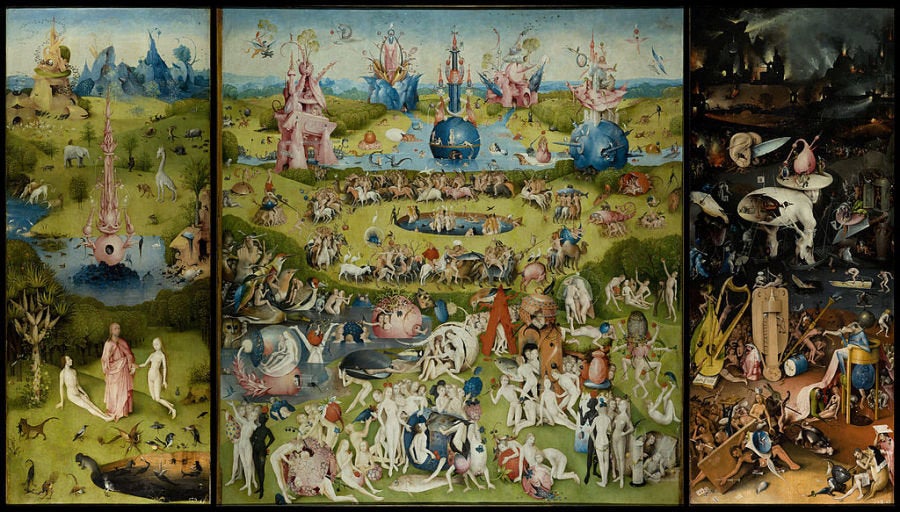 30 Artist Names You Are Probably Pronouncing Wrong
Popular in the Community