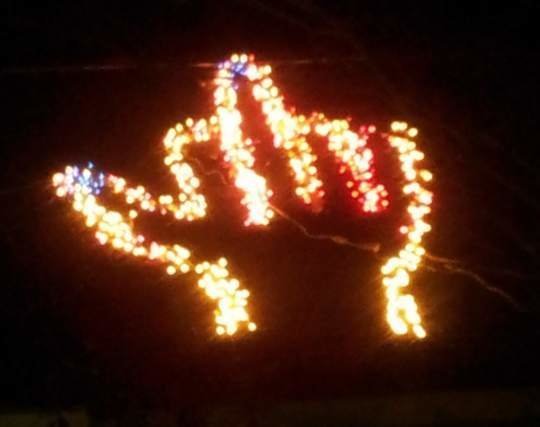 Sarah Childs' holiday display has become something of a tradition in her neighborhood -- much to the chagrin of her neighbors.
For the second year in a row, Childs has placed holiday lights on the rooftop of her home in Denham Springs, La., in the unmistakeable shape of a hand flipping the bird.
This year, she is doubling the impact of her holiday by putting two "birds" up on the house-top, sending a message that is making more than reindeer pause.
Childs reinstalled the first middle finger on Monday and quickly received calls from angry neighbors. Shortly thereafter, some Scrooge cut up her lights and extension cords into tiny pieces and put the remnants on her lawn.
She has replaced the first finger and added a second one to emphasize her cheerful holiday message of goodwill and peace on Earth.
Actually, scratch that: She's actually trying to get revenge on a neighbor named Kayla Weldon, whom she has battled with in the past.
Weldon believes Childs is pushing buttons with the middle finger-shaped lights in order to get fame.
"She's crazy! She thinks she's going to get famous from all of this crap," Weldon told the station.
Childs' house has been empty since she and her husband divorced, which makes her lighting display even more offensive to neighbors like Todd Traylor.
Related
Popular in the Community