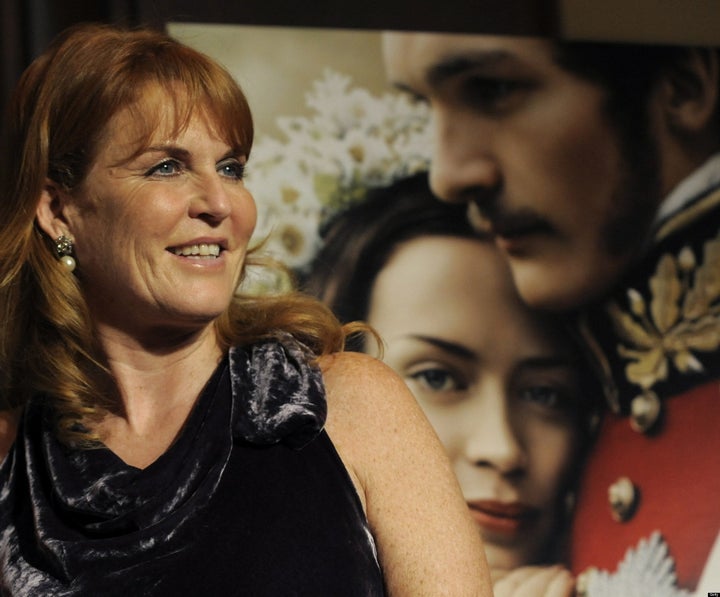 I married Her Majesty the Queen's best looking son. I agreed to become a naval wife. Two weeks after we were married, we were separated; he went to sea, and I went to the second floor apartment at Buckingham Palace. I was so sad without him. I saw him for 40 days for the first five years of our marriage. I was broken hearted. I missed him beyond words, beyond the description in these writings. I needed my man.
So I immersed myself into the life of Victoria and Albert.
I started by a visit to Osborne House on the Isle of Wight. It was the happiest of their homes, where their nine children would act out charades for their parents, and tend the vegetable gardens for the royal table once a month. I became fascinated by the love story of Victoria and Albert. Maybe because my own great love -- my Andrew -- was not at home. But whatever it took I would study with vigour the love story of these two incredible people. Benita Stoney and I worked tirelessly to bring the book to life. Eventually, George Wiedenfeld published it at Osborne House, followed shortly afterwards by The Travels of Queen Victoria and Albert through Europe.
The world had to know of this, the greatest untold love story in history. It had to be made into a movie for Hollywood. The world had to know The Young Victoria.
The black-clad, diminutive figure who suffered racking headaches, and who had a tempestuously volatile temper, was simply not the beautiful, magical young woman who ran down the hills of Coburg with no shoes collecting wild flowers for her hair.
And why do we remember Victoria as always in black? Is it because she lost her greatest love after only 21 years of marriage? Victoria lost her best friend, her lover, her father, her husband, her mentor and her guardian angel. When he died Victoria wrote in her diary that she had lost half her soul and half her body.
When I wrote the book Victoria and Albert: Life at Osbourne House in 1991, extracts from Victoria's diary hugely inspired my idea that this great love story had to become a movie.
Albert died on 14 December 1861, and Victoria reluctantly left Windsor to return to Osbourne where -- on the bitter, desolate January of 1862, three weeks after Albert's death -- she wrote:
"Can I -- can I be alive when half my body and soul are gone?"
She was mourning not just her husband, but the man who had been everything to her: "father, mother, friend, companion, advisor, lover, guardian angel." Without him she felt utterly lost.
"He did everything -- everywhere! Nothing did I do without him, from the greatest to the smallest, from State Affairs, from Political Questions to the arranging (of) our Albums, our little photographs, the designing and ordering of Jewelry, the buying of a dress or a bonnet ... all was done together; my first word was 'I must ask Albert.'"
To all the readers of the Huffington Post, come and join me in celebrating the love story of Young Victoria: a young girl who was the niece of the King and took the crown of England at 18 years of age.
This film is a contemporary love story written by the great Julian Fellowes, directed by Jean Marc Vallee, produced by Martin Scorsese and Graham King, Tim Headington and me, Sarah Ferguson.
Emily Blunt plays Victoria and the beautiful Rupert Friend plays Albert. It has a full British cast and was filmed on location in British castles and palaces. Graham King kept his word when he said this would be a film Her Majesty would be proud of, and Julian Fellowes certainly made the film historically accurate.
I have never been more proud, than when I was standing on a London pavement watching a red double decker bus go by with Emily Blunt's face on it, saying Young Victoria. A seed of an idea, which started some 15 to 17 years ago, was now a huge movie for the big screen, and as the doors of the Odeon, Leicester Square closed, preparing for the next premiere, I smiled inside, knowing that deep down this was my idea, and dreams really do come true if you have the passion and tenacity to hold on firmly and boldly to those dreams ...
"Whatever you can do, or dream you can, begin it. Boldness has genius, power, and magic in it."