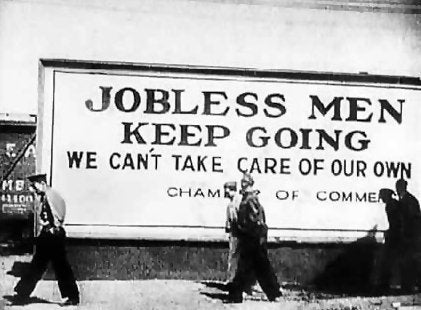 Both Democrats and Republicans want America atop the world's economic food chain. After all, it's better to be the Great White Shark than the seal. They differ on what to do to keep us there, of course. Generally, Republicans want businesses operating free of taxes and government intervention, while Democrats believe certain limits on businesses and our financial markets are necessary to keep Americans safe and prosperous.
Republican economic policy is based on the Theory of Natural Law first advanced by Aristotle. Since nature doesn't make intellectual decisions intellectualism is considered artificial, or unnatural. Regulation is an intellectual act, so it's not natural and therefore doomed to fail. Therefore our economy, Conservatives believe, if free of any regulation, will naturally fall into a stable balance of permanent prosperity. Regulations and intervention, they claim, are wholly unnatural and illegitimate.
Conservatives have been working for decades to deregulate markets and businesses. In 1999 they succeeded in removing important regulations set up after the Great Depression to ensure market safety. So why did the markets crash?
Because Natural Law economic theory never existed.
Nature, in fact, places the most severe limits on animals and their behavior to make sure they stay balanced. Sharks don't have a "stop eating" mechanism in their biological blueprint. Under normal conditions sharks can't catch food fast enough to do themselves damage from over-eating. Nature has limited their ability to catch food. A shark in a feeding frenzy, however, given enough food, will eat until it quite literally bursts open like an overstuffed sausage. Its guts just explode out into the water. In some cases crazed, gut-busted sharks eat their own entrails, unable to distinguish between their innards and their kill.
A shark is just a dumb beast driven by a killer instinct. If nature's limits break down, so does the shark. The only thing keeping sharks from eating themselves to death are the physical limits nature places on all apex predators. Because nature has perfected the art of limitation, a shark eating itself to death is extremely rare, and usually occurs only when humans get involved and temporarily throw food supplies out of balance. Nature is nothing if not a series of carefully orchestrated restrictions. True Natural Law economics is not laissez faire it is structured guidance, like the rules in a football game. It's a bad idea to give 22 men pads, helmets and a football and say laissez faire, unless you want every one to get killed.
Animals have a complex system of internal and external limits to make sure they don't outgrow their eco-system either in body or population. In Aristotle's day nature had total control over human beings. His people could only move so quickly, gather and grow only so much food, and had only rudimentary tools. These and other physical limits contained human population growth for millennia. Human economic activity required minimal governmental oversight if any at all, so laissez faire seemed natural.
Today huge groups of human beings are largely free of nature's constraints. We, as a race, can, and will, apparently, out grow our eco-system- something Aristotle did not consider in his extensive writings on natural law. Given the political freedom 21st century human beings could and would extract every fish in the ocean in a few years time. But for nature's limits sharks would, too. Soon genetic engineering breakthroughs will clear away whatever constraints nature has left over humanity. Conservative economic theory, which depends entirely on constraints provided by nature, is fantasy.
Out growing nature's restraints means nature can no longer stop us from destroying ourselves if we get off track. With nothing to contain us we have to assume nature's former corrective role in all our endeavors and provide necessary limits ourselves.
We should not be afraid of limits. Everything growing thing in nature is limited in some way except cancer. Limitless, unregulated growth is disease, not freedom. If we strip our markets of all restrictions and let the sharks go into frenzy we will create cancer not growth.
In 1999, what I call the Cancer School of Economics succeeded in removing entrenched banking regulations created after the 1929 belly burst that triggered the Great Depression. Stripped of structure, predictably, America's powerful economic killer instinct has run amok ever since. America's economic sharks have gorged on fossil fuels, unfettered financial predation, incomprehensible budget deficits and Keating/Enron style corruption. They ate more than their eco-system allows and busted open yet again. Today America is no longer an apex predator in a sustainable food chain but a cancerous tumor on the world's economy.

A few months ago as the world's economic waters began running cloudy with America's guts, Bush, McCain and Fed Chairman Bernanke said the fundamentals of our economy were sound and strong. What else would a dumb beast say with a mouth full of its own entrails? A dumb beast only knows one thing: if it is eating its happy.
And just like a simple, natural, not at all pointy-headed or intellectual shark eating its own entrails, the Republicans and hapless Democrats are incapable of stopping their self destruction. They passed a bail out/rescue package with toothless over sight provisions that ignores the causes of the meltdown and is funded by borrowed money and a massive cash infusion from the treasury created out of thin air by printing dollars. Apparently they believe self cannibalization will stop us from eating ourselves to death. How very dumb beast of them. In effect we now have a bubble propped up by a bubble, or The Weimar Republic.
Conservatives see a Democrat in the character Quint from Steven Spielberg's still excellent 1975 blockbuster Jaws. Quint was a shark hunter. He shot little steel harpoons tied to big, buoyant barrels into sharks which severely reduced their ability to swim. Conservatives see every regulation as just another barrel slowly killing American business.
The Cancer School of Economics doesn't get that forcing Detroit to make cars safer back in the 50's and 60's through Government intervention in the market place made the auto industry more profitable. They can't see that safe cars increased the market for cars and increased dependence on cars which helped create a pervasive car culture and increased sales. That kind of thinking is for pointy-headed intellectuals, not simple, natural folk. All they can see is "bigguvment" got on the backs of poor, poor businessmen and tried to choke the auto industry. They still think we'd all be better off without brake lights, seat belts and turn signals waiting for Detroit to make safe cars.
Republicans don't see health and prosperity in regulation. They see Democrats and their regulations as another kind of shark competing for living space and fish- a smaller, less aggressive, toothless kind of shark who deserves to die, who unfairly restricts stronger sharks who should be allowed to run free and rule the seas. They don't see Democrats as noble or compassionate or evolved or helpful in the least. They see them as whiny, traitorous runts who have turned themselves into un-natural parasites who leech off of their larger, stronger brethren and therefore need to be wiped off the face of the earth lest everything die.
Anyone who wants no rules at all is an adolescent. Like a bratty teenager caught up in a rebellious tantrum, Republicans can't see any limit as healthy. Conservatives point to people who truly are parasitic runts and claim they were created by healthy limits which keep our economy from bursting.
All these Cancer School of Economics financial experts swimming around with their guts hanging out argue the finance, credit, loan and banking system is already the most heavily regulated industry in the nation. Governments don't heavily regulate the greeting card industry. Everything depends on financial stability, confidence, fairness and predictability. The financial markets need intelligent, tough, strictly enforced regulation so our nation's super sharks can do what they were born to do without bursting. Obviously it is the quality of regulation not the quantity that is the issue at hand. Funny -- with all the regulations on the financial industry conservatives targeted just the ones that if removed would cause a meltdown. Weren't interested in all the others, were they?
Republicans, like troubled teenagers, are unable to understand their own behavior is the problem. Conservatives look at the deregulation disaster that is the last eight years of Republican rule and have come to the conclusion that they were corrupted by eight years of power. Power doesn't corrupt. Washington is a petri dish for all one's latent dysfunction. Power revealed who Republicans truly are. They came to Washington and did exactly what they wanted to do and they destroyed themselves. Self knowledge is a bitch.
For all the evil Washington has done to Republicans, they sure don't want to leave. They most definitely want to stay despite the horrible things power does to one's conservative credentials.
To convince Americans they have learned their lesson and should be given the reigns of all-corrupting power one more time, conservatives have brought forward Sarah Palin, someone they advertise as too simpleminded to be affected by Washington's irresistible evil, like some kind of Alaskan version of Frodo Baggins. Basically, Republicans are promising Americans they'll be dumb as hell if we give them another chance in 2008.
The biggest problem Conservatives face right now is that no one has faith in unfettered predation anymore. America's corporate sharks are gut busted and floating belly up. Sarah Barracuda is meant to prove conservative economic ideology is still healthy, wholesome, natural and as dumb as a big fish. Conservatives think just by letting Sarah "Frodo" Barracuda swim into the White House our nation will return to prosperity.
Republicans don't understand there is no Quint slowing them down. Market regulations are not the equivalent of a barrel tied to a shark. The life sustaining financial regulations they greedily stripped away in 1999 were a positive structural force that provided stability, scale, security and confidence. Massive exploitation of resources coupled with an unrestricted financial system is not economic freedom. It is unbalanced, unstructured and un-natural. It is cancerism, not natural law. Limits on risking other people's money is not un-Godly interference, or the life sucking evil of parasitic runts, its protecting the human eco-system, which humanity must do for itself, because, after all we're not dumb beasts. Acting like one won't help anybody, Sarah.
Related
Popular in the Community