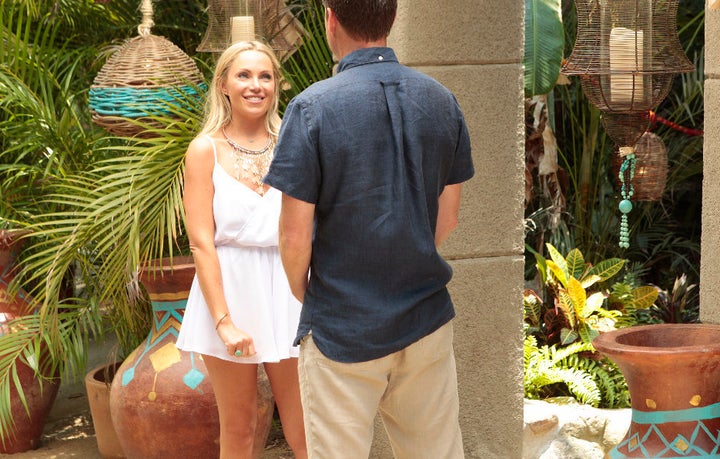 After witnessing Chad call fellow cast member Lace Morris a "f****** b**ch" and a "c***," Sarah (with a solid assist from Carly Waddell) had heard enough. Instead of staying silent, she spoke up and called out his sexist, garbage behavior. 
"The way you're talking about women is so disrespectful," she says to Chad. "I want nothing to do with it. Nothing," as Carly claps in approval nearby. 
"That's hilarious," says Chad. "No, it's not hilarious. It's really not," Sarah shoots back. (Watch a clip of the scene below.)
Of course, instead of responding contritely or taking even a shred of responsibility for his earlier language, Chad lashes out.
In what was one of the more disturbing scenes in of the episode, Chad verbally attacks Sarah. He calls the 29-year-old, who recently launched a non-profit aimed at empowering girls (specifically young girls with physical disabilities), a "one-armed b***h," before telling her to "suck that d**k."
"Gross" doesn't even begin to sum up the interaction.
The next morning, in the (more sober) light of day, Chad again fails to take responsibility for his actions.
"I think you were incredibly disrespectful last night," says Sarah. "And you said really horrible things to Lace and about women and to me."
His response? "It's joking. It's jokes. Why can't y'all take jokes?"
It should go without saying that physically and verbally attacking the people around you is not OK. But there's an extra layer of foul when even after being presented with your actions ― and the hurt they have caused ― you refuse to own up, instead placing the blame back on to those you've harmed. (It feels questionable for ABC to have even placed such a volatile person into a setting like "BIP," but that's a conversation for another time.) 
"Bachelor" alums rallied around Sarah on Twitter last night as the episode aired:
And though Chad has since (sort of, kind of) apologized (in the press), it seems that Sarah ― along with the vast majority of "Bachelor" fans ― is just ready to move on from him:
In the hallowed words of Beyoncé: "Boy, bye."
For more on the "Bachelor In Paradise" premiere, check out HuffPost's Here To Make Friends podcast below:
Do people love "The Bachelor," "The Bachelorette" and "Bachelor in Paradise," or do they love to hate these shows? It's unclear. But here at "Here to Make Friends," we both love and love to hate them — and we love to snarkily dissect each episode in vivid detail. Podcast edited by Nick Offenberg
REAL LIFE. REAL NEWS. REAL VOICES.
Help us tell more of the stories that matter from voices that too often remain unheard.
BEFORE YOU GO
PHOTO GALLERY
Tweets About "Bachelor In Paradise" Season 3, Episode 1