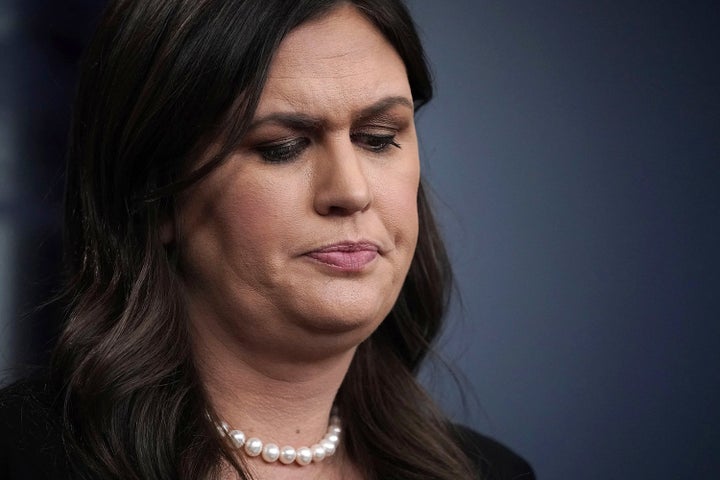 White House press secretary Sarah Huckabee Sanders was just sitting down to a farm-to-table meal at The Red Hen in Lexington, Virginia, Friday evening when, she said, the restaurant's owner heard she was there ― and asked her to leave.
According to Sanders, who confirmed the story in a tweet after an image from the restaurant began circulating the internet, the restaurant owner objected to her work defending President Donald Trump, who has been under fire for an immigration policy widely decried as unnecessarily cruel.
"I politely left," the press secretary said on Twitter.
"I always do my best to treat people, including those I disagree with, respectfully and will continue to do so," she added.
The restaurant's website appeared to crash Saturday as the story went viral, and phone calls by HuffPost could not make a connection.
Owner Stephanie Wilkinson told The Washington Post that one of the chefs had called her at home to tell her Sanders was sitting in the tiny restaurant, and that the staff had concerns. Wilkinson then drove over, huddled up with her staff and asked whether they would like Sanders to leave. They said yes.
"I'm not a huge fan of confrontation," Wilkinson told the Post. "I have a business, and I want the business to thrive. This feels like the moment in our democracy when people have to make uncomfortable actions and decisions to uphold their morals."
She said the town largely opposed Trump and noted that several of her employees are gay. In her official capacity, Sanders has defended a wide array of the president's controversial comments and actions, including his stance on LGBTQ issues.
Wilkinson felt justified in her action because Sanders is a public official, not a regular customer with whose politics she disagreed.
The owner said she and Sanders stepped outside, where Wilkinson explained that her establishment has "certain standards that I feel it has to uphold, such as honesty, and compassion and cooperation."
Both parties were polite, she said. Sanders immediately agreed to leave. The press secretary's companions followed after Wilkinson told them the cheese boards they'd ordered were on the house.
Walter Shaub, former director of the United States Office of Government Ethics, claimed Sanders' tweet, sent from her official account, was "a clear violation of 5 CFR 2635.702(a)," which prohibits the use of a public office for private gain.
The Red Hen, around a three-hour drive southwest of the White House, specializes in using locally sourced ingredients and offers a seasonal menu.
A server there who was assigned Sanders' table said she had arrived with her family.
"I just served Sarah huckabee sanders for a total of 2 minutes before my owner asked her to leave and she complied," Jaike Foley-Schultz wrote on Facebook.
His photo of a dry-erase board left by staffers at the end of the night with notes for the next day's crew ― including "86 - Sara Huckabee Sanders" ― went viral on Facebook. "86" is industry lingo for items the restaurant doesn't have anymore. (The server has since taken his photo down.)
Foley-Schultz stressed that the incident was less than dramatic.
The comments sections on the restaurant's Yelp and Facebook pages are now precisely the opposite. The Red Hen has been flooded with many one-star and some five-star reviews from commenters on both sides of the political spectrum.
"This is what America should stand for," wrote a woman from New York, according to her Yelp profile.
A New Jersey man wrote a missive aimed at the owner, saying, "your food is horrible and soon the board of health will be closing you down due to your cockroach infested establishment filled with DUMOCRATS!!!!"
"Boo!" wrote another on Facebook. Directly below, another Facebook user wrote, "Bravo!"
The move drew comparisons to the conservative Christian baker who refused to bake a wedding cake for a gay couple in Colorado, whose decision was upheld in the Supreme Court earlier this month.