"Her disgusting comments and show are not fit for broadcast, and executives at Time Warner and TBS must demonstrate that such explicit profanity about female members of this administration will not be condoned on its network." TBS, which airs "Full Frontal," is a part of media conglomerate Turner, owned by Time Warner.
In a statement to HuffPost, Bee said: "I would like to sincerely apologize to Ivanka Trump and to my viewers for using an expletive on my show to describe her last night. It was inappropriate and inexcusable. I crossed a line, and I deeply regret it."
Bee's segment on her show featured her calling first daughter Ivanka Trump a "feckless cunt" for her inability to help stop her father's immigration policies.
"Let me just say, one mother to another, do something about your dad's immigration practices, you feckless cunt!" Bee said. "He listens to you. Put on something tight and low-cut and tell your father to fucking stop it. Tell him it was an Obama thing and see how it goes."
The comments have received a lot of backlash on Twitter, with many drawing comparisons to the cancellation of Roseanne Barr's show after she tweeted racist comments about former Obama aide Valerie Jarrett.
ABC canceled Barr's "Roseanne" revival mere hours after news of Barr's tweets spread.
Sanders' call to arms to TBS and Time Warner is particularly noteworthy. While hundreds called on ABC to act after Barr's comments, there wasn't a specific member of the White House asking for the private employer to handle internal matters at their whim.
Bee isn't the only female comedian to spark outrage from Sanders in recent months — Michelle Wolf drew ire from the press secretary and her supporters for her roast during April's White House Correspondents' Dinner.
TBS and Time Warner did not immediately respond to HuffPost's request for comment.
This story has been updated with comment from Samantha Bee.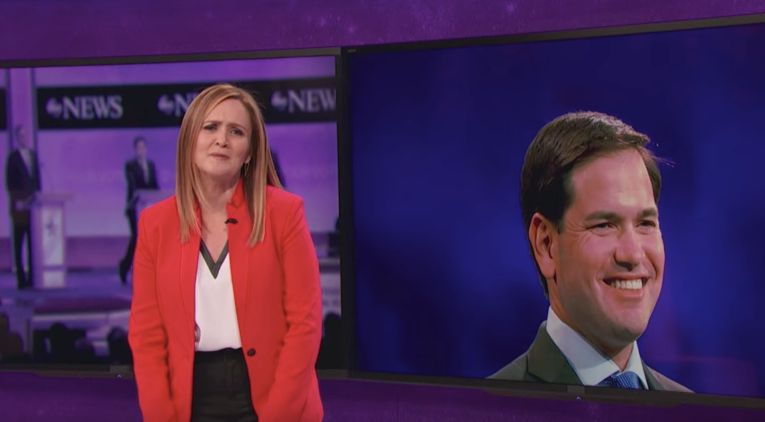 Full Frontal With Samantha Bee's Most Feminist Moments
Popular in the Community