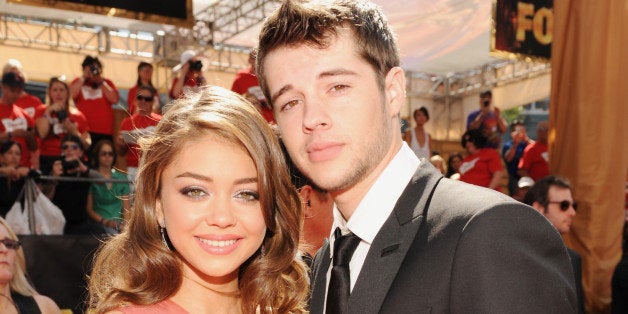 According to the documents, Prokop allegedly pinned Hyland against a car during an argument about her wardrobe back in May, yelling, "c--t, c--t, c--t" and choking her.
"His grip was so tight that I could not breathe or speak. I was scared and in fear for my life," Hyland, 23, explains in the documents. She reportedly suffered injuries to her voice and had a "very sore throat following this event." Hyland also says she asked her TV mom Bowen to come to her house to help "peacefully end the relationship." According to TMZ, she purchased a plane ticket to send Prokop back to his hometown in Texas, but when he arrived to Hyland's home and saw Bowen, among others, he freaked out and allegedly "ran outside into the backyard and began screaming." Hyland claims Prokop threw a lighter at her, which is when Bowen stepped in and told her to get out of the house.
Hyland also details other threats Prokop made against her -- and her dog -- in the documents, saying he threatened to set one of her houses on fire. "[He] relentlessly bombarded me with vile, threatening and emotionally disturbing texts and voice mails including his own suicide threats," Hyland explains.
According to the actress, Prokop entered a rehab facility in August, but was released on Sept. 21. An L.A. judge has now granted Hyland a temporary restraining order against Prokop after the director of the rehab center contacted the judge and told her it would be in the best interest to do so because of Prokop's mental state and attitude toward Hyland. Prokop is now required to stay at least 100 yards away from Hyland and her dog at all times.
"On Sept. 19, 2014, Ms. Hyland obtained a Domestic Violence Temporary Restraining Order against Matthew Prokop," Hyland's lawyer Lee A. Sherman of CTSC Law writes in a statement to The Huffington Post. "The documents filed speak for themselves. Out of respect for the court, the process and all parties, I have advised Ms. Hyland not to comment on the matter. We request that you respect the parties' privacy during this time."
The Huffington Post has reached out to Prokop's rep for a comment and will update this post if more information comes through.
Popular in the Community