Sarah Illig's dream honeymoon in the Bahamas turned out to be a nightmare after she was bitten by a shark.
The 25-year-old Charleston, South Carolina woman was vacationing with new hubby Evan Carroll at an attraction that allows guests to swim with sharks.
Her husband was filming her underwater when a five-foot nurse shark swam up and chomped down on her arm.
"It felt like five or six hands were grabbing into the side of my arm and squeezing it as hard as they could," Illig told Inside Edition. "The bite was only a second long but only a half a second later my mind processed it and I realized that it hurt."
Nurse sharks typically don't attack unless provoked, something Illig swears she didn't do.
"There was no tail pulling or feeding during my snorkel with them (as you can clearly see via video)" Illig told the New York Daily News.
Illig said her husband immediately applied pressure to her wound with a towel.
"Evan is the calmest person I know so he handled everything great. He calmly got me out of the water and helped with first aid," she told People.com. "He was nervous getting me out of the water because the nurse shark did come back around and circled us after the bite."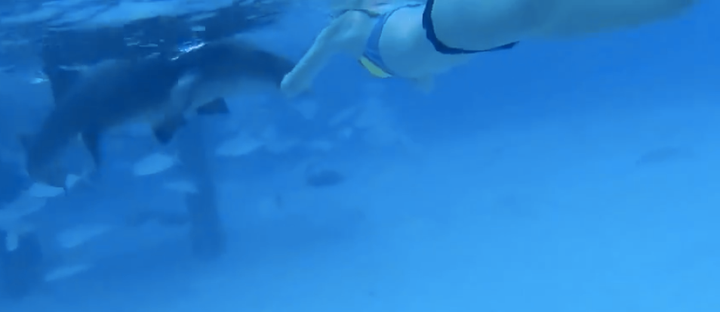 Illig said the worst part wasn't the actual bite, but the wait she had to endure before she could get medical attention.
"We had to leave it untreated for an hour or so, just to get back to where we were going before we could get it treated," she told Inside Edition. "That was the most painful simply because it was an opened flesh wound."
Illig suffered a bunch of flesh wounds along her arm.
The couple posted footage of the attack on Facebook with the caption "Ended the honeymoon with a bang...Check out the surprise and very rare nurse shark bite in the video and don't forget the volume to hear the crunchhhhh." It has since been removed.
Illig returned home three days later with bite marks that will hopefully fade with time, and a memory that probably won't.
Calling all HuffPost superfans!
Sign up for membership to become a founding member and help shape HuffPost's next chapter
BEFORE YOU GO