Sarah Jessica Parker is no stranger to criticism when it comes to her past Met Gala looks, and she's got the memes to prove it. But if there's one thing she's not when it comes to the grand yearly event, it's uncommitted.
This year Bradshaw Parker, a woman synonymous with New York, fashion and arguably the Met Gala itself (she served as co-chair in 2014) was the subject of a bit of criticism from Ivy Marshall, a fashion, entertainment, beauty and lifestyle blogger.
Marshall, who shared many photos and thoughts over the course of the evening, felt that SJP, along with Madonna and Diane Von Furstenberg, didn't quite take the theme, "Manus x Machina: Fashion in an Age of Technology," to heart.
"This trio didn't get the memo," she wrote, after likely moving on, thinking there was no chance anyone, especially SJP, would retort.
Well, turns out Parker, who graciously spends time each year chatting with reporters on the red carpet, is equally as chatty on Instagram. In a comment that has since been deleted, she wrote back as politely and eloquently as Bradshaw would in her column in the comments section of the photo.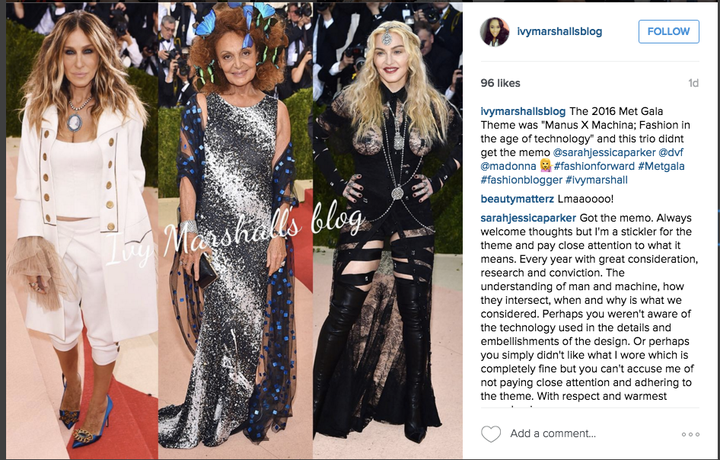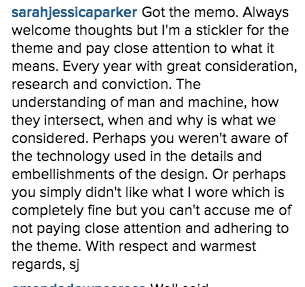 "Got the memo. Always welcome thoughts but I'm a stickler for the theme and pay close attention to what it means. Every year with great consideration, research and conviction. The understanding of man and machine, how they intersect, when and why is what we considered. Perhaps you weren't aware of the technology used in the details and embellishments of the design. Or perhaps you simply didn't like what I wore which is completely fine but you can't accuse me of not paying close attention and adhering to the theme. With respect and warmest regards, sj."
"Perhaps you weren't aware." Ouch.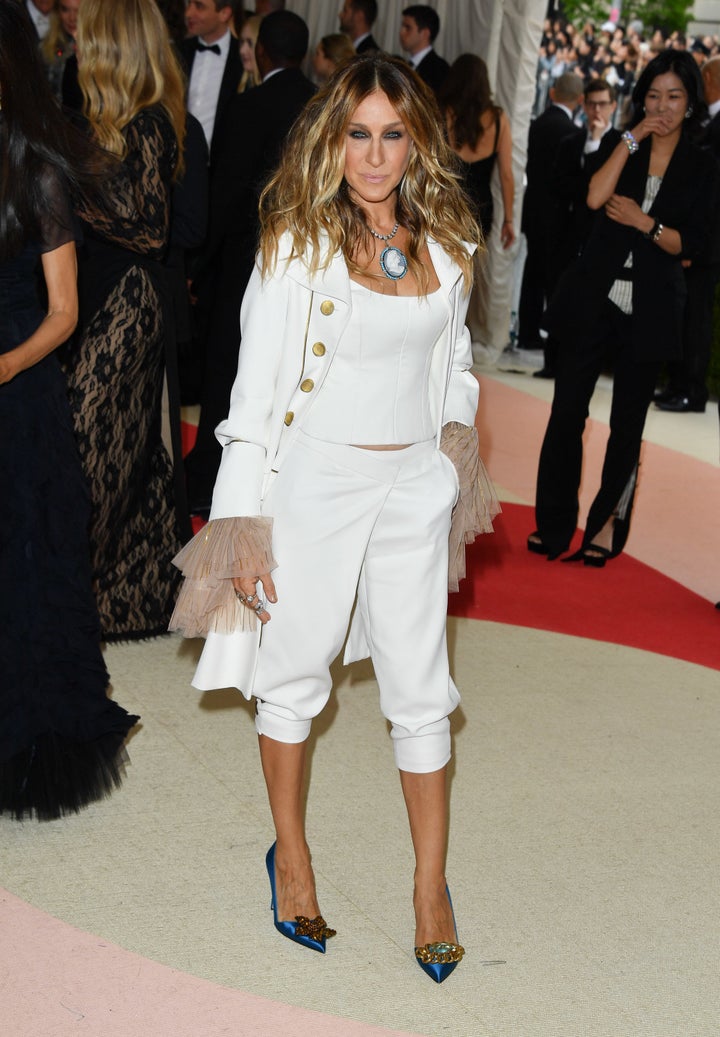 In fairness, of course she adhered to the theme. Her "Hamilton"-inspired outfit was designed by Monse (manus) and embellished with embroidery-inspired paint using technology (machina) by Brooklyn-based artists at Le Studio Anthost. Parker even wrote an entire article about the look, including the theater phenomenon she and her team were inspired by for T, The New York Times Style Magazine.
"We decided that this year, maybe I wouldn't wear a dress; we were interested in trousers. We had been in discussions and reviewing sketches and I just so happened to take my daughters to see the show 'Hamilton.' I've seen it a few times now, so I can look at singular pieces of the show rather than focusing on the bigger story. I was looking at the costumes and, in particular, the men's suiting of the period. All of a sudden, I was like: 'Oh, that's it.' It was such a specific time, and I was curious how we could use technology with that."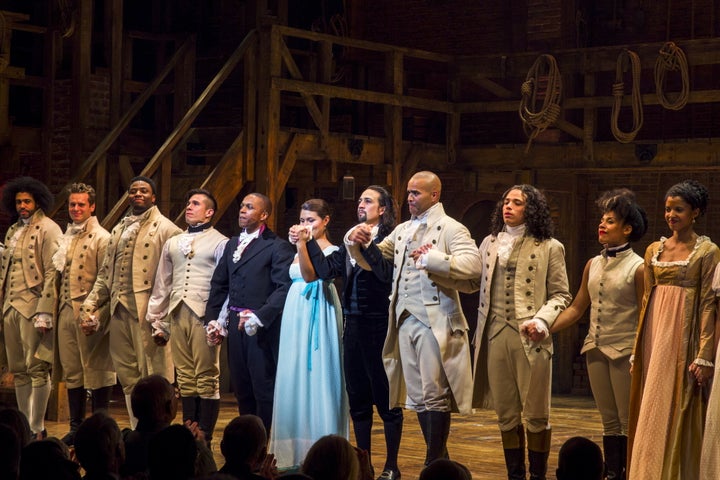 So, if you couldn't help but wonder why Parker, international icon with over 2.4 million followers (plus acting accolades, a world-famous television show empire, etc), felt the need to respond to an Instagram photo, consider that fierce dedication and commitment getting it right that we've come to love and adore so much.
Marshall later clarified her thoughts in another post, "Top Five Met Gala Looks From Sarah Jessica Parker." She stood by her earlier sentiment ("it is 2016 and we are all entitled to our candid opinions"), but praised SJP for her iconic status, too. "Let me clear up this unnecessary mist in the air. How does anyone in their sane mind not worship SJP or think i would be bold enough to come for her fashion status!!! I mean she is the talent behind Carrie Bradshaw's existence and every woman's dream bestie," she said.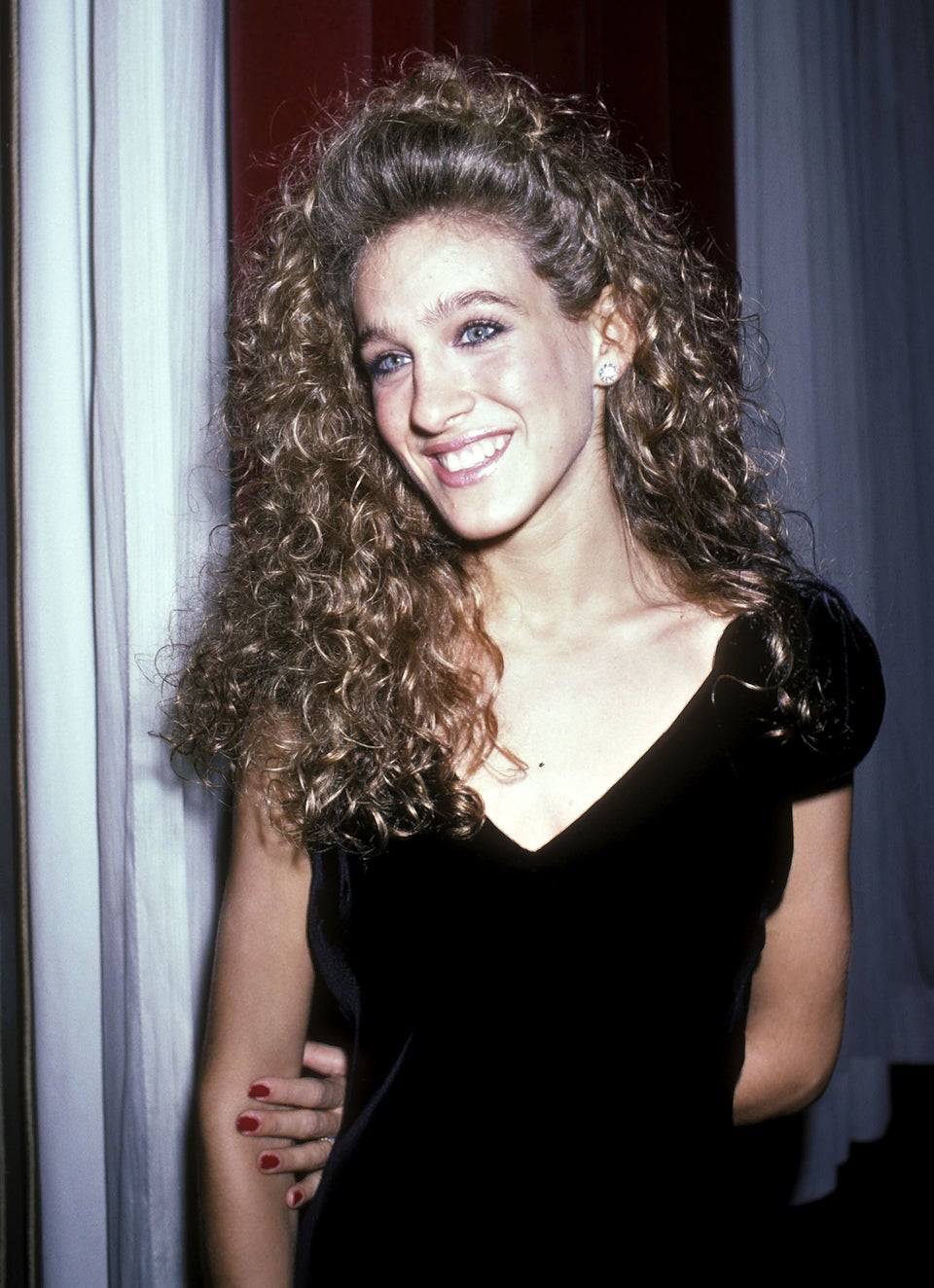 Sarah Jessica Parker's Style Evolution