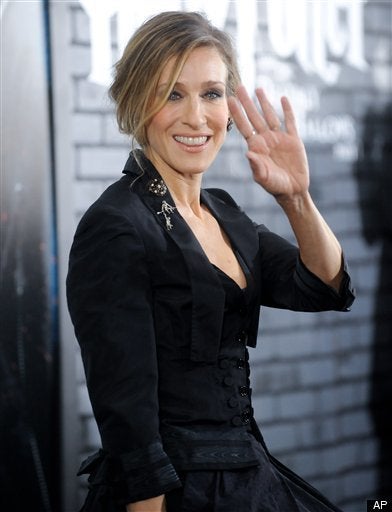 The following is the last in a series of celebrity roots profiles from the first season of NBC's Who Do You Think You Are? , the popular genealogy program that has recently been renewed for another season. The previous profiles can be found here:
Sarah Jessica Parker is the most intriguing of paradoxes. Best known as sophisticated fashionista Carrie Bradshaw on Sex and the City, she somehow manages to also embody the girl next door. Many know of Parker's working-class beginnings in Cincinnati and can't help but notice the parallels between her life and that of Annie, the plucky orphan she portrayed in the Broadway musical of the same name. Though glamorous, she's approachable -- she's one of us.
That makes Parker's confession that she's always thought of her family as less American than others all the more surprising. Initially hesitant to explore her family tree, she doubted doing so would reveal anything interesting. In conversation with her brother, they agreed, "There's no way they let our ancestors on the Mayflower!"
Ultimately, Sarah Jessica's love for her mother, Barbara, motivated her venture into the past. Aware that her father's family is Eastern European Jewish, she had only a hazy idea of her mother's side. Barbara was born into Cincinnati's well-established German community and believed herself to be "all German on all sides." But a pair of photos hinted at other possibilities.
One image showed Barbara's mother, Dolly, as a toddler with her own mother, Lillian Breitenbuecher. Barbara explained that Breitenbuecher was Lillian's married name and that her maiden name was Hodge. Another photograph was of a handsome man named Elva Hodge -- Lillian's father. While it's hard to imagine a name more conspicuously German than Breitenbuecher, Hodge -- the surname sported by Parker's great-grandmother and great-great-grandfather -- is decidedly non-Germanic. In fact, it's suspiciously English-sounding.
Curious about the unexpected appearance of the Hodge name, Sarah Jessica traveled to her hometown of Cincinnati to learn more. Records identified Elva as the son of John Eber Hodge, and it was John Eber's obituary that included a startling comment. As a young man, he helped his mother on the farm, "his father having died during a journey to California in 1849."
The mention of the year 1849 and California suggested a tantalizing connection to the gold rush. Could it be that Parker's fourth great-grandfather, John S. Hodge, had been a forty-niner? After gold was discovered in 1848, some 300,000 people descended upon California in the hope of easy riches, but few found them. Arduous journeys, primitive living conditions, long hours, disease, and other hardships were in store for anyone who made the attempt.
At the time, John was a young married man of 24. John's journey west was 2,300 miles and a huge gamble, but if he succeeded it would change his life forever. On February 14, 1850, he signed a partnership agreement with friends to migrate "to California in search of gold." Each contributed $200 and agreed to support the others. With the benefit of hindsight, we can wonder whether he knew that his wife was pregnant when he set out from his home in Logan County, Ohio.
Like her adventurous ancestor, Sarah Jessica went west to California, though her trip was considerably shorter than his four-month odyssey. The 1850 census recorded in mid-October disclosed that John had arrived at a mining community in EI Dorado County with two partners. They were safely in Gold Country, and though he probably didn't know it, John had become a father to a new son, John Eber, born just weeks earlier.
John Eber's obituary claimed that his father had died in 1849, but the rest of the paper trail contradicted this, as John S. Hodge was very much alive in 1850. Still, it seemed clear that John S. didn't return to Ohio. What happened? Sadly, Sarah Jessica learned from a letter written by one of the partners that John S. Hodge, along with another man, fell ill. In spite of his partner's best efforts to nurse him, disease claimed John S. Hodge in late 1850. John S. Hodge was one of many who perished during the gold rush, and it was likely months before his wife received the news.
Astonished to discover that her ancestors had taken part in one of the most pivotal events in American history, Sarah Jessica wondered if there might be more revelations in her Hodge branch. Genealogists she had consulted all agreed that the Hodge name featured prominently in many New England family trees, and it quickly emerged that John S. Hodge's father, Eber, had been born in Connecticut. But it was Eber's mother's family that captured Sarah Jessica's attention. Her maiden name was Abigail Elwell, and Sarah Jessica successfully traced Abigail's line to her father, Jabez, through three generations of Samuel Elwells, back to an English immigrant, Robert Elwell.
Sarah Jessica's family might not have been on the Mayflower when it sailed in 1620, but they weren't far behind. Robert's son, the first of the Samuels, was born in Massachusetts in 1635. Samuel married Esther Dutch and lived in Essex County, home of the Salem witch trials of 1692. Though the hysteria was focused on Salem, several other towns were affected, including Gloucester, where the Elwells resided.
Advised that many families in the area were touched by the trials, Sarah Jessica researched her own at the Massachusetts Historical Society and was stunned to find a warrant for the arrest of Esther Elwell, her tenth great-grandmother. She and two others were accused of "sundry acts of witchcraft" leading to the death of Mary Fitch, a neighbor.
During the height of the hysteria, everyone who was tried was convicted and killed, mostly by hanging. Reeling from her family's involvement, Parker was relieved to find that Esther survived because she had been accused in November 1692, about two weeks after the court had been dissolved. Consequently, her case never went to court and she lived to age 82. Her arrest was the last chapter of the witch hunt.
Contrary to what she thought, Sarah Jessica's family is quintessentially American, having participated in historical events that every schoolchild studies. That's something her twin daughters, Marion Loretta Elwell Broderick and Tabitha Hodge Broderick, will know from birth.
Popular in the Community