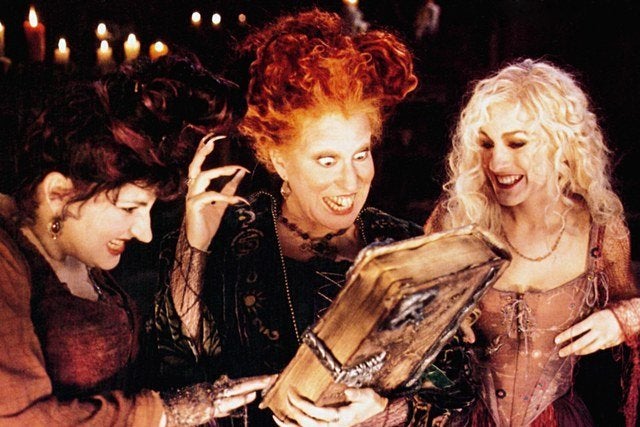 It's Halloween season, which means you're bound to watch "Hocus Pocus" at least once (sorry, we don't make the rules). So why not be armed with some behind-the-scenes factoids for your next viewing? 
Sarah Jessica Parker, one of the film's stars, has been busy promoting her new movie "Blue Night"and how she's not in fight with Kim Cattrall, but thankfully she's also spilling some secrets about making the classic movie. 
"I don't have a lot of memories. I remember the filming of it. I just don't remember what the movie's about as much," she said Tuesday on "The Late Show with Stephen Colbert."
"Three witches, I've been told that, and apparently my character's not very bright," she added. "But I fly and sing and I think I like to suck the life … I think I like to kill children? I don't know."
Although the details of the plot might escape her, Parker has fond memories of how old-fashioned the technology was on the set ― especially for her favorite scenes, which involved her taking off on her broomstick.
"They'd call 'cut' and they'd go to lunch or maybe they'd change the lens, and I'd just stay up there," she said of sitting on her flying broom. "I could fit an entire New York Times up the back of the corset. And I found that the harness was comfortable, so I would just sit up there and read the Times while people took their breaks or changed the camera and sometime went to lunch."
The original cast of the spooky classic reunited this year for a 25th anniversary special on Freeform. It featured new interviews with Parker, plus co-stars Bette Midler and Kathy Najimy and director Kenny Ortega.
The remake has yet to cast a spell on Midler, however, who pretty much gave the opposite of her blessing. 
"No, no, no!" she said. "I know it's cheap. It's going to be cheap!"
REAL LIFE. REAL NEWS. REAL VOICES.
Help us tell more of the stories that matter from voices that too often remain unheard.