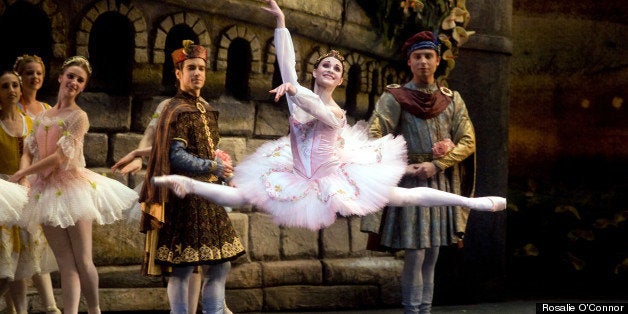 Co-authored by Ellen Dobbyn-Blackmore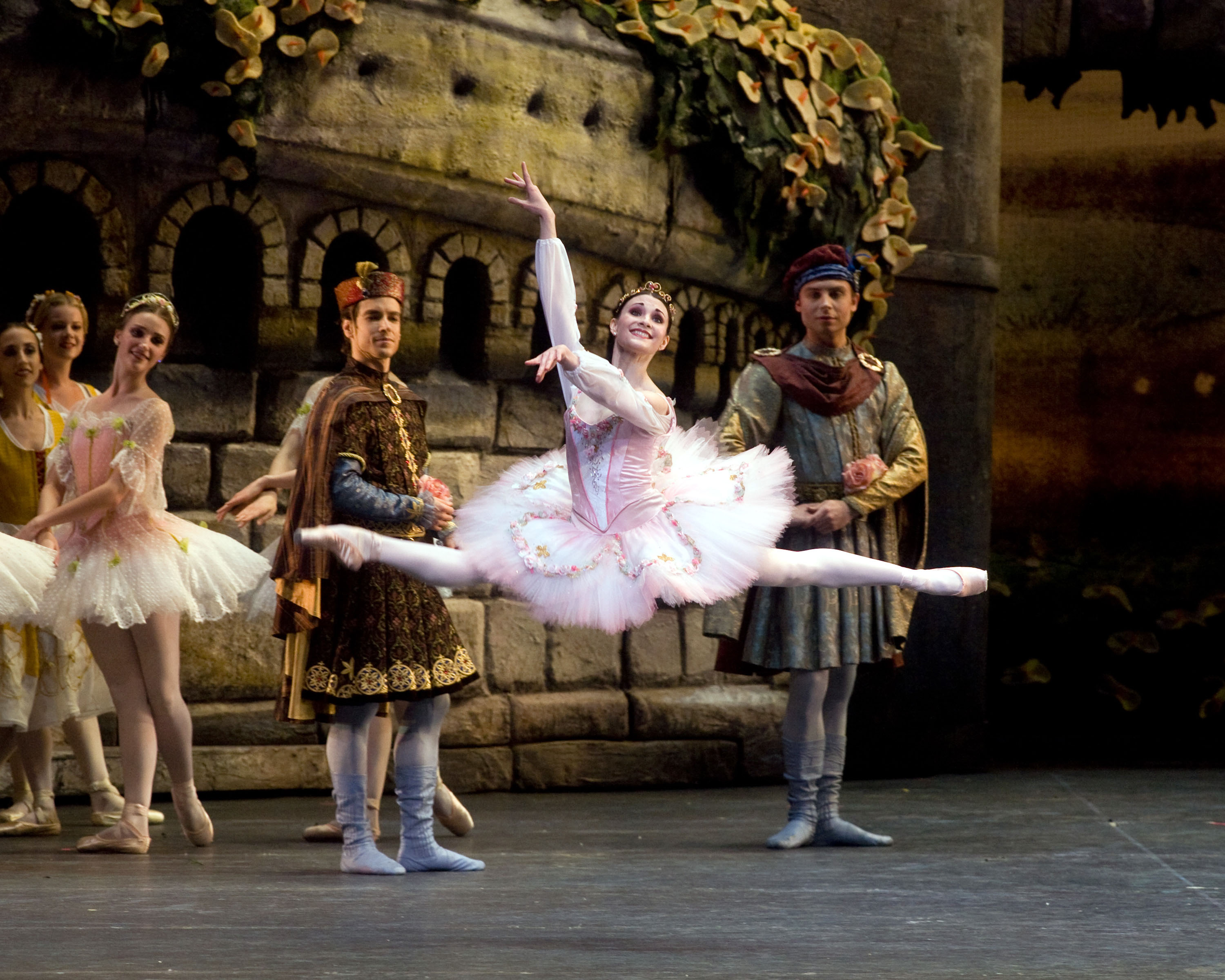 Sarah Lane in American Ballet Theatre's Sleeping Beauty
Photo by Rosalie O'Connor
As one of American Ballet Theatre's top soloists, all-American Ballerina Sarah Lane occasionally gets the opportunity to dance in principal roles. For the first time in the last five years, Lane will once again be dancing the role of Aurora in ABT's Sleeping Beauty at the Met. With ABT's long roster of established stars and international guest artists who dance the principal roles, opportunities such as this can be much less frequent than young dancers like Lane would prefer.
Sarah Lane is married to fellow company member, Luis Rigaborda, and when they are not in New York, they frequently visit Rigaborda's native Spain. In person, Lane is disarmingly direct, humorous and without affectation. Her cheerful, engaging manner and personal accessibility is a large part of why this talented ballerina is so popular. We didn't really talk about that noisy controversy having to do with her role as Natalie Portman's dance double in the film, Black Swan. It's something that will probably follow her for the rest of her career but it isn't something that she thinks about. Lane is always looking ahead, never back. In a recent interview, she spoke of her return to the role of Aurora, her life as a dancer and expectations beyond.
So... getting any dance double work lately?
Sarah Lane: No, thank God! (laughs) That little bit of extra money was nice, of course, but other than that, well, it was a cool experience looking back on it now. The part that came after wasn't so fun. Everyone loves drama.
How does it feel to be doing Sleeping Beauty again after five years?
It's hard because my memories were of it feeling very natural because I had rehearsed it so much, at the point where I did it at the Met at least. I had rehearsed so much and it was so ingrained in me. It's one of the hardest ballets but I wasn't struggling with myself. I feel almost like I'm starting all over from the beginning and what I remember as feeling completely natural now feels unnatural. You build something and then you knock it all over and then you start from scratch -- it's sort of that feeling. I have to go into the studio with a sense of humor, sort of, and maybe be a little bit more critical of myself but not in a way that tears down my enthusiasm.

Does it feel like a lot of pressure since you only get one performance of Sleeping Beauty?
I am struggling with the fact that it feels like more pressure because I haven't done it in five years and I got some negative feedback about it in the past. I got some really amazing feedback initially and then all of a sudden I got some negative feedback that I didn't see coming. So I kind of had to deal with that and the whole underlying principle of criticism.
You mean about how people give it or how you receive it?
I can't control how people give criticism but I can control how I accept it and how much of it I accept. That was a learning experience for me. Now I think I'm in a new place and I'm doing it for myself. When I was younger I don't think things fazed me as much because I hadn't been through as much. I am stronger now and I've learned a lot over these years of having to struggle through. It's what you go through as you grow and mature as an artist. All of those things make me a better dancer to do a better job this time around. I just don't want anything to take away from my enjoyment of the role.
One of the most important things for somebody in your position, doing principal roles, is the coaching on the mime parts, the acting part... so who do you go to now that Susan Jaffe is gone?
Well, Irina Kolpakova. I've always loved Irina but she can't coach every single ballerina in the company.

How was it for you after Susan Jaffe left?
That was really hard, actually. The reason why she was so good for me and for Isabella (Boylston) was that we really bonded with her and she was there when we really needed her at a time when we really had no one else to guide us. Sometimes you don't know if the little details really matter but she was there to call them out and it taught me to see those details. She showed me how to work in a more thoughtful way and artistically, she gave me so much and she improved a lot of things that I needed more work on. I continue to try and push myself on all those things we worked on and to remember them.
Do you ever go outside the company for help?
Yes, I have in the past. I've worked with Alessandra Ferri and Amanda McKerrow. Isabelle Guerin coached me for Other Dances which I did for a freelance performance. I loved working with her. I got a lot out of it. There are male coaches, good coaches, but I think that a female coach is needed for certain roles like Sleeping Beauty.
The Rose Adagio and those balances... it's kind of a nightmare to have that be the first thing you have to do when you come on stage for Sleeping Beauty.
I'm going to do my best and that's all that I can do. I don't want to psyche myself out about those difficult moments because the thing is, I could go out there and hit all of those balances but there could be nothing else there for the audience. I would rather work on all the fine details that I can to refine the role so that, if something goes wrong here or there, there's going to be more that I give. You just can't count on those technical things. You can work really hard and be strong but if something doesn't go right there's nothing you can do about it. It doesn't change who you are as a dancer.

You'll be dancing with Daniil Simkin for this performance, how is that partnership?
He's always great to work with, actually. He has a great personality and he's very easygoing which helps me a lot. Dancing with someone who tenses up and freaks out isn't helpful to me at all because of my own personality. I'm such a perfectionist and I get nervous before I go on stage. It's nice to work with someone like him because he's very calm. He has a great sense of humor and we laugh a lot.
Who did you look up to as a dance role model when you were a kid? Anyone who inspired you to say, I want to be like her?
I didn't see a lot of performances from professional companies growing up and YouTube wasn't there yet. That probably would have helped me in my development as a dancer to be able to see professionals more often but I didn't know many dancers really. The first ballet I really saw was here at the Met when I was sixteen. It was Amanda McKerrow doing Giselle. She's always been a huge inspiration for me. I think she's a really beautiful and special artist. She has something that not everyone has. Also, of course, Susan Jaffe and Alessandra Ferri and Julie Kent. Also Paloma Herrera... her technique is flawless.

What roles do you think are within your reach now that you would like to get the chance to do?
I learned Coppélia so I would like to have a shot at that. It's not that difficult and it's a fun role that's down my alley. Of course I would love to do Juliet. I almost got thrown into Romeo and Juliet in China because Hee Seo and Julie Kent were both injured. Hee ended up being fine but I did get to learn it and have rehearsals with James Whiteside. It would be nice to have a show and not just rehearse it. Those things I feel like I'm more than ready for.
Is it hard to be patient waiting for new roles?
As I've gotten older I've come to see things in other ways and realize that maybe I wasn't really ready for this role or that... but now I feel that if they gave me a show of Romeo and Juliet I would really take it and there are so many things that I would do differently than when I was younger which are all for the better. I try to learn while I wait.
You and your husband, Luis, spend your summers in Spain after the Met season ends. What is that like and what do you do when you're off work and let everything go?
It's really hard for me to relax at first. I go stir crazy. Even when I'm at home on the weekends I'll be thinking, I should be doing the dishes or walk the dogs or I should go get groceries, do the laundry, clean the baseboards... (laughs) I'm really anal sometimes. I like to clean and keep my apartment tidy. When I go to Spain it forces me to relax because Luis's mom is not even a typical Spanish mom, she's above and beyond that. She just does everything.
She's truly amazing and has inspired me as a wife and a mom and a woman. When I go there she won't let me lift a finger to do anything. Now I'm learning how to win the battles, slowly, you know. When I get there, I'm really able to chill and I know she likes to be able to take care of us. She loves having us there, but after a week of that I'm ready to go again. Two weeks off is too much for me. I can take one week off but the second week I have to do something like Pilates or Gyrokinesis at least. I love to wake up and get my body moving or I feel grumpy.
Are you thinking of starting a family?
It's something that's important to me. Ballet is a short life and there are certain things you have to sacrifice for it but there's a point beyond which you shouldn't sacrifice. For me, it would be a lonely life after ballet if I didn't have a family.
What is Sarah Lane all about?
I love what I do and it's really important to me. Every day, especially when I go on stage, I try to give more than just steps. When I'm performing, I try to give something of myself. Hopefully people see that and take it away with them. I want people to come to the ballet and be able to forget about their lives. I want them, for one moment, to get lost in the beauty that ballet can create.
Sarah Lane will be performing the role of Princess Aurora in American Ballet Theatre's Sleeping Beauty at the Metropolitan Opera House on July 3.
REAL LIFE. REAL NEWS. REAL VOICES.
Help us tell more of the stories that matter from voices that too often remain unheard.