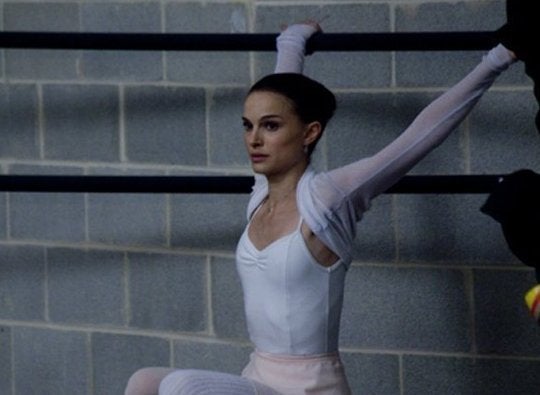 The 'Black Swan' ballet battle rages on.
Sarah Lane, American Ballet Theatre star and dance double to Natalie Portman in "Black Swan," has again gone public with her accusations that she did most of the dancing for the part that won Portman an Oscar.
Lane alleges that, after she spoke to Glamour Magazine about her part in the movie, she got a phone call from one of the film's producers ordering that she stay quiet.
"He asked if I would please not do any more interviews until after the Oscars because it was bad for Natalie's image," Lane told ABC News' "20/20." "They were trying to create this image, this facade, really, that Natalie had done something extraordinary. Something that is pretty much impossible... to become a professional ballerina in a year and half. Even with as hard as she worked, it takes so much more. It takes twenty-two years, it takes thirty years to become a ballerina."
It's a gag order that, Lane says, degrades the hard work of lifelong dancers.
"There's so much emotionally that goes into motivating yourself and being able to physically push yourself to reach a certain level, that you have to reach to be a professional ballerina with one of the biggest ballet companies in the world and to sustain that standard over a whole career," Lane told the news show. "I've been doing this for 22 years, and to say that someone trained for a year and a half and did what I did is degrading not only to me but to the entire ballet world."
"Here is the reality. I had my editor count shots. There are 139 dance shots in the film. 111 are Natalie Portman untouched. 28 are her dance double Sarah Lane," Aronofsky said. "If you do the math that's 80% Natalie Portman. What about duration? The shots that feature the double are wide shots and rarely play for longer than one second. There are two complicated longer dance sequences that we used face replacement. Even so, if we were judging by time over 90% would be Natalie Portman."
Lane insists that she was the dancer filmed for full body shots. With the sides at loggerheads, ABC had the editor of the film, Andy Weisblum, count up full body shots, which were just a portion of the overall ballet shots.
"There are about 35 shots that are full body shots in the movie. Of those 35 shots, 12 are Natalie, and then the rest are Sarah," Weisblum said. "But over the overall film, Natalie did a lot more than that. I mean, she did most of the other shots. It was sometimes hard for me to tell the difference as the editor, it was so close."
"It was so believable, it was fantastic, that beautiful movement quality," he told the paper. "There are articles now talking about her dance double that are making it sound like [Sarah Lane, her body double] did a lot of the work, but really, she just did the footwork, and the fouettés, and one diagonal [phrase] in the studio. Honestly, 85% of that movie is Natalie."
Portman also got some backing from her co-star, Mila Kunis, who said that Portman poured her heart -- and body -- into the role.
"She'll tell you [that], no, she was not on pointe when she did a fouetté [turn]. No one's going to deny that. But she did do every ounce of every one of her dances," Kunis told Entertainment Weekly. "[Lane] wasn't used for everything. It was more like a safety net. If Nat wasn't able to do something, you'd have a safety net. The same thing that I had -- I had a double as a safety net. We all did. No one ever denied it."
Aronofsky, however, went one step further in his defense, saying Portman even danced on pointe, considered one of the hardest maneuvers in the art.
"And to be clear Natalie did dance on pointe in pointe shoes," he said in his statement. "If you look at the final shot of the opening prologue, which lasts 85 seconds, and was danced completely by Natalie, she exits the scene on pointe. That is completely her without any digital magic."
As for Portman? She just wants the whole controversy put to rest.
"I had a chance to make something beautiful with this film, and I don't want to give in to the gossip," the Oscar-winner told E! News.