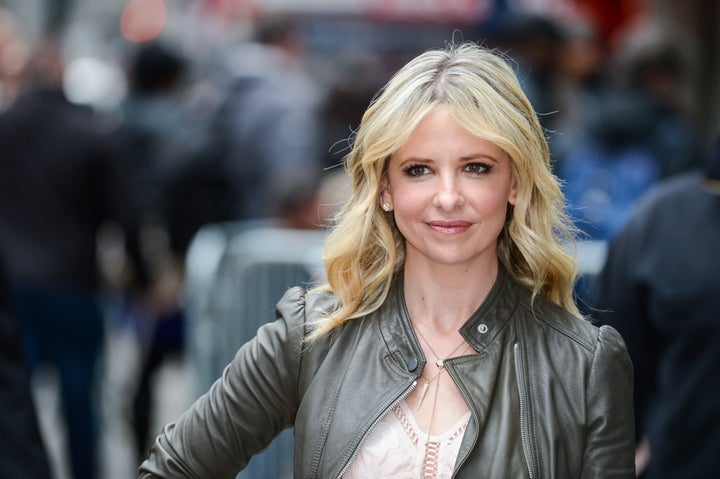 Sarah Michelle Gellar is known for iconic roles like Buffy Summers and Kathryn Merteuil. But when it comes to her family life, she tries to keeps her Hollywood work out of the picture.
Gellar and her husband, Freddie Prinze Jr., have two children, 8-year-old Charlotte and 5-year-old Rocky. One of their favorite family activities is cooking. The actress released a cookbook called Stirring Up Fun with Food in April and also has a line of organic baking kits and mixes called Foodstirs.
While promoting Capital One's new Savor rewards credit card, she spoke to HuffPost about cooking as a family, keeping her work and home lives separate, mental health and more.
On cooking as a family
Gellar believes mealtime is both a bonding and learning opportunity for kids.
"Being in the kitchen ― it's fine and gross motor skills. It's math. It's science. It's vocabulary," she told HuffPost. "But more than that it's about the connection to the moment they'll remember."
"That always stuck in my head, the importance as our world gets more and more digitally connected, what are the times the kids get those real one-on-one or family moments that they remember?" she explained.
Gellar said she and Prinze like to get their kids involved in the cooking process, from picking out vegetables at the farmers market to thinking about different ways to prepare them.
"I want them to understand the process that goes into farming and the soil and the people who work the farms. And I want them to understand that it's a bigger world," she said. "Instacart doesn't just drop everything on their doorstep."
On showing her work to her kids
Gellar also tries to broaden her kids' worldview beyond her Hollywood community by keeping her career out of their home life.
When asked if her children had seen any of her films or TV shows, she joked, "Oh yeah, my 5-year-old loves 'Cruel Intentions.' We watch it over dinners."
On a more serious note, she explained, "We try to sort of keep them separate from that." The actress noted that her kids do enjoy "Star Wars Rebels" ― an animated TV series featuring voiceover work from both Gellar and Prinze.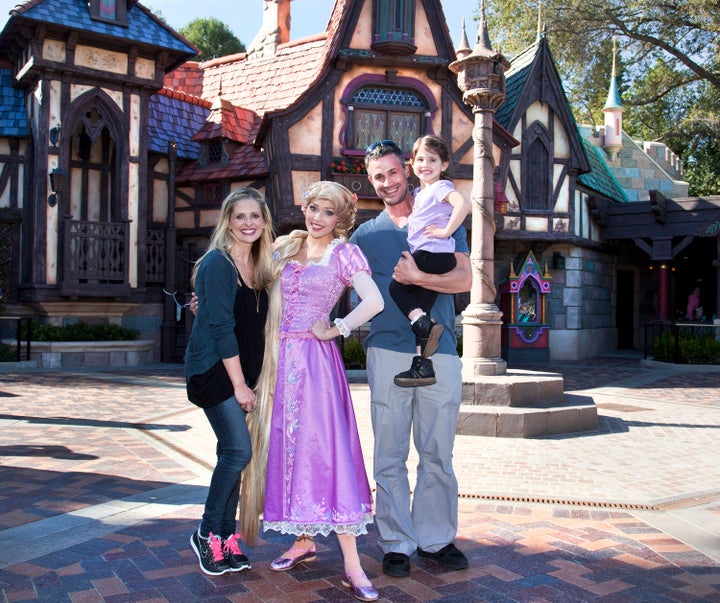 "That's been kind of fun. But it's also great because it's once removed because it's our voices," she said. "Otherwise, I don't think they've ever seen anything. I know Charlotte has seen one or two clips from the 'Buffy' musical episode that people have shown her. But on a whole we try to really keep it separate."
"For years, they thought getting my hair and makeup done was my job!" she quipped.
Still, Gellar said she knows as her kids get older, they may ask to see some of her work. "I know the day's coming. To be honest, I'm still avoiding it. I haven't given it a ton of thought yet," she said.
"I want to raise empathetic and kind and intelligent children, so that's where my focus is, not necessarily Mommy's resume."
On mental health
Gellar made headlines in May after revealing in an Instagram post that she struggled with postpartum depression following the birth of her first child.
"I got help, and made it through, and every day since has been the best gift I could ever have asked for. To those of you going through this, know that you're not alone and that it really does get better," she wrote. Gellar's post came in the midst of a national healthcare debate and included a call to readers to reach out to their representatives about mental health coverage.
Looking back on that moment, she told HuffPost she understands healthcare is complicated and wasn't necessarily trying to get into a political debate.
"But there is a stigma that goes with mental health issues," Gellar said. "It's still a disease like anything else. If someone says 'I have a cancer' you automatically have sympathy for someone and want to help. But when you talk about anything to do with mental illness, so many people don't want to share."
She added, "I think it's important for people to understand that not only can it happen to anyone but that there's also light at the end of the tunnel. Because what happens with any kind of mental illness is you can go down a rabbit hole."
On unwinding at Target
Gellar also spoke about relaxation and self-care with her family. "It's about those moments when devices go down, and we really connect," she said.
While Gellar loves to unwind by reading and having family meals, she also has a penchant for another classic mom pastime: Target runs.
"I'm not gonna lie, Target is great," said Gellar. "I'm definitely one of those people who goes to Target for three things and walks out with 455 items."
On the current scandals in Hollywood
As stories of sexual assault and harassment in the entertainment dominate the news cycle, many people are speaking out about the importance of teaching kids respect and personal boundaries.
Regarding this topic, Gellar noted, "The only thing that I will say is that everyone always says 'you're raising daughters.' Well, I'm also raising a son. And if you want to change this, it involves talking to boys and girls."
On Halloween
Gellar revealed that her daughter Charlotte loves Hamilton and plans to dress as Eliza Hamilton for Halloween.
"Hamilton has changed the narrative on how we talk about history, how we engage. I think it's sparked a huge conversation about different ways to raise children and get them excited about our world and our culture and our history."
As for the rest of the family's costumes, Rocky is going to be Optimus Prime, and Gellar revealed that she and her husband would be dressing up as "an iconic couple."
On what she wishes she'd known before having kids
Gellar said there's no advice she would've given herself before becoming a parent.
"It's all so magical. I don't think there's anything that I should've/would've," said the actress. "I think it's all about enjoying the ride."