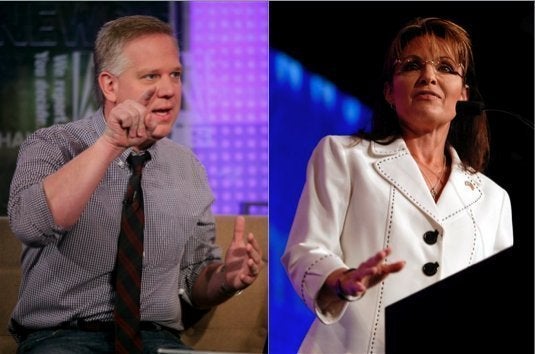 Lost amid a rather scathing Vanity Fairprofile lies a tidbit that is sure to raise some eyebrows -- Glenn Beck and Sarah Palin will appear together at a largely unpublicized 9/11 event in Anchorage Alaska.
Here's the relevant passage from Vanity Fair's Michael Joseph Gross:
Moore, a green-eyed blonde who, like Palin, was once an Alaska beauty queen, albeit a few stripes more self-aware, drives her Subaru through downtown Anchorage, steering with one hand, holding a cigarette and her smartphone in the other. When Devon calls to tell her that Glenn Beck has booked the Dena'ina Center, the largest venue in Anchorage, for a speech on September 11, 2010, she sits bolt upright and yells. Immediately, they start trying to figure out what the news might mean. "Listen, listen, listen: Why in the world do you imagine Glenn Beck would come to Anchorage on 9/11? You think he might have a special guest? With a special announcement? Oh," she says, her whole face falling as the implications of a Palin campaign kickoff hit her, "Jesus Christ."
Glenn Beck addressed his trip to the Frontier State on his radio show this week, calling it a "vacation" but keeping the nature of the event vague.
"I'm gonna give a speech up there and Sarah's gonna give a speech, but that's it," Beck said.
The highly significant time, place, guest list, and venue -- the Dena'ina Center is indeed lavish and large -- have led some, such as film-critic and sometimes political commentator Roger Ebert to speculate that the event has been planned in order to announce a Palin, or perhaps Beck-Palin or Palin-Beck 2012 presidential run.
"The symbolic date of 9/11 invests this event with the inescapable possibility that he and Palin plan to announce their Presidential candidacy for 2012," Ebert wrote Thursday.
Others such as AllahPundit at conservative blog HotAir have scoffed at this idea, however, saying that neither would be foolish enough to "co-opt 9/11 for something as self-aggrandizing as a campaign launch."
It's also worth mentioning that, according to a recent poll, most Alaskans, including Republicans, don't want Sarah Palin to run for president. So, if Sarah Palin does indeed have plans to run in 2012 -- and recent polls would also suggest that many people don't necessarily think that's a good idea at this point -- perhaps an announcement on this date in the heart of Alaska wouldn't be ideal.
Beck has also repeatedly made clear that he has no presidential aspirations, telling Chris Wallace on Fox News Sunday this week that he would rather be on vacation than running for the top office.
Watch Glenn Beck talk about his 9/11 Alaska appearance on his radio program:
Popular in the Community