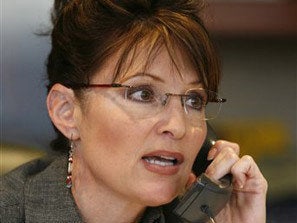 When Sen. John McCain tapped Alaska Governor Sarah Palin to be his running mate today, the Jewish political blogosphere -- as loud and fast and opinionated as (for lack of a better word) the Gentile Web -- came to a screeching halt.
It took an Internet eternity for Jewish Republicans to come out swinging for Sarah, and just as long for Jewish Democrats to hit back.
"Homerun!" Larry Greenfield, the California director of the Republican Jewish Coalition, wrote me via e-mail five hours after McCain's announcement. "Governor Palin has a very close relationship with the Jewish community of Alaska, with Chabad (Rabbi Greenberg) and with AIPAC. She is close to the Frozen Chosen!"
Seconds later came a blast from Congressman Robert Wexler (D-FL) claiming Palin endorsed Pat Buchanan's presidential run in 2000: "John McCain's decision to select a vice presidential running mate that endorsed Pat Buchanan for President in 2000 is a direct affront to all Jewish Americans."
Oh, NOW it's getting good.
When Sen. Barack Obama picked Sen. Joe Biden last week, the Democrats had nothing but praise for the long term senator with a 94 percent approval rating from AIPAC and decades of foreign policy experience. And Jewish e-mail boxes filled with Biden's now familiar quote: "You don't have to be Jewish to be a Zionist, and I'm a Zionist."
Then Republican Jews struck. An e-mail quickly circulated linking to an article on a right-leaning web site claiming Biden was in the pocket of the Iranian mullahs. As for Biden's 94 percent approval rating from AIPAC, said the Republicans, why not 100? Why not 100 percent? Why not 110 percent? As for that quote? Pretty words, just like his boss, Obama.
The Dems responded with a further defense of Biden's record. If you could call Biden's support for Israel into question, said the chair of the National Jewish Democratic Council Ira Forman, then you could call Golda Meyer's loyalty to Israel in question.
The Veep debate among Jews is important because there are many Jewish voters who are still a bit leery about Obama. Jews traditionally vote Democratic (upwards of 75 percent voted for John Kerry in 2004 -- and we didn't even really like him). A growing number of Jews have found a home in the Republican party, and are fairly candidate -- proof-they vote red no matter what.
A significant number of Jewish voters, however, will change their vote depending on which candidate they perceive as "better for Israel." These voters believe that Israel is facing immediate existential threats from Palestinian terror, from a near-nuclear Iran, and from over-eager politicians forcing it to make dangerous territorial concessions for the sake of elusive peace. These voters -- call them "Israel Firsters" -- see their one vote as crucial to preventing another Holocaust, and theirs are the votes that Jewish Dems and Jewish Republicans are fighting over.
Obama and Israel is the battleground issue for Jewish voters in the 2008 election -- these are the Jewish votes up for grabs in this race. If Republicans can paint Obama as a Muslim or Muslim sympathizer, as an appeaser to Iran, as inexperienced on foreign policy, as insufficiently caring about Israel in his kishkes -- the Yiddish word for guts -- then they can peel off Jewish votes.
This strategy won't matter in heavily pro-Democratic states like California and New York, but it can matter in swing states like Ohio and Florida. And it matters elsewhere in the race: Jews give money, Jews get involve, Jews shape opinion far out of proportion to their numbers. (Yes, there are only six of us in the entire country. Amazing what controlling the media will get you.)
If McCain had picked Mitt Romney or Tom Ridge or -- cue the bar mitzvah band -- Joe Lieberman, he would have unquestionably swept up the Israel Firsters. These men have track records and gravitas when it comes to Israel and foreign policy. (This debate among Jews and Israel reflects the larger foreign policy concerns about Obama that Republicans are making the centerpiece of their opposition. Many conflicts in Jewish life mirror conflicts in the larger culture -- that's Anthropology 101.)
But he chose Sarah Palin: former mayor of a small Alaska town, governor of Alaska, devout Christian.
For Jews who are not necessarily Israel Firsters, she carries some positives and negatives.
Positives: she is a crusader for good government and a fiscal conservative. She is smart and successful and patriotic. Jews like all these things.
"As governor of Alaska, Palin has enjoyed a strong working relationship with Alaska's Jewish community. She has demonstrated sensitivity to the concerns of the community and has been accessible and responsive," said Republican Jewish Coalition Executive Director Matt Brooks.
Negatives: She is is anti-abortion. Jews are among the largest pro-choice constituency in the country. She has, according to one web site, supported the idea of teaching Creationism and evolution in public schools. "Teach both," she was quoted as saying on a local TV station. "You know, don't be afraid of information. Healthy debate is so important, and it's so valuable in our schools. I am a proponent of teaching both.'"
Dependence on foreign oil is a major issue for American Jews, since a lot of that oil comes from regimes that hate Israel and support terror.
Republican Jews are emphasizing Palin's desire to drill Alaskan oil and develop domestic oil resources as away to decrease our dependence.
"Palin has been a leader on the critical issue of energy independence and lessening our need to buy oil from nations not sharing American and Israel's foreign policy," Brooks said in his statement.
But Jews are also pro-environment, and have jumped on the alternative energy (hybrid) bandwagon in a big way. Obama's convention speech calling for a 10 year campaign to switch to alternative sources of energy may carry deeper resonance.
For the Israel Firsters, Palin may be a problem. Palin has no foreign policy experience. No Israel experience. Her AIPAC rating? When you enter her name on the AIPAC home page , you get this:
Your search - palin - did not match any documents.
No pages were found containing "palin".
The RJC's Greenfield says her AIPAC relationships are good, but confined to Alaska. Could be, but Republicans will now have to marshall a great comeback to the charge that Palin supported Pat Buchanan in 2000.
Buchanan is anathema to the Jews: someone who has blamed Israel and American Jews for directing American foreign policy against American interests. He has spoken kindly of Adolph Hitler -- who is not popular with Jews -- and... well, this is going to be interesting.
Sarah Palin might cause the Israel Firsters, who seemed to be pretty much done with Obama, to take a second look.
Calling all HuffPost superfans!
Sign up for membership to become a founding member and help shape HuffPost's next chapter