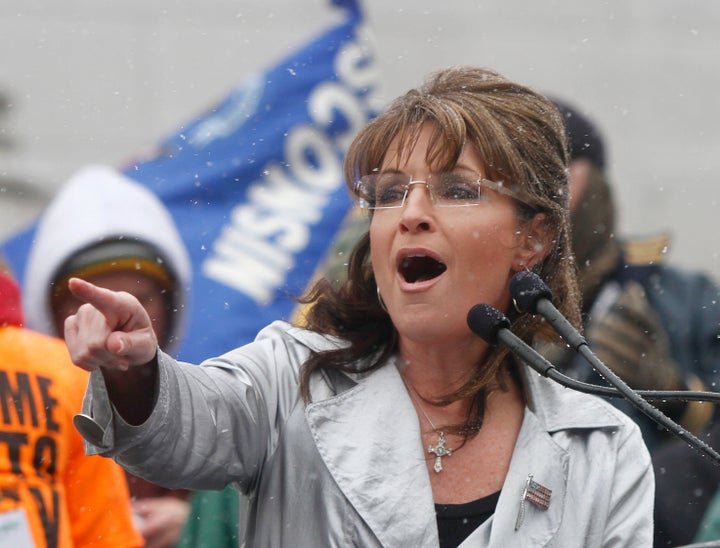 This article has been updated with additional reporting.
WASHINGTON -- Former Alaska Gov. Sarah Palin is beginning a bus tour of the eastern United States in the nation's capital over Memorial Day weekend, the latest in a string of moves that indicate she may be moving closer to running for the Republican presidential nomination.
"Starting this weekend, Sarah Palin will embark on a One Nation tour of historical sites that were key to the formation, survival, and growth of the United States of America," said Tim Crawford, treasurer of Palin's fundraising group, SarahPAC, in a statement provided to The Huffington Post. "The tour will originate in Washington DC and will proceed north up the east coast. More information will follow."
Palin will kick things off Sunday by taking part in the "Rolling Thunder" motorcycle ride -- comprised mainly of U.S. veterans of the Vietnam War -- that begins at the Pentagon and concludes at the Vietnam Memorial on the National Mall.
Pictures of the bus were released on the website for SarahPAC, Palin's political action committee. Emblazoned in red, white and blue, the bus bears a large painting of the U.S. Constitution, with the words "One Nation" in large font. Underneath that is the rest of the closing line to the Pledge of Allegiance: "Under God, Indivisible, with Liberty and Justice for All." The back of the bus has a small banner that says, "Join the 'Fundamental Restoration of America.'"
More than an hour after The Huffington Post and other outlets first reported the news of the tour, Palin added a short description of what she plans to do to her PAC website. Palin said that "through visits to historical sites and patriotic events, we'll share the importance of America's foundation." There is no mention of politics.
Planning for the trip kicked into high gear only a short while ago. Palin has rehired two former advance aides to President George W. Bush, Doug McMarlin and Jason Recher, to plan the trip and execute logistics. The details of where the 2008 vice presidential nominee will go remain fluid, and have been closely held within Palin's small world of trusted advisers.
Palin has remained inscrutable about her political intentions to all but those who know her best, such as her husband, Todd. And while the external indicators suggest that Palin is increasingly serious about running for president, her aides caution privately against jumping to any conclusions.
But the evidence is beginning to stack up. Foremost is the news, first reported late Tuesday by Real Clear Politics, that Palin has authorized a full-length, two-hour film focusing largely on her record as governor of Alaska. The movie, produced by conservative filmmaker Stephen Bannon, will premiere in Iowa about a month from now, and then will be shown in New Hampshire, Nevada and South Carolina -- the first four states to vote in the GOP primary.
And Palin is also reported to have bought a $1.7 million home in Scottsdale, Arizona, which would give her a base of operations much more conducive to domestic travel than her current home in Alaska.
If Palin were to announce a run in the near future, it could create chaos in a GOP primary that has just begun to take shape in the last few weeks.
Palin is in a category all by herself.
She has the name recognition of putative front-runner Mitt Romney: A Gallup poll Thursday showed her running second behind the former Massachusetts governor.
But where Romney is the archetype of the conventional politician, Palin is anything but. Since the 2008 campaign ended and she has been on her own, Palin's path has often been to do the opposite of what political prognosticators and even friendly advisers have expected her to do. Case in point: Her decision to give a public statement after the shooting of Rep. Gabrielle Giffords (D-Ariz) despite the advice of Fox News President Roger Ailes not to do so.
The ex-Alaskan governor appeals to the same values voters and Tea Party activists that are attracted to Minnesota Rep. Michele Bachmann, former Pennsylvania Sen. Rick Santorum and ex-Godfathers Pizza CEO Herman Cain, but she has a celebrity status that would likely overwhelm those lesser known conservatives.
However, Palin also has extremely high negative approval ratings, and has lately begun to see her influence slip. If the former VP candidate does not decide to run, the bus tour and the film could be seen as an attempt to hang on to relevance.
Republican Party strategists and campaign operatives downplayed the impact of a Palin candidacy.
"A Palin entry this summer will have less impact than it would have had if she entered a few months ago because her stock with rank and file Republicans has fallen this year," said an influential GOP strategist. "But she'd still shake things up."
The GOP official portrayed Palin's impact as mostly negative for the GOP.
"The mainstream media hate her but love covering her, and everyone in the field would find themselves constantly being asked if they agree with what Palin just said," he said. "On top of that, her supporters are intensely loyal and teeming in the blogosphere, which can be a source of distraction in the debate."
A Republican source in Iowa -- where former Minnesota Gov. Tim Pawlenty will need to perform well, if not win, the first in the national caucus to remain a viable presidential candidate -- said a Palin run would probably have the most impact on between 35 percent and 45 percent of the primary electorate: the Tea Party and evangelical voters that went largely for former Arkansas Gov. Mike Huckabee in 2008. She would siphon support in that space from Bachmann in particular, but also Cain and Santorum.
If Texas Rep. Ron Paul gets around 8 - 10 percent again, the Iowa Republican said, that leaves between 45 and 55 percent for Romney and Pawlenty to fight over. That could tip in Pawlenty's favor if Romney does not work hard for votes in the Hawkeye State.
"The one other issue is what her entry would do to the tone and message of the GOP campaign," the Iowa source said. "Based on her history, one would expect a very confrontational posture toward the news media, the political 'establishment' and Obama. Does this force rest of field to follow in kind with their rhetoric? Does this further crowd out a guy like T-Paw who isn't known for fiery speeches and a confrontational tone?"
A top official with one GOP candidate's campaign said Palin's impact would be felt most heavily in Iowa, but that it would be "not so big a deal in New Hampshire."
In fact, the negative impact could be greatest for Pawlenty, who might see his plan to emerge as the top alternative to Romney complicated. And Romney would likely prefer to have Palin emerge as his top rival in the primary as opposed to someone like Pawlenty or former U.S. Ambassador to China Jon Huntsman.

Popular in the Community