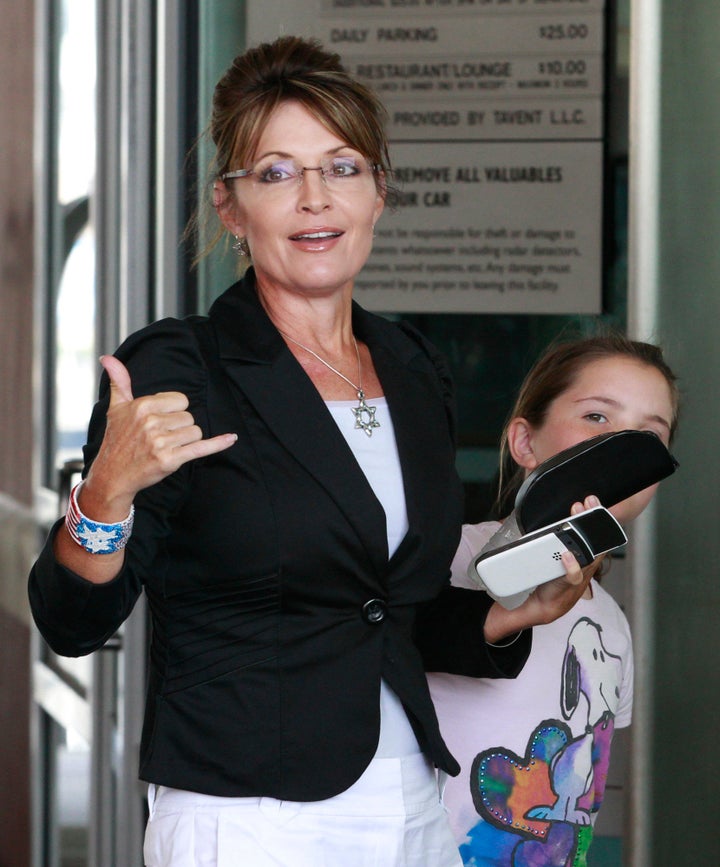 Sarah Palin says her bus tour of the eastern United States was "one of the best weeks" of her life.
In a new web video released by the former Alaska governor's political action committee, Palin reflects on the trip, which just wrapped up after launching in Washington, D.C. Memorial Day weekend. The three-minute clip features footage of the big name Republican on the road, as well as clips of interviews with voters.
Palin took the opportunity to scold the media in a statement released with the video.
"Even though the media too often sadly chose sound-bites over substance, they did get lots of substance during our 'One Nation' tour from the nearly two dozen opportunities I got to speak candidly with them and talk about policy, politics, history, and everything in between," she said. "Not surprising, some members of the media missed a lot of this due to their relentless and futile search for scuttlebutt."
While Palin appeared to more actively engage with members of the press during stops on her trip, the former governor had to contend with some less favorable coverage along the way.
The former governor came under scrutiny when she snatched the spotlight from Mitt Romney in New Hampshire the day he launched his presidential campaign.
Shortly after, Palin sparked criticism with questionable remarks she made about the history of Paul Revere. The AP relays background on her comments:
...Palin said Revere warned the British "by ringing those bells, and makin' sure as he's riding his horse through town to send those warning shots and bells that we were going to be sure and we were going to be free, and we were going to be armed."

While colonists were British subjects when Revere made his ride, historical accounts indicate secrecy was critical as Revere sought to carry out his mission to warn Samuel Adams and John Hancock that British troops were coming to arrest them.
Below, the video released by SarahPAC looking back at the former governor's trip:
Calling all HuffPost superfans!
Sign up for membership to become a founding member and help shape HuffPost's next chapter