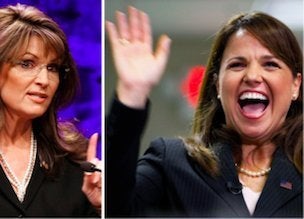 Sarah Palin reportedly lobbied producers of the ABC hit show "Dancing With The Stars" on Thursday night to bring failed Tea Party-backed U.S. Senate candidate Christine O'Donnell on as a contestent to the next season of the program.
According to the entertainment website PopEater, the former Alaska governor assumed the role of "casting director" when cheering on daughter Bristol as she competed in the show's finale. Rob Shuter writes:
"Sarah is a genius at marketing herself and her message," an insider tells me. "She doesn't care about all the old rules about how political people are meant to behave and act. Sarah believes the best way is to go directly to the people -- use Twitter, Facebook, 'Dancing With the Stars' and 'Entertainment Tonight' to get potential voters excited and leave 'Meet The Press' and those boring Sunday morning shows to the old-school politicians."
An executive at ABC reportedly signaled that O'Donnell taking to the dancing floor might be an idea worth considering. The network insider also took a shot at the conservative favorite's infamous "I'm not a witch" campaign ad, which she released during her general election fight against now-Democratic Senator-elect Chris Coons.
"O'Donnell would fit right in," said the source to PopEater. "She certainly would be so controversial that the amount of press attention and buzz the show would get would be huge. Plus, you know they would make her dance in a witch's hat with a broomstick."
On Thursday night, O'Donnell blasted a tweet to her followers on Twitter to boost Bristol in the final stage of her dancing quest. She wrote, "I just voted for Bristol on DWTS! She's enduring a lot & should be proud. It's shameful the way she is being attacked. vote-800-868-3407."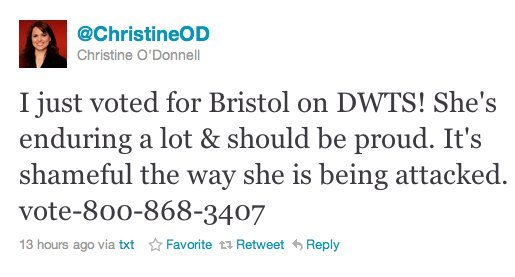 Popular in the Community