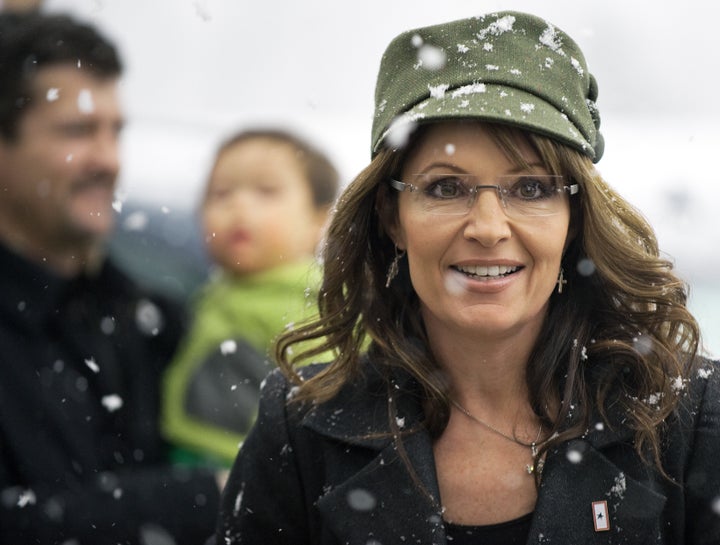 WASHINGTON -- Before she stepped onto the national stage, Sarah Palin was worried about the warming planet and what climate change was doing to her home state of Alaska. So in 2007, as governor, she established a Climate Change Sub-Cabinet to come up with ideas on "how Alaskans can save energy and reduce their greenhouse gas emissions."
But that project has gone dormant under the current governor, Republican Sean Parnell. According to newly released public records obtained by Public Employees for Environmental Responsibility (PEER), the sub-cabinet has not met in three years. Parnell took office in July 2009.
Palin's 2007 administrative order directed her climate change team to convene an "Immediate Action Work Group" composed of federal, state and local officials to come up with ways to protect Alaska's most at-risk communities. She also set up a website -- which is still currently live -- presenting her administration's work on climate change. In March 2009, the work group presented its findings in a report to the sub-cabinet.
"Alaska's climate is warming," said Palin in July 2008, when presenting the sub-cabinet's report to the public. "While there have been warming and cooling trends before, climatologists tell us that the current rate of warming is unprecedented within the time of human civilization."
But Parnell, previously a lobbyist for oil companies, has quietly let Palin's work shut down.
The state of Alaska told PEER that the sub-cabinet produced three additional strategy reports after that February 2010 meeting, but it did not provide the documents.
Alaska's at-risk efforts have suffered as a result. At least 12 small, indigenous communities on Alaska's coast need to relocate completely because of global warming. But as E&E News outlined, their situation has been exacerbated by the lack of a government framework to help them; some communities' relocations have been stalled for up to a decade.
One effort formed in 2008 that does provide assistance -- the Alaska Climate Change Impact Mitigation Program -- gives funding to villages affected by climate change. The formation of that program was started by Palin's Immediate Action Work Group, which Parnell shut down.
"The dismantling of the Immediate Action Workgroup creates a tremendous gap for communities faced with climate-related threats," Robin Bronin, an Alaska human rights attorney, told E&E News.
Parnell's office did not return HuffPost's request for comment about the Climate Change Sub-Cabinet.
"Alaska is the state most vulnerable to climate change, and its disastrous effects are here now, and growing worse every year," said Rick Steiner, a retired University of Alaska professor and PEER board member who pursued the issue. "Convening the Climate Change Sub-Cabinet was the singular environmental achievement of Governor Palin, and now even that has been terminated by her successor, Governor Parnell. Ironically, Alaska's present oil and gas production contributes to the global warming that threatens Alaska's future. We can't simply ignore this threat, hoping it will go away -- it won't."
Palin significantly shifted her rhetoric on climate change later in 2008, when she was tapped as the Republicans' vice-presidential candidate and began publicly disputing the science of man-made global warming.
In a 2009 interview with right-wing radio host Rush Limbaugh, Palin seemed to directly contradict her previous remarks, saying, "It's kind of tough to figure out with the shady science right now, what are we supposed to be doing right now with our climate. Are we warming or are we cooling? I don't think Americans are even told anymore if it's global warming or just climate change. And I don't attribute all the changes to man's activities. I think that this is, in a lot of respects, cyclical and the earth does cool and it warms."
Calling all HuffPost superfans!
Sign up for membership to become a founding member and help shape HuffPost's next chapter
BEFORE YOU GO
PHOTO GALLERY
U.S. State Capitol Buildings