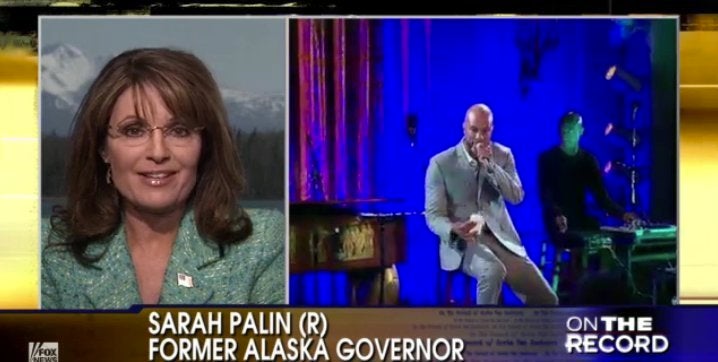 Sarah Palin took issue with the White House inviting Grammy Award-winning rapper and actor Common, born Lonnie Rashin Lynn Jr., to a poetry event hosted by the first lady on Wednesday night.
During an appearance on Fox News' "On the Record," Palin said, "The White House's judgment on inviting someone who would glorify cop killing during Police Memorial Week, of all times, you know, the judgment, it's just so lacking of class and decency."
Common, who is considered fairly tame as rappers go, is known for rhymes that tend to be socially and politically conscious.

He was on his best behavior Wednesday night.

The rapper opened his performance with cuts of words from Martin Luther King Jr. and spoke of walking into the White House with "love on my sleeve." His performance gave nods to the challenges of crime and violence that face children, to gangsters and beacons of light for those in dark alleys, and celebrated the rise of Barack Obama.

It ended with "one King's dream, he was able to Barack us."

Other performers included former poets laureate Billy Collins and Rita Dove, singer Aimee Mann and comedian-musician Steve Martin and his bluegrass group the Steep Canyon Rangers.
In weighing in on the matter, Palin said despite her criticism she's "not a proponent of stifling any kind of free speech." She added, "I'm not anti-rap. In fact, like Bret Baier, I know the lyrics to 'Rapper's Delight,' too. But I am saying just common decency in the White House -- wouldn't we like to see a reflection of all that is wonderful and great, a shining city on a hill that the White House is supposed to be, with events inside of that house that reflect the patriotism and the decency and the influence of America."
The invitation of Common to the White House drew criticism from other Republicans, such as Karl Rove. HuffPost's Jason Linkins reported on controversy swirling over the matter prior to the event earlier this week.
"I would say that, while the president doesn't support the kind of lyrics that have been raised here, we do think that some of these reports distort what Mr. Lynn stands for, more broadly, in order to stoke controversy," said White House spokesman Jay Carney in response to criticism. "One of the things the president appreciates is the work Mr. Lynn has done with children, especially in Chicago, trying to get them to focus on poetry as opposed to some of the negative influences of life on the street."
Popular in the Community