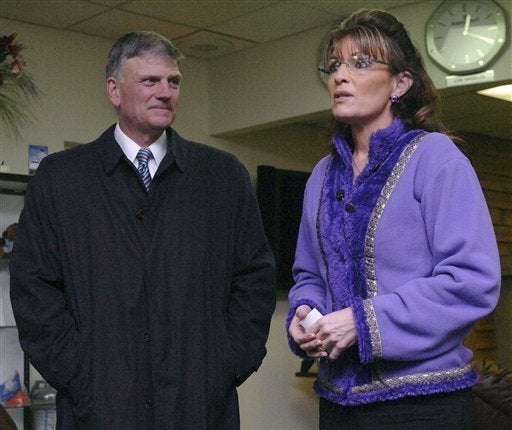 Sarah Palin came to the defense of Evangelical minister Franklin Graham Friday morning, writing on Facebook that the man who was disinvited Thursday from the Pentagon's National Day of Prayer services is a "fine patriotic man" and that military's decision to exclude him -- "the army's loss" -- was a sign that "things have changed."
"It's truly a sad day when such a fine patriotic man, whose son is serving on his fourth deployment in Afghanistan to protect our freedom of speech and religion, is dis-invited from speaking at the Pentagon's National Day of Prayer service." Palin wrote on Facebook. "His comments in 2001 were aimed at those who are so radical that they would kill innocent people and subjugate women in the name of religion."
In the wake of the September 11 attacks, Graham called Islam "a very evil and wicked religion," which didn't stop the Pentagon from welcoming him at previous religious events.
On Thursday, Graham appeared on Fox News and said: "I speak out for people who live under Islam, who are enslaved under Islam, and I want them to know they can be free by Jesus Christ and Jesus Christ alone." The Pentagon revoked his invitation.
Palin, however, seemed untroubled by any of Graham's rhetoric, saying, "In my years of knowing him, I've never found his tempered and biblically-based comments to be offensive - in fact his words have been encouraging and full of real hope."
"Are we really so hyper-politically correct that we can't abide a Christian minister who expresses his views on matters of faith?" Palin asked. "What a shame. Yes, things have changed."

Calling all HuffPost superfans!
Sign up for membership to become a founding member and help shape HuffPost's next chapter