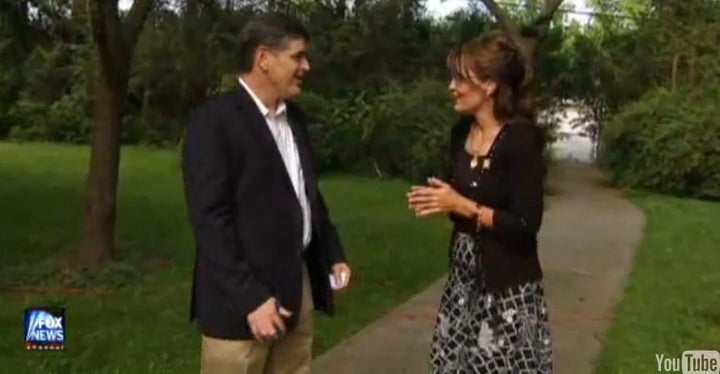 PALIN: We are the only state with a negative tax rate where we don't have any income, sales or property tax statewide, and yes we have a share of our oil resource revenue that goes back to the people that own the resources. Imagine that.

HANNITY: And it went up higher since you've been the governor and you negotiated with the oil companies. That all went up so people get a bigger check.

PALIN: There was a corrupt tax system up there and we had a couple of lawmakers end up in jail because of the tax system that was adopted so we cleaned it up and said we wanted a fair and equitable share of the resources that we own, and the people will share in those resource revenues that are derived.

(A few minutes later...)

PALIN: If Americans aren't paying attention, unfortunately our country could evolve into something that we do not even recognize. Certainly that is so far from what the founders of our country had in mind for us.

HANNITY: Socialism?

PALIN: Well... that is where we are headed.
OH NOES! REVERSE COURSE! Head in the direction of GOVERNMENT INTERVENTION IN INDUSTRY FOR THE PURPOSES OF BASE POLITICAL CRONYISM BEFORE IT IS TOO LATE.
The sea eats oil.

The sea eats oil...alive.

That place up there?

Nature cleaned it up faster

Than we ever could
Lehmann On The Poverty Narrative: "So it would seem, in other words, that government has done more than its share to shape the suburban housing market, and its many higher-performing lily-white school districts. It's just that, on the New York Post end of the journalism market, no op-ed contributor is about to point out that his or her aggrieved white suburban readers are actually de facto dole beneficiaries; and the midtown savants at the gleaming new Times tower want to turn any available story about social class into a parable on the variable meanings of diversity, and how they make for comparative attitudes of stick-to-it-iveness in your individually sampled Supreme Court justice-in-the-making."
REAL LIFE. REAL NEWS. REAL VOICES.
Help us tell more of the stories that matter from voices that too often remain unheard.