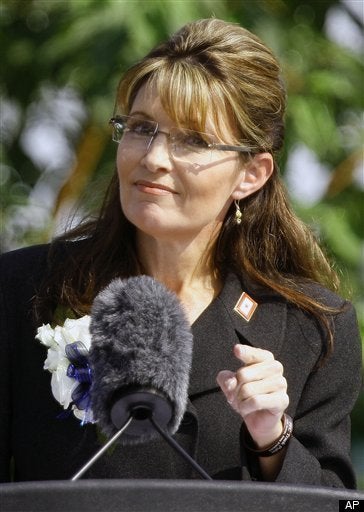 Scroll down for latest updates
McGinniss is among the top-two bidders in that now-famous eBay auction for a foursome dinner date with Palin. He's bid $59,999.99 to dine with Our Lady of the North. The ecstatic subject line to an email McGinniss sent to AlaskaDispatch.com Thursday night read, "I'm going for the knockout blow! (mostly because I like the 'FREE shipping' guarantee)."

Winning the auction would be a boon to McGinniss, who says in his email, "I think such a dinner would be the perfect way to kick off the reporting for my new book: Sarah Palin's Year of Living Dangerously. (To be published by Broadway/Random House in fall of 2011.)"
McGinniss is the author of "Pipe Dreams", an article in Portfolio Magazine which documented Sarah Palin's failure to deliver a gas pipeline in Alaska. As Danny Shea reported for these pages back on March 17, the original subhed read: "Forget "Drill, baby, drill." Sarah Palin says she's building a $40 billion gas pipeline, which even President Obama wants. The only problem: It isn't there. And it's her fault."
To many outside of Alaska, it may therefore come as a surprise to learn that not only does such a pipeline not exist, but--even as Alaska's deep winter darkness gives way to the first light of spring--the prospect that it will be built within Sarah Palin's lifetime grows dimmer by the day. ( View a slideshow hitting the highlights of Governor Palin's travels.)

Barack Obama wants the pipeline. It says so right on the White House website, in the section about energy and the environment: prioritize the construction of the Alaska natural gas pipeline. But Obama might not realize that one of the biggest obstacles in its path--all Palin's rhetoric notwithstanding--is the woman who wants to take the presidency from him in 2012, Governor Sarah "Drill, Baby, Drill" Palin.

As Mike Hawker, the Republican co-chairman of Alaska's House Finance Committee, told me one night in Juneau not long ago, "The only thing standing in the way of an Alaska gas pipeline is the Sarah Palin administration."

And as former Governor Tony Knowles, a Democrat, told me over coffee one morning in Anchorage, "It's as if getting the gas pipeline built is only her second-highest priority. Her highest is making sure the oil companies don't build it."
Don't think that article escaped Palin's attention! Remember, she reads "all the papers," including, apparently, Portfolio! Back in March, her then-spokeperson Bill McAllister complained:
It seems to expect people to be surprised by the fact that the pipeline is not under construction. That's not much of an "aha." Obviously, anyone paying attention knows this will be years in the making.

"Palin has virtually ignored the pipeline issue since returning to Alaska in November to focus instead on her 2012 presidential campaign strategy." Show me one shred of proof for either part of that statement. The governor had a nearly daylong meeting with her gas line team the week after the election, and of course those consultations have continued. In early December, she arranged an event in Fairbanks to present the AGIA license to TransCanada. She has gas line-related funding requests pending before both the Congress and the Legislature. This is "ignoring"?

McGinniss notes "her absence from major oil-company summits." She had Exxon in her office last week. Not sure what his point is there.

McGinnis calls AGIA a blunder, but every lawmaker but one voted for it, and a majority voted to stay the course over a year later and give TransCanada a shot. The governor campaigned in 2006 on getting Alaska's terms for its gas, in contrast to the Murkowski contract that ceded tax sovereignty, judicial sovereignty and regulatory sovereignty. AGIA was a game-changer, a new paradigm.
McGinniss' cited $59,999.99 bid was briefly topped this morning by another bidder who offered a dollar more, but McGinniss has upped his ante to $60,100.00 and is in the lead with just over four hours to go in the auction. And McGinniss seems pretty determined. His only concern, according to Woodham, is that he might have to break some promises to friends: "I've already promised at least 40 people that if I win I'll bring them with me."
Woodham has a statement from Palin spokesperson Meg Stapleton that casts no specific aspersions on any of the bidders, instead praising the support of all participants for giving their money to the Ride 2 Recovery. But if you recall, the prized Palin repast comes with disclaimers: "Governor Palin reserves the right to refuse dinner with a winning bidder if, in her sole discretion, the winning bidder is not a suitable bidder based on her subjective standards of suitability, professionalism, background and other factors." We'll see if McGinniss prevails!
UPDATE: The auction is over, and by the looks of things, McGinniss did not prevail. The winning bid was $63,500.
MORE UPDATE: With a tip of the hat to emailer Ed Byers, we have a winner! And the good news for Palin is, it won't be an awkward dinner at all. The AP reports:
A true fan of former Republican vice presidential candidate Sarah Palin is paying $63,500 to have dinner with her.

Cathy Maples of Huntsville won the dinner today in an Internet auction, which was a benefit for a charity that aids wounded veterans.

Maples says she fully supports the military and the men and women fighting for this nation. Maples, who owns a defense contracting company, also says she's a "big advocate" for Palin, and would love to see her as president.
McGinniss may have come up short in the end, but he's far from through with the former Alaska Governor. His next book Sarah Palin's Year Of Living Dangerously, is slated for publication in the fall of 2011.
Calling all HuffPost superfans!
Sign up for membership to become a founding member and help shape HuffPost's next chapter