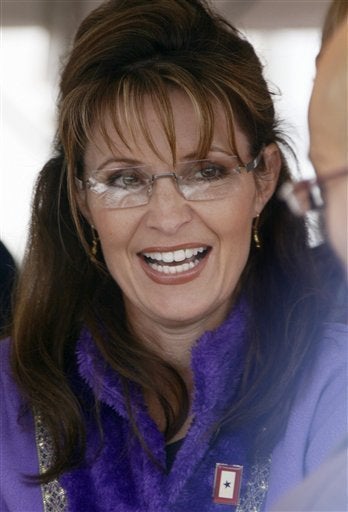 Two prominent Republicans who have encouraged an unfounded rumor about Democratic health reform plans have doubled down on the myth.
Former Alaska GOP Gov. Sarah Palin defended her claim that the Democratic health care proposal would create "death panels" and attacked President Obama in a long statement Wednesday night.
Yesterday President Obama responded to my statement that Democratic health care proposals would lead to rationed care; that the sick, the elderly, and the disabled would suffer the most under such rationing; and that under such a system these "unproductive" members of society could face the prospect of government bureaucrats determining whether they deserve health care. [...]

My original comments concerned statements made by Dr. Ezekiel Emanuel, a health policy advisor to President Obama and the brother of the President's chief of staff. Dr. Emanuel has written that some medical services should not be guaranteed to those "who are irreversibly prevented from being or becoming participating citizens....An obvious example is not guaranteeing health services to patients with dementia." [10] Dr. Emanuel has also advocated basing medical decisions on a system which "produces a priority curve on which individuals aged between roughly 15 and 40 years get the most chance, whereas the youngest and oldest people get chances that are attenuated." [...]

President Obama can try to gloss over the effects of government authorized end-of-life consultations, but the views of one of his top health care advisors are clear enough. It's all just more evidence that the Democratic legislative proposals will lead to health care rationing, and more evidence that the top-down plans of government bureaucrats will never result in real health care reform.
The full harangue, complete with footnotes, can be found here.
Sen. Chuck Grassley (R-Iowa) isn't ready to back down either; he released a statement saying he could not defend the end-of-life care provisions in a House of Representatives' health care bill.
"The bill passed by the House committees is so poorly cobbled together that it will have all kinds of unintended consequences, including making taxpayers fund health care subsidies for illegal immigrants. On the end-of-life issue, there's a big difference between a simple educational campaign, as some advocates want, and the way the House committee-passed bill pays physicians to advise patients about end of life care and rates physician quality of care based on the creation of and adherence to orders for end-of-life care, while at the same time creating a government-run program that is likely to lead to the rationing of care for everyone. On the Finance Committee, we are working very hard to avoid unintended consequences by methodically working through the complexities of all of these issues and policy options. That methodical approach continues. We dropped end-of-life provisions from consideration entirely because of the way they could be misinterpreted and implemented incorrectly. Maybe others can defend a bill like the Pelosi bill that leaves major issues open to interpretation, but I can't."
Popular in the Community