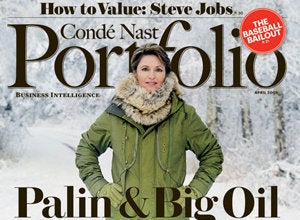 UPDATE: The Huffington Post has obtained an exclusive first look at the April 2009 Portfolio cover story about Sarah Palin. The cover, which (as mentioned below) features a photo of Palin from her Vogue shoot, is headlined "Palin & Big Oil: The Cold Hard Truth."
Forget "Drill, baby, drill." Sarah Palin says she's building a $40 billion gas pipeline, which even President Obama wants. The only problem: It isn't there. And it's her fault.

McGinniss' article has already generated a response from the Palin camp -- though they have not seen anything but a press release:
Based on a press release by Portfolio to promote its April issue, it appears McGinniss' article is highly critical of Palin's efforts: "...McGinniss finds that not only is the pipeline not being built, but Palin herself is the biggest obstacle in its path."
Palin spokesman Bill McAllister released the following statement:
It seems to expect people to be surprised by the fact that the pipeline is not under construction. That's not much of an "aha." Obviously, anyone paying attention knows this will be years in the making.

"Palin has virtually ignored the pipeline issue since returning to Alaska in November to focus instead on her 2012 presidential campaign strategy." Show me one shred of proof for either part of that statement. The governor had a nearly daylong meeting with her gas line team the week after the election, and of course those consultations have continued. In early December, she arranged an event in Fairbanks to present the AGIA license to TransCanada. She has gas line-related funding requests pending before both the Congress and the Legislature. This is "ignoring"?

McGinniss notes "her absence from major oil-company summits." She had Exxon in her office last week. Not sure what his point is there.

McGinnis calls AGIA a blunder, but every lawmaker but one voted for it, and a majority voted to stay the course over a year later and give TransCanada a shot. The governor campaigned in 2006 on getting Alaska's terms for its gas, in contrast to the Murkowski contract that ceded tax sovereignty, judicial sovereignty and regulatory sovereignty. AGIA was a game-changer, a new paradigm.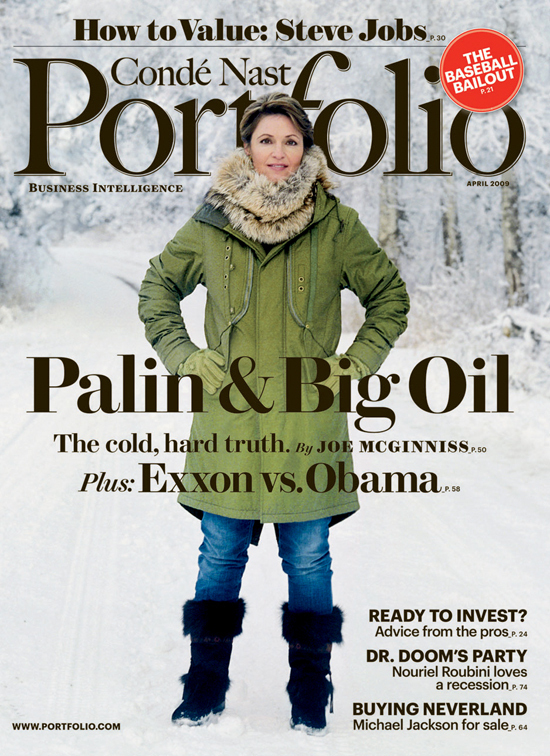 Original Post: Sarah Palin will pop up later this week on an unlikely magazine cover: Condé Nast's business title Portfolio.
WWD's Irin Carmon reports (third item down) that the choice was met with "staff resistance," but editor Joanne Lipman defended the selection due to Palin's relevance to Big Oil.
Palin did not sit for photos for the cover. Instead, outtakes from her February 2008 Vogue photo shoot will be used.
Calling all HuffPost superfans!
Sign up for membership to become a founding member and help shape HuffPost's next chapter