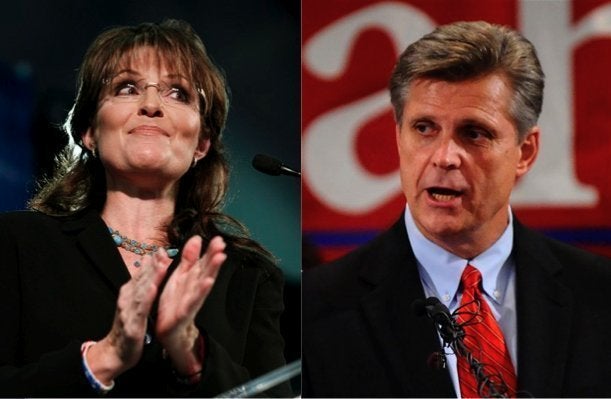 Sarah Palin's entry into a Kansas Senate race proved fruitless Tuesday night, as the state's Republicans chose Congressman Jerry Moran as their nominee for an open U.S. Senate seat in a bitter primary race where both candidates actively courted GOP conservatives.
Moran overcame a strong challenge from fellow Rep. Todd Tiahrt. The key issue for many voters was which longtime politician would be more aggressive in fighting President Barack Obama and his fellow Democrats.
Moran promoted endorsements from conservative senators such as tea party favorite Jim DeMint of South Carolina and Sen. John McCain of Arizona, while Tiahrt had the backing of former GOP vice presidential nominee Sarah Palin.
Though Tiahrt was one of a number of candidates that Palin has endorsed through Facebook and other digital media outlets, the former Vice Presidential candidate didn't take to the ground for the Kansas Congressman, who was also backed by former Bush aide Karl Rove and conservative leader Phyliss Schlafly.
Baker University assistant dean Lisa Johnston won the Democratic nomination for the U.S. Senate and will face Moran in November, though the state hasn't put a Democrat in the Senate since 1932.
Palin will put her backing to the test when Karen Handel vies for votes in next week's GOP gubernatorial primary runoff in Georgia. Palin-supported candidates Gov. Jan Brewer of Arizona, former NFL tight end and Washington Senate hopeful Clint Didier, and Tea Party-backed Alaska Senate challenger Joe Miller will also face voters in primaries later this month.
Calling all HuffPost superfans!
Sign up for membership to become a founding member and help shape HuffPost's next chapter