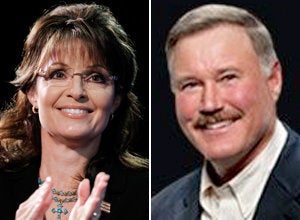 WASHINGTON (AP / Huffington Post)-- Sarah Palin on Thursday endorsed Tea Party-backed Washington state Senate candidate Clint Didier.
Didier, a former Washington Redskins player, hopes to win Washington's Republican primary and challenge Democratic Sen. Patty Murray for her seat in November's general election.
The Seattle Times' Jim Brunner profiled Didier this week and reported that he has accepted federal farming subsidies totalling $273,000 while simultaneously denouncing the government:
A former NFL player turned farmer, Didier has repeatedly called the federal government "a predator." He vows to oppose the "Marxist utopia" he says Democrats want to create -- "where everyone is taken care of from womb to tomb."

But Didier himself has cashed in on one big government aid program. He has received nearly $273,000 in federal farm subsidies since 1995, according to a database of U.S. Department of Agriculture subsidies maintained by the Environmental Working Group (EWG).
On her Twitter account, Palin described Didier as a "patriot running for U.S. Senate to serve his state & our country for all the right reasons!" She didn't mention his farming subsidies.
Also absent from the former half-term Alaska governor's tweet was any mention of Dino Rossi, a two-time candidate for governor who is widely anticipated to jump into the race. Palin's endorsement of Didier complicates national Republican efforts to recruit Rossi.
National Democrats have been aggressively criticizing Rossi, hoping to keep him out of the Senate race or rough him up by the time he's officially in - similar to what they did to Indiana's Dan Coats. But much of Democrats' attacks on Rossi is familiar from his two previous bids and Rossi has been in no rush to start campaigning ahead of the Aug. 17 primary.
The deadline to get on Washington's ballot is June 11.
Popular in the Community